Liverpool aren't better under Klopp yet. So what's working and what's not?
Jurgen Klopp is three months into his reign at Liverpool. That's not enough time to judge a new manager on what he's done. It is, however, enough time to have a better grasp on what challenges he'll face going forward, to start to separate out which problems left with the old man in charge, and which ones the new guy is still saddled with.
How much did Liverpool fix simply by firing Brendan Rodgers and how much repair work is still left for Klopp going forward? It's also enough game time to start to assess how Klopp intends for his side to play.
So, how is Klopp doing?
The bad news first. On the field, Liverpool aren't really any better than they were before Klopp arrived. They were averaging 1.5 points per game under Rodgers in the Premier League, and now they're averaging slightly less at 1.39 points per game. On a more granular level, their attacking and defending output hasn't shifted all that much either.
The Reds were shooting just below 15 times per game and generating an expected goal total of 1.35. Their shooting has ticked up to almost 18 a game under Klopp and their expected goals are at 1.47. Under both Rodgers and Klopp, Liverpool have pelted the net frequently but not managed to create many high-quality chances.
Defensively, the story is similar. Liverpool are conceding slightly fewer shots now, nine as opposed to 11 per game, but the expected goal output is at roughly the same level, just north of a goal a game.
While the results might not be changing that much, the way in which Liverpool is approaching the game is beginning to shift. Klopp's team is much more focused on attacking the middle of the field. Before Klopp, Liverpool's attacking was largely funnelled to the wings. Here's where all their passes that originated in the attacking half went to this year before Klopp's arrival.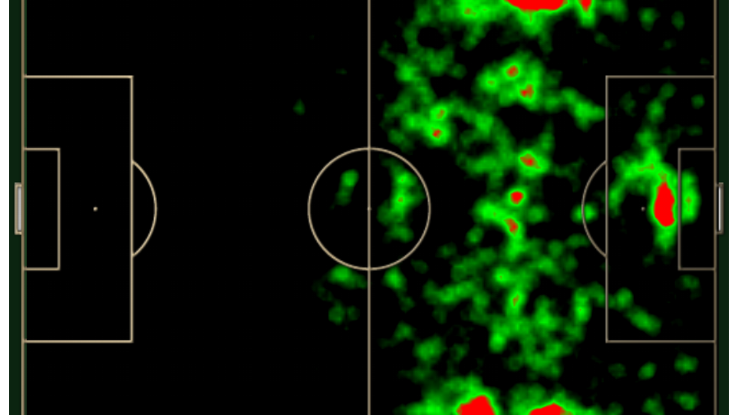 Klopp's attack has relied much more heavily on forcing the ball into central areas rather than getting shunted to the wings. Here's where the same types of passes have gone to under Klopp.
Klopp has frequently deployed a more mobile player, like Roberto Firmino, at forward, and asked him to drop off the defensive line not just so he can receive the ball and turn and face goal, but rather to combine with onrushing wingers playing quick combinations to get those attackers running toward the defensive line with the ball at their feet. The approach hasn't always worked, but it's clear that under Klopp Liverpool's attack is highly focused on getting the ball to players' feet in central areas in a way it wasn't under Rodgers.
Defensively, things have changed too. Liverpool's attackers are asked to be much more proactive in winning the ball in central areas of the field. Under Rodgers, almost all of the aggressive pressing to win the ball back happened near the sideline, with wingers and fullbacks combining to pin the opposition.
Now, attackers are given much more freedom and responsibility to go get the ball back in the middle of the park. It's less about tracking back to hunt in packs once the ball goes to the wing, and more about crashing forward as soon as it's played into the midfield.
The plan seems apparent. Flood the midfield, turn teams over and transition through the midfield faster than they can recover. It's also clear that the execution isn't there yet. For all the focus on controlling central areas, defences still end up restricting them to taking pot-shots from distance. Since Klopp arrived at Anfield, no Premier League side has taken more shots than Liverpool's 246. And nobody has taken them from farther away than Liverpool's average distance of 20.3 yards. Despite all those shots, they rank eighth in expected goals.
And while the new defensive approach is working quite well, the truth is that Liverpool didn't actually need to improve in that department. Despite all the criticism of Dejan Lovren, Martin Skrtel and Simon Mignolet, Liverpool were a very good defensive team under Rodgers. They just frequently resorted to a conservative style in order to keep that shakiness at the back from costing them. Klopp's more proactive defensive approach hasn't made them worse, but it also hasn't yet improved the attack.
Changing a team's approach can take time. There are moments on the field when it feels almost as if the cogs of Klopp's tactical instructions are visible behind the players' decision-making. Moments when players deliberately make an extra pass on the edge of their own penalty area to start the transition, rather than instinctively clearing it, or when they try a hopeless one-touch pass into a crowd.
There are flashes of Kloppishness among the Liverpool squad, but they aren't sustained, and they haven't been enough to win games. The pace of development has also been hampered by a seemingly absurd amount of injuries, though it's also fair to wonder how much responsibility Klopp bears for the seemingly endless line of hamstrings that have tweaked, strained, ruptured, popped and generally gone haywire at Anfield.
The fact that Liverpool haven't improved this season under Klopp is a disappointment, but it's one that will be easy enough for Liverpool fans to get over if what's going on now is laying the groundwork for future seasons of success. There were a number of rationales for making the Rodgers to Klopp switch, and the wide open nature of the Premier League this season was only one of them.
It's unclear how realistic the best-case-Klopp scenario was anyway -- he parachutes into Liverpool, takes the Premier League by storm and sends the club rocketing up the table immediately.
But that still leaves the question of how Liverpool improves open to interpretation. The new best-case scenario: Klopp needs more time to get the players to acclimate to what he wants. There's cause for optimism given that while learning a new system, the team is performing at basically the same level it was under a system that had been in place for several years under Rodgers.
Just think about how fast Liverpool could go once Klopp perfects their form. After a disappointing start, attackers will get healthy and spend more time working together on the kinds of quick combinations that Klopp demands, while at the same time, the German is able to perform some sort of exorcism on Mignolet to remove the yips that seem to have permanently taken root.
The worst-case scenario for Liverpool is that those imperfect visions are caused not by lack of time, coaching, or continuity, but rather by a lack of proper roster construction. The lack of execution on Liverpool's part both now and in Rodger's later years was more a result of the parts not matching the plan than anything else.
If all Klopp needs is more time to figure out how to get the best out of Christian Benteke, that's one thing, but if Benteke, the expensive striker who was bought at the behest of the last manager, now has to be sold at the behest of this one, it means that Klopp is saddled with a whole new stack of challenges.
The tension between Rodgers and Liverpool over how the club went about business in the transfer market is a well-told story (and one that continues as Rodgers continues to talk to anybody who will listen about players he wanted but didn't get during his Liverpool tenure).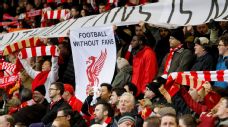 It simply remains to be seen how Klopp and the Liverpool hierarchy will work together. Maybe everything will be harmonious and things will go smoothly. Maybe the previous tensions can all be placed at Rodgers's feet, and Liverpool's constant transfer dealing drama was all about their manager's inability to both pick good targets and accept the limitations of the power he was given, and Klopp will be more comfortable working within Liverpool's power structure.
But it's certainly possible that at least part of the fault for past sins lies with the club's transfer committee. That the people tasked with making the ultimate transfer decisions prize the value of a player in a vacuum too much, and undervalue his fit on the team they are buying him for. And that Klopp will have the same issue fine-tuning the team to his needs that Rodgers did.
The biggest long-term Klopp concern actually has very little to do with Klopp himself -- it's simply that the current Liverpool environment may not be conducive to him succeeding there, and there's no way to figure that out until this summer when he, and the decision-makers above him, begin re-crafting the team in his image.
It's way too early to judge Klopp, but the roadmap that will determine how far he takes Liverpool is becoming clearer. He hasn't immediately improved the squad, but he has begun the process of changing how they play. If all it takes is time with these players to get them better adapted to his system, then he's well on the way to becoming a success.
If, however, this squad needs to undergo another retooling before Klopp can work his magic, then his road to success becomes a whole lot less certain.
Mike L. Goodman is a Washington, D.C.-based soccer writer and analyst covering European soccer, the U.S. Men's National Team and more. Follow him on Twitter @TheM_L_G.