Jurgen Klopp should focus on winning, not hand-holding stunts in front of Kop
It was a sight Liverpool fans have dreamt about since the day Jurgen Klopp replaced Brendan Rodgers as manager in October. It's been easy to visualise the German leading his side, arm-in-arm, toward the Kop to salute the supporters in the sort of gesture teams make after winning titles, cups or big matches.
But it happened more quickly than anyone could imagine and in the strangest of circumstances. On Sunday it occurred after a 2-2 draw against West Bromwich Albion, a game in which Liverpool salvaged a point with a stoppage-time equalizer.
Klopp is a motivator. His enthusiasm transmits itself to the fans as well as players. Almost to a man, the Liverpool fan base praised the moment as a recognition of their support. Many saw it as a reconnection between fans and players. Outside the Anfield bubble, there were merely sniggers and bemusement.
What in the world was Klopp thinking?
That question brings to mind a conversation with Peter Wall about managers. It took place more than two decades ago about events 20 years earlier. His experiences throw a light on the way players relate to the men who pick the team and how motivation operates in a dressing room. The same dynamics are at work today.
Wall is a footnote in Liverpool's history, a journeyman who made 42 appearances for the club in the late 1960s. He left Anfield in 1970 to sign for Crystal Palace and, as a result, worked with three of the most high-profile managers of the era. Wall played under Bill Shankly, Malcolm Allison and Terry Venables.
Shankly was the creator of modern Liverpool. He was inspiring, charismatic and exuded the same other-worldly exuberance as Klopp. The Scot, who died in 1981, could ignite a dressing-room. He had psychological tricks which would lift even the most jaded of old pros. "Just when you think you'd heard it all," Wall recalled, "he'd surprise you. You never knew what [motivational trick] was coming next. It always seemed to work."
Allison was a flamboyant figure. He wore a fedora and fur coat, and he smoked huge cigars. Manchester City's title win in 1968 was often attributed to Allison's coaching rather than Joe Mercer's management and by the time Wall worked with him at Palace, he was one of the most famous men in English football.
"Malcolm was like Shankly for the first season," Wall recalled. "Then it felt you'd heard it all before. Only the young players, new to the team, believed. It was the same old story and you lost faith in it."
Venables was different. Inspiration was the least of his management skills. Technique, tactics and the understanding of the opposition's weaknesses -- and the ability to convey it concisely -- propelled Venables from Palace to the England manager's job in the mid-1990s.
What's any of this to do with Klopp? That moment in front of the Kop on Sunday will stick in the players' minds. They will know the linked-arm march to the crowd is associated with success, not draws at home to West Brom. Were they confused or merely embarrassed? Did this gesture inspire or leave them disoriented? It may turn out to be a motivational masterstroke but grandstand moves like this are a dangerous game.
When they backfire, the fallout can be messy, as Rafa Benitez found out after the infamous "Rafa's rant" incident. The former Liverpool manager used a press conference in 2009 to highlight the way he felt the FA pandered to Sir Alex Ferguson and Manchester United but Benitez's calm, rational demeanor as he outlined his case was undermined by the depiction of the speech as a rant. Jamie Carragher talks of getting home from training, turning on the TV and inwardly groaning. "Oh boss, what have you done now?" was the reaction across the squad. The next night the team dropped vital points in a scoreless draw away to Stoke City.
It may be that Klopp felt it was important to repair any lingering damage from his criticism of the Anfield crowd for leaving early after the defeat by Palace last month. Perhaps he thought importing a bit of German football culture, where teams routinely go to the crowds -- win, lose or draw -- would benefit Liverpool. It could have been a spontaneous action. The fans might love it, but it is the effect on the players that matters.
Klopp is dealing with a squad that has already lost faith in one manager. Rodgers' ability to inspire the team had eroded almost completely. The knack of wrong-footing players in a positive way is relatively rare. An underachieving dressing-room will use any excuse to absolve themselves of responsibility. Klopp can play to the crowd and they will lap it up. If he misjudges the psychology with the players, the fans won't matter.
The best way to win over a stadium full of supporters is not to flatter them after a disappointing performance but win for them. Victories bring back the feel-good factor quicker than a group of sheepish footballers linking hands.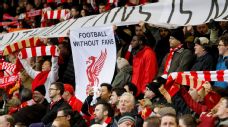 Champions League, Europa League cruel to English sides
The European draw appears to hate London. In the Champions League, Chelsea's annual matchup with Paris Saint-Germain has the whiff of Jose Mourinho's Stamford Bridge swansong. The Portuguese may well be in charge of PSG for 2017's annual renewal of the fixture.
Arsenal would have picked anyone rather than Barcelona. Even the Europa League has dealt Tottenham Hotspur a difficult hand in Fiorentina, the team that knocked them out last season.
All three teams have the capacity to go through. Arsenal have the pace to trouble Barcelona, Spurs are better equipped to beat the Italian side than they were last season and who knows where Chelsea will be in February? Almost four years ago Andre Villas-Boas was sacked by Chelsea between Champions League knockout round ties against Napoli. Defeat in Paris in the first leg may be the death knell for Mourinho. After all, it worked in 2012. The west London club went on to win the trophy under a caretaker manager, Roberto Di Matteo.
United up for tricky Europa League test The one part of London where they'll be celebrating is Brentford, whose owner Matthew Benham also owns Midtjylland, who have drawn Manchester United in the Europa League. Benham's analytics-based recruitment and tactics took the Danish league by storm last season. Louis van Gaal's rather predictable approach could well play into Midtjylland's hands. This tie may not be as comfortable as it looks.
Tony Evans has been a sports journalist for more than 20 years. He writes for ESPN FC on the Premier League. Twitter: @tonyevans92a.