Jurgen Klopp charisma shines through in Liverpool news conference unveiling
Jurgen Klopp was unveiled as Liverpool's new manager on Friday, succeeding Brendan Rodgers following the Northern Irishman's sacking last week.
The ex-Borussia Dortmund boss Klopp will take charge of Liverpool for the first time next week when they travel to Tottenham. How did he personally perform in front of the world's media?
First impression
The trademark wide smile was rarely off his face and he seems genuinely delighted to be manager of Liverpool. It's a job that comes with enormous pressure but everything the German said and did suggests he's well equipped to deal with it.
He came across as supremely confident yet endearingly humble at the same time. He knows he's good, he knows his methods work but he's not comfortable talking himself up and doesn't revel in others doing it for him. He seemed baffled by the "Kloppomania" phenomenon that has accompanied his arrival on Merseyside and he seems eager for the training ground, where he is most comfortable.
Appearance
Smart casual. While most would adopt a "dress to impress" mentality when meeting the press on the first day of a new job, Klopp is very much his own man and rocked up to Anfield in a pair of jeans, unbuttoned shirt with no tie and a black suit jacket. He was probably counting the minutes until he could get in tracksuit and baseball cap and take a training session.
What he said
No doubt there will be more in-depth interviews with him on tactics and individual players over the coming weeks and there were limits on how deeply he could get into things given the time restrictions. Even so, there was plenty for Kopites -- or perhaps that should now be Kloppites -- to get excited about, not least the surprising statement, "When we're sitting here in four years I'm pretty sure we will have won one title in that time." After countless years of Liverpool managers trying to talk down expectations, that was an eye-opener, to say the least.
Another important thing to take from it is how at ease he seems with the transfer structure at the club. One of the biggest concerns supporters have surrounds the committee and the problems it caused for Rodgers. Klopp was quick to dismiss those concerns.
"It's not a problem, I'm not an idiot!" he said, before adding: "It is a crazy discussion. For me it's enough that I have the first and last word. In the middle we can discuss everything. I am not a genius; I need the help of other people."
While he didn't delve too deeply into tactics or formations, he did talk about how important it is to give the fans something to feel passionate about, that possession football doesn't help to create an atmosphere. He elaborated further by saying "We will try to play very emotional football," before adding that Liverpool fans can look forward to "full-throttle football."
When asked about the weight of history and the pressure that comes from 25 years without a league title, he responded, "History is only the base for us. You can't carry it in your backpack every day."
Other interesting snippets included that when he visited Anfield in preseason with Dortmund in 2014, he thought about what it would be like to manage the club one day.
While it's clear he made a big impression on everyone in the room as well as those watching on television, he genuinely didn't seem interested in the frenzy.
"It's not what's important what people think when you come in; it's what they think when you leave," Klopp said.
This guy is a winner. While no one knows how this will eventually turn out, it feels like Liverpool have pulled off quite a coup by landing him.
How he handled the media
He had them eating out of the palm of his hand, especially with the line: "Everyone has told me about the British press, so it's up to you to show me they are all liars!"
That raised a chuckle, as his did response when asked to compare himself with Jose Mourinho, who on his first Chelsea news conference famously referred to himself as the Special One.
Klopp scoffed at the suggestion and responded: "I'm a normal guy -- I'm the Normal One," which of course is one of the many headline-grabbing responses from the charismatic German.
Best quote
"The players have to feel they can reach the expectations of all the press and fans. If somebody wants to help LFC, they need to change from doubter to believer."
Differences with Rodgers
Chalk and cheese. While Rodgers was often engaging and informative, he could also be embarrassing when things were not going well and too self-congratulatory when they were. Klopp oozes charisma in a completely understated way and there was no "middle management" speak.
Another major difference was how Klopp was keen to point out how good he thinks the current squad is, which is a refreshing change from his predecessor who seemed to downplay the quality whenever possible, complaining about not having "the right tools."
Klopp referenced the forwards, midfielders, defenders and goalkeeper in glowing terms, which is most unusual as new managers usually want to point out all the weaknesses to lower expectations for themselves.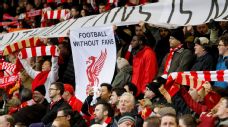 Room for improvement
He began the news conference by apologising for his English, yet he was more articulate and clear than several managers born and raised on these shores. Nevertheless, it was apparent when he answered a couple of questions in German how much more fluent and comfortable he was.
It was a similar situation with Rafael Benitez, who could obviously get his point across in much finer detail in his native tongue than his second language. Klopp's English is more advanced than Benitez's was upon the Spaniard's arrival in England but he clearly feels like he has more work to do. That will come from dealing with players and staff on a day-to-day basis as well as talking with supporters when he's out and about.
One of his great strengths is communication with his players and man-management, which will not be quite as easy when speaking in his second language, but we've seen enough to know that he should be able to get by without any real difficulties.
Overall verdict - 10/10
Short of belting out "You'll Never Walk Alone" at the top of his voice, it's difficult to imagine anything he could have said or done differently.
Dave Usher is one of ESPN FC's Liverpool bloggers. Follow him on Twitter: @theliverpoolway.