Liverpool head to Everton with Brendan Rodgers' future on the line
It's often claimed that league position counts for nothing in the Merseyside derby and Everton are especially wary of going into matches against Liverpool with any confidence of victory.
They've even lost derbies to their bitter rivals when referees have given them a one-man advantage, most notably when Steven Gerrard was sent off after 10 minutes in 2006 and their captain Phil Neville promptly put the ball in his own net to help launch the Reds to a 3-1 victory.
When the two sides played each other at Wembley in 2012's FA Cup semifinal, Everton went 1-0 up facing Liverpool's third-choice keeper Brad Jones -- and still lost.
Even Everton, however, with all their experience of being unexpectedly stung by the red side of the city, will be fancying their chances in the latest instalment of one of football's greatest rivalries.

Everton

Liverpool
Game Details
It was back in 2010 when they last tasted success in this fixture. It was also the last time a Liverpool manager was generally held in such low esteem. Then it was Roy Hodgson, now it is Brendan Rodgers' turn to feel the full force of a disenchanted Liverpool fan base.
Granted, the side is in nowhere near as bad a shape as it was in September 2010 and you won't find many Reds advocating the skills of the current England manager over anybody, much less Anfield's current boss, but there are other comparisons.
For instance, the tendency of both men to make matters worse simply by opening their mouths. Back then, after the Reds' last defeat in a derby, Hodgson spoke of any possibility of a Liverpool win being like "Utopia," and that was a line that poured petrol on dangerously high flames. Now Rodgers is doing it too.
Most fans are on edge. They know Everton's derby disappointments can't last forever and each successive match comes and goes in nervous agitation.
It's not even a situation where defeat would at least provide some relief in the likely exit of the manager. It just brings on another scenario that is infinitely worse. Nobody crows like an Everton fan and they've made heroes out of players who have simply scored the winner against Liverpool and very little else.
With the current climate emotive to put it mildly, defeat for Liverpool could be devastating. Few see Rodgers as a long-term answer to the club's problems right now, but a midseason change would be acceptance of the perilous position they find themselves in -- and there's always the possibility abrupt change might make matters worse.
Rodgers' problem became blindingly obvious during the 1-1 draw with Sion on Thursday -- he has never been able to master two games a week. Fans and pundits alike lauded the contribution of Luis Suarez and Daniel Sturridge to the title bid of season 2013-14, but forget Liverpool played once a week throughout virtually all of that campaign.
Rotation, and the necessity of building a strong squad to cope with the extra workload, has now been beyond Rodgers a third time. Liverpool may still be in both midweek competitions and aren't a long way from a top-four Premier League place, but few expect that to last for much longer. Home draws against Carlisle and Sion have eroded all optimism.
Both Merseyside managers are cut from the same cloth, advocating attacking play and cutting their managerial teeth with Swansea, a club that continues to thrive based on their previous managers' methods.
Roberto Martinez eventually joined Everton from relegated Wigan, a confirmation that Everton are not the club they used to be following a dozen trophy-less years managed by former Preston boss David Moyes. Liverpool are at least linked to managerial giants like Carlo Ancelotti and Jurgen Klopp.
Whether they could get either of them is another matter but it does demonstrate how the Liverpool job remains more demanding than its blue equivalent. Martinez suffered similar problems to Rodgers with European football last season and the "solution" to that appeared to be not to qualify at all.
His weaker yet leaner -- certainly far less expensive -- Everton squad can therefore focus on domestic issues, a luxury no Liverpool manager can afford, certainly not one that is more than three years into the job.
After Sion, Rodgers spoke of another rebuilding job. He's probably right but if his sizeable ego makes him believe it will be his task to take on, he may well be delusional.
This is the atmosphere in which a football match will take place on Sunday. Although the game itself may seem secondary to one man's future, it never can be completely immaterial.
It may be a local dispute, becoming more irrelevant to an outside world that once saw it as a battle of the giants, but it will still have tremendous consequences if Liverpool should lose.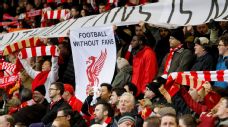 It may even have an adverse effect on Everton if they cannot win a derby which is stacked in their favour. Liverpool fans claim cattily that the fixture is Everton's cup final but there's no denying its importance to them, especially on their own turf at Goodison Park.
Whenever there is a lot wrong with Liverpool, the position of Everton is a mere afterthought. Worrying certainly but if there is so much needed to fix, then the "noisy neighbours" are very low on the list of priorities. Everton's league position is a symptom, not the disease.
That, at least, is one consolation -- Liverpool fans are still looking towards the higher echelons of the game whereas it feels like Everton have not done so for many years.
None of which will be any consolation if Everton win on Sunday; and least of all to Rodgers.
Steven Kelly is one of ESPN FC's Liverpool bloggers. Follow him on Twitter @SteKelly198586.