Rodgers' tenure at Liverpool looking increasingly grim after Carlisle win
It didn't matter how the penalty shoot-out ended between Liverpool and Carlisle United in the League Cup on Wednesday. It didn't matter that Adam Bogdan performed heroics for the Reds. It didn't matter that a man with hair like a show poodle choked at the last. Liverpool were already losers.
Carlisle United, mid-table in the fourth flight and put together for a fraction of the first payment for new Liverpool arrival Roberto Firmino, had already won. There is a gulf between these two clubs that could be measured in light years. Never mind that Liverpool had 47 attempts on or off target; they should have obliterated their Cumbrian guests. That they didn't only intensifies the pressure on their manager Brendan Rodgers.
A month ago today, the mood at Anfield was completely different. There was no talk of potential replacements in Carlo Ancelotti or Jurgen Klopp then. Liverpool had just walked away from the Emirates Stadium with a point, adding it to the six they'd taken from Stoke and Bournemouth.

Liverpool
Carlisle United
Game Details
Neither of the victories were accompanied by particularly convincing performances (both 1-0 wins), but there's no point being churlish about three clean sheets, especially for a side as leaky as Liverpool. Supporters felt encouraged, as if a corner had been turned. Indeed it had, but it only led them straight into a dark alley filled with terrors.
A thrashing at home to West Ham, defeat at Old Trafford, subdued draws with Bordeaux and Norwich and now this -- a narrow penalty shoot-out victory that no Liverpool player should have dared to celebrate.
Rodgers surely must be in trouble.
For the first time in his tenure, it all looks so hopeless. In his debut 2012 season at Anfield, he pledged "death by football," and the willingness of his players to seek to control of possession meant that their mistakes and missteps were accepted as the cost of doing business. In the second season, Rodgers encouraged a terrifying counterattacking style that very nearly won him the league. In the third season, he struggled.
Not simply without Luis Suarez, as his detractors would have it, but without the injured Daniel Sturridge and with only a photocopy of a photocopy of a photocopy of Steven Gerrard, faded and barely recognisable. Rodgers' shift to a back three stopped the rot for a time, but his ploy was soon neutralised by his rivals.
Rodgers shifted to a back three again after the United game 12 days ago. It didn't work, but that's no surprise. Nothing is working.
Liverpool look short on confidence, but there's more than that. The structure doesn't work. There's precious little width unless the full-backs get up and when they do, there's a risk of being outflanked. There's no belief from the midfielders to make the kind of passes that were made in the 2013-14 campaign, mainly because there's no one making the runs that were made in that season. Getting in behind opposing defences now seems a foreign concept.
The signing of Christian Benteke is increasingly odd, not because of any questions about his ability, but because of the tendency to go long in the hope that his size will prove to be the missing X factor. Liverpool don't seem to know how to play that way and the Belgian is always isolated.
Death by football was fine in the first season, rapid counterattack was fine in the second season, and a back three was almost, but not quite, fine in the third season. The fourth season appears to be a noxious mix of everything. It's as if a desperate Rodgers has pulled random bottles out of the drinks cabinet and tossed them into a martini shaker along with some baked beans, a spoonful of cat food and a dash of athlete's-foot powder because who knows? Maybe no one's tried this before.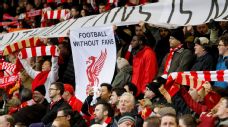 The match-going supporters, more of a bellwether than those on radio phone-ins and comment boxes, have been as patient as could be expected, but open dissent is simmering now.
Hindsight is always 20/20, but the decision by Fenway Sports Group to retain Rodgers in the summer was not as foolish as some have made out. Bad seasons don't necessarily indicate bad teams, especially when key players have been sold. Mistakes had been made behind the scenes and Rodgers was only partially to blame for a confused transfer policy. But patience is wearing thin now and it would be astonishing if alternative avenues haven't yet been at least discussed.
Rodgers' failure to appear in front of the media on Wednesday speaks volumes. There have been times when the Liverpool press officer has had to almost physically remove him from the press room to spare everyone an extended explanation of new positions or increasingly florid tributes to senior players. But he doesn't want to face the questions now, presumably because he doesn't have the answers.
We are only six games into the Premier League season. Even though there is absolutely nothing to suggest that it will happen, there is still a chance that something might click and that Rodgers may be able to turn this stricken tanker around. But a cursory glance at the fixture list reveals a crush of icebergs likely to sink him.
Everton away, Tottenham away, and then, on Oct. 25, Southampton at home. If Rodgers can't beat a club that he and his transfer committee have so ruthlessly pillaged in the last 18 months, surely that will be the end.
Iain Macintosh covers the Premier League and Champions League for ESPN FC. Follow him on Twitter @IainMacintosh.