Everton are making positive changes but it's vital they get the right people in
Everton sacked their third manager in two years on Wednesday as the club released a statement confirming the inevitable departure of Sam Allardyce. It has been a case of "out with the old and in with the new" this week, with Everton starting their latest rebuild in earnest amid a flurry of behind-the-scenes activity. Everton are not noted for their decisiveness (not always a bad thing) but there has been a refreshing purpose and transparency attached to the clean-up operation taking place since the Premier League season ended with a 3-1 defeat at West Ham on Sunday.
The first step of this next chapter saw a reshuffle and several promotions at the executive level on Tuesday as Everton replaced Chief Executive Robert Elstone, who is swapping the Premier League for Rugby League, promoting Deputy Chief Executive Denise Barrett-Baxendale in his place. Elsewhere, Keith Harris took on the position of deputy chairman, while Alexander Ryazantsev fills the newly created role of chief finance and commercial officer, with commercial performance an area in which Everton have struggled for years.
But the most encouraging moves since the end of the season relate more to matters on the pitch. The hellish six-month Allardyce tenure has come to a swift end, while Director of Football Steve Walsh paid the price for a costly and failed spending spree that saw Everton spend in the region of £200 million this season but somehow end up worse off in terms of league placing, points and just about every other measure.
Filling the Walsh void is PSV Eindhoven sporting director Marcel Brands, who helped guide PSV to the Dutch Eredivisie title this season and in three of the past four seasons, garnering a reputation along the way for effective team-building and player development. Those are two traits that Everton urgently require, with a succession of promising youngsters seeing their development stall this season and the squad resembling a collection of individuals rather than a cohesive unit.
Brands needs the clarity and authority to operate given that the setup between Walsh and Koeman misfired completely. With no visible style of play, either in possession or out of it, Everton spent the summer transfer window buying players for vast sums of money with seemingly no obvious strategy or process behind them.
Goalkeeper Jordan Pickford was the only genuine success story of the eight players signed during a summer spending spree akin to someone throwing darts at a wall and hoping enough of them remained attached. Everton need a distinct style both with and without the ball; Brands needs the licence to secure players that fit into those parameters, whatever they may be.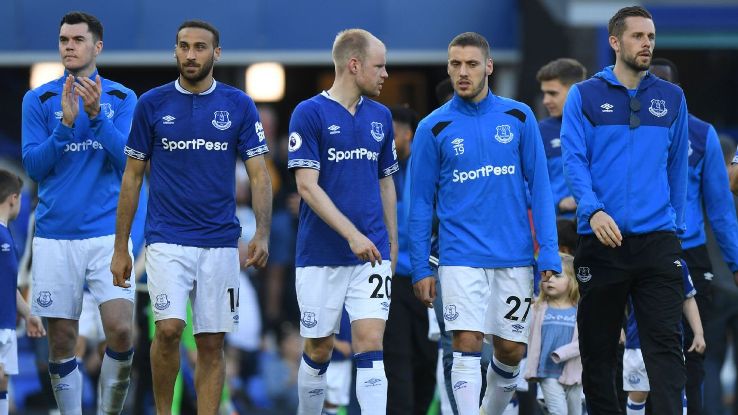 Accustomed to an expectant and ambitious fan base from his time at PSV, Brands will find the same awaits him on Merseyside. Brands has yet to begin his new job -- his first task will be recruiting a new manager -- but his opening words hit the right note with Everton fans, especially after the tiresome lack of ambition and frequent downplaying of expectations favoured by Allardyce.
Brands outlined his intentions via a statement on the club website.
"We need to be competing for honours against the Premier League elite," said the new director of football. "It is no straightforward challenge but this must be out motivation each and every day." The final sentence strikes a chord with supporters who have grown weary at the lack of progress in recent years, with the two permanent managers preceding Allardyce, Roberto Martinez and Ronald Koeman, enjoying a promising debut campaign only to completely lose their way in their second term.
Evertonians are acutely aware of the size of the task that faces majority shareholder Farhad Moshiri, the newly reshaped executive hierarchy, Brands and any prospective new manager but patience will be forthcoming from supporters if the aforementioned motivation to succeed is apparent. Supporters want success in the long-term but after the turmoil of this season, the short-term requires Everton putting in place a structure that can eventually allow this club to strive and challenge the elite in this division.
Fans also want football capable of uniting supporters, not a style of play likely to induce sleep. While many sneer and view the high standards of Everton supporters as a misguided sense of entitlement, it is worth noting, even after 23 years without a trophy, that Everton remain the fourth-most successful club in England. This storied club may be a sleeping giant of the English game but it is a giant nonetheless. That is something Allardyce never understood.
Allardyce was content with playing the percentages and plodding along with safety-first football as his first, and only, method. Supporters spent recent weeks and months demonstrating that was unacceptable. Everton did likewise this week, ripping up a broken setup and starting again, hiring Brands and beginning the search for a new manager.
Hope evaporated among disgruntled supporters during the final months of this season, but the pleasing and necessary developments of the past few days are the first steps toward restoring it.
Luke is ESPN FC's Everton blogger. Follow Luke on Twitter @lukeofarrell.