For Barca and Brazil, Coutinho finds himself falling down the pecking order
Ousmane Dembele is an injury doubt for Barcelona against Lyon in the return leg of their Champions League round-of-16 tie on Wednesday. Neymar and Vinicius Junior are definitely out of Brazil's friendlies later this month against Panama and the Czech Republic. It all means that, for both club and country, opportunity is knocking for Philippe Coutinho, but it knocks on both side of the door -- the way in and the way out. Coutinho stands as the crossroads, and these next few days will surely shed some light on which way he is heading.
There are two problem areas for Coutinho: position and personality.
There is nothing barnstorming or ostentatious about the 26-year-old. He comes across as an introverted figure; not the type, perhaps, to walk into a new environment, impose himself and bend it to his will. In truth, his is a career in which the step up has seldom been easy. With Brazil, for example, he was a flop at Under-17 level, and one of the supporting cast in the team that won the Under-20 World Cup. It took him years to become an important part of the senior side, not making his presence felt until the second half of the 2018 qualifiers.
And in club football, there is a reason that Liverpool were able to make such a huge profit on him. They picked him up for a song from Inter Milan. The Italian giants had a long-term relationship with Coutinho, but appear to have given up on him, and let him leave for a token fee. Liverpool, though, made him feel important -- as had Mauricio Pochettino in a previous loan spell at Espanyol.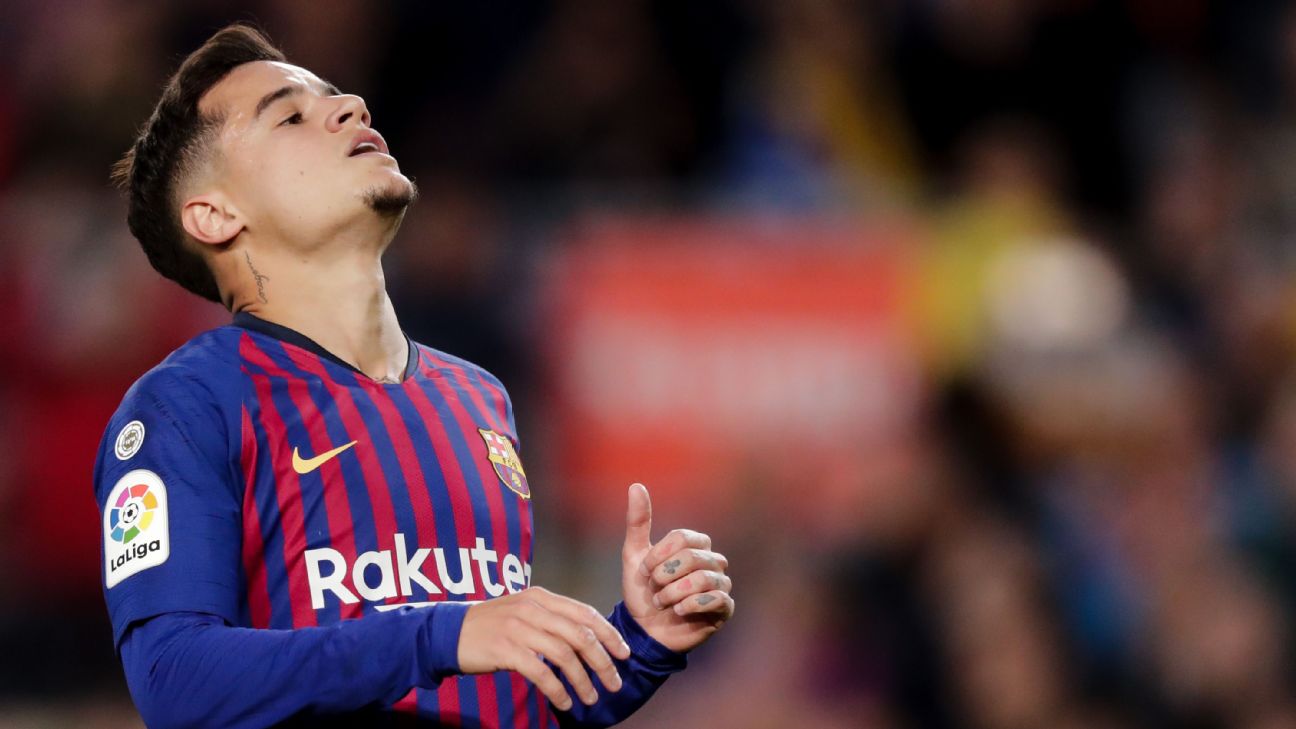 Barcelona, however, is an altogether more challenging environment. From a psychological point of view, the club were not going to come to him. He had to go to them, fit into a structure built around Lionel Messi and still justify his massive transfer fee. So far, he has not been able to do that. The fans are losing patience -- he was booed when he left the field towards the end of Saturday's game against Rayo Vallecano. There is the danger of this treatment giving force to a spiral of lost self-esteem, in which a player low on confidence produces worse displays, thus leading to more criticism from the terraces.
The process could, of course, be reversed by an outstanding performance against Lyon, but this opens up the second problem area: Where should Coutinho play? Is he the most attacking member of the midfield three, or a member of the attacking trio?
Barcelona appeared to acquire him in the belief that he could be the former, the replacement for their little maestro Andres Iniesta. But after a lengthy trial, coach Ernesto Valverde seems to have come to the conclusion that this is not Coutinho's best role, that he is not a genuine midfielder and that using him there leaves the team too exposed from a defensive point of view. Valverde now sees Coutinho as a contender in his original position, as a wide member of the front three.
Brazil have gone in the other direction. For a long time Coutinho was a backup for Neymar wide on the left, and when he finally came good, it was cutting in from the other flank. For the World Cup, though, coach Tite rethought his side, and fielded Coutinho on the left side of his midfield triangle. This had an obvious appeal: it meant that Coutinho was operating close to Neymar. The pair could combine, and one could take advantage of the space created by the other.
Defensively, though, it was not a success. The Brazil coaching staff point to statistics that indicate Coutinho was covering plenty of ground during the World Cup. The evidence of the eyes, however, was that he was being over-worked in a role for which he was not best suited, and was losing attacking potency without being effective in defence.
The bright start made by Lucas Paqueta at AC Milan will surely put pressure on Coutinho's midfield role for Brazil in this month's matches. But the absences of Neymar and Vinicius Junior could allow a return to a wide left role that is surely his most natural position.
It is a function that Coutinho will hope to carry out on Wednesday against Lyon, especially if Dembele proves unable to recover from the injury he sustained at the weekend. But here, too, he has a problem -- and much of it has to do with signs of the physical decline of Luis Suarez.
The Uruguayan remains a top-class centre-forward, as he reminded all comers with a recent match-winning display away to Real Madrid, but he has clearly lost some of his pace. This is important, because the ability of Suarez to operate on the shoulder of the last defender has been a vital part of Barcelona's play. It forces the opposing defence deeper, opening up space for Messi to work his magic. A slower Suarez makes it essential that Barcelona field a speed merchant in their front line, opening up the field and stretching the rival defence, and thus helps explain why Dembele has been getting in the side and leaving Coutinho on the bench.
But if Dembele is unable to play, Valverde has another option. He can turn to another Brazilian, the winger Malcom, who would be a closer like-for-like swap than Coutinho.
This would be an admission that Coutinho is effectively third choice in his favoured position, and might send out a signal that he is no longer required at the Camp Nou. Even off the bench, though, he can still be a match winner. In his best phase for Brazil he was a superb deadlock breaker, using his ability to shoot from midrange to open the scoring against opponents who were defending in depth. That is a talent that could come in very handy on Wednesday, even if Coutinho has to wait on the bench for his chance to shine.