Antoine Griezmann and Atletico Madrid have Barcelona in their sights
It might be mere coincidence but the last time Atletico Madrid wrested power and trophies away from Barcelona they were spearheaded by a striker that Barca wanted but let slip away.
That was Diego Costa, whom the Camp Nou scouts identified when he was on his odyssey of loan moves while belonging to Atleti.
But after the Brazilian-born behemoth eventually made the Calderon his home, in 2013-14 the Colchoneros pipped their Catalan rivals to La Liga on the final day and eliminated them from the Champions League quarterfinal.
What put Costa off was that he was offered a contract to play for Barcelona B, where, in theory, he'd be mentored and have his rougher edges smoothed.
He wasn't interested.
Even back then it was the big-time or nothing for El Diego.
There's an echo of that mishandled transfer business surrounding this Saturday's unmissable collision between Spain's past two champions at the Calderon.
Atleti have returned a full house of victories thus far, including a barnstorming win at Sevilla in a stadium that had recently seen well over a year pass without a home defeat.
In their two matches, Los Colchoneros have been led from the front by another striker Barcelona identified but didn't sign after failing to convince with an offer that would see him win his spurs at Barca B: Antoine Griezmann.
Not only is it arguable that he was Europe's single most improved footballer last season, there's a case to make that he's pretty much the most attractive, threatening, promising and crowd-pleasing striker around today.
Anthony Martial included.
A shrewd man would say that Martial is at Old Trafford right now because, when Manchester United started to make overtures toward the more experienced, more world-wise and more proven Griezmann, Atleti slammed up his wages -- and thus his buyout clause -- to the extent that it would have taken €80 million plus taxes to buy the elder Frenchman.
Griezmann being in-demand is not new and, back in the spring of 2009, it was Barcelona who first tried to tempt him to make the leap to a mega-club when he was at Real Sociedad, then of Spain's Segunda Division.
The young Frenchman's talent was still raw, his temperament in search of maturity, but both his ambition and his loyalty were then as they are now: Rock solid.
Young Griezmann had already spent years at La Real and felt he owed them promotion, at the very least.
More, even though this was Barcelona during the greatest era in that club's history -- they had recently won the Champions League and were a year and a half away from winning another -- this pugnacious star-in-the-making didn't see any benefit in swapping second division Real Sociedad for a reserve team whose trajectory suggested that they'd be promoted to that same division the following season.
"Ask them about it!" Griezmann said recently. "Barcelona contacted my agents, but I wanted to be a Primera Division player, so why sign for another club who'd only ever be in the Segunda? I wasn't sure whether Barca, the club, really wanted me enough"
Call it ironic, call it interesting as you care, but the coach who sanctioned Barcelona's move for young Griezmann was Luis Enrique.
With Thiago, Marc Bartra, Nolito and Jonatan Soriano under his charge, Barca B were about to perform to a record level in the Second Division.
But there would be no French Legionnaire to help them. Griezmann was about to sign his first professional contract, but with La Real. Moreover, the €30M buyout clause installed in April 2010 is the exact amount Atleti paid for him four years later.
Judging by last season, it was money brilliantly invested.
Griezmann scored 25 times in 53 games in all competitions and, by the last couple of months of competition, he was by some distance Atleti's most compelling, most authoritative and most talismanic player.
To end up venerated and valued was an impressive journey for a player who had been called out by Atleti's ultra-demanding coach Diego Simeone the previous October.
After the reigning champions won at Getafe in a "Madrid-derby-lite" three months into the season, Simeone swapped the carrot for a stick and told the postmatch media that he wanted more effort, more involvement and more damage done to opponents from his €30M striker.
The public chastisement came after Griezmann had failed to score in his first nine league games for his new club.
What subsequently transpired was that his work under Atleti's infamous "Profe" Ortega, who is legendarily demanding in his fitness training, was costing the Frenchman dearly.
Physically and mentally he'd been drowning, not waving.
That, added to the wholly new requirements of playing as a second striker rather than wide, and meeting Simeone's requirements for pressing and working back was leaving Griezmann short of stamina, prone to slipping out of games and a little shell-shocked.
Two things then helped.
Simeone has a culture at the Calderon whereby, if he's not happy, he tells his players about it.
But the quid-pro-quo is that it's an "in-camera" meeting, which means that what is said stays behind closed doors.
Thus players are allowed to speak out if they feel hard done by or if they have a constructive answer to Simeone's criticism.
Griezmann explained what he was struggling with and why and Simeone heard him out.
The second thing that helped is that Griezmann isn't just talented, tough and monstrously quick -- he's dedicated to learning.
At La Real he would go to the club's audio-visual scout, the man charged with filming training and matches but also opponents, who would happily share with young Griezmann what he'd done wrong -- and right. The then-winger would immediately try to learn, adapt and apply the lesson.
Thus it was that Simeone was criticising someone who would neither shrivel up nor invest in rebellion.
From that point Griezmann's season was remarkable. He scored twice in Atleti's next game vs. Cordoba and went on to finish with 22 league goals from 37 appearances as Simeone's side climbed from fifth (disaster) to third, (Champions League financial joy).
What didn't happen was the cherry on the icing of a goal or a win vs. Barcelona -- Griezmann played Luis Enrique's Treble-winning group four times without a goal, a win or a draw.
It is a record that flies directly in the face of his previous record against the Catalans. In 10 matches for La Real against Barca, he won three times and drew twice. He also scored in home games in 2011-12 and 2013-14.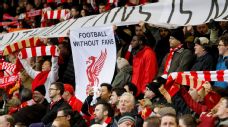 Taking 11 of 30 available points is far from embarrassing.
You can take it from his guiding philosophy that, when the Spanish and European champions step into the Lions' Den that is the Calderon, Griezmann's determination to score and win will be massive.
Atleti can run Barcelona close in La Liga this season, perhaps pip them but to do that would require a return to the ways of 2013-14, when, pre-Griezmann, the Camp Nou club failed to win any of the six meetings between the two sides.
On Saturday, Atleti must take advantage of the fact that both Lionel Messi and Neymar will be returning from international duty across the Atlantic, while Gerard Pique will still be suspended and Claudio Bravo injured.
Griezmann's life philosophy is "better every year": "I don't set myself specific objectives in terms of numbers, but I demand more goals, more assists, more match minutes, more trophies than the previous season."
It is an attitude that threatens the club, and the coach, who reached out for this growing French phenomenon but let him slip through their hands.
Graham Hunter covers Spain for ESPN FC and Sky Sports. Author of "Barca: The Making of the Greatest Team in the World." Twitter: @BumperGraham.