Atlanta United's South American flair poised to make instant MLS impact
As the 2017 Major League Soccer season draws closer, one of the new clubs, Atlanta United, have already flexed their muscles in the offseason with a few major signings to match their lofty ambitions.
Their permanent home, the Mercedes-Benz Stadium, won't be ready until July but in the Bobby Dodd Stadium that can house 55,000 fans, the new kids on the block will be an exciting prospect for the upcoming campaign.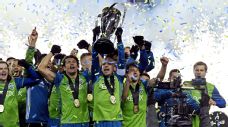 Subscribe to MLS LIVE today!
- MLS LIVE is back with an all-new platform for 2017
- Get the most matches ever, LIVE and ON DEMAND
- Packages start at only $14.99 a month
- Watch MLS on your phone, computer or TV
- Subscribe today at live.mlssoccer.com
Early Identity
Arthur Blank's new MLS entry wasted little time in announcing their intentions to the rest of the league with a spate of splashy spending. The hiring of former Barcelona and Argentina head coach Gerardo "Tata" Martino served as an indicator that Atlanta United wasn't going to take a slow-build approach to their expansion experience. A decided South American bent to their player signings made it clear AUFC plans to utilize the wings with their brand of attacking soccer. It's a little LA Galaxy, a little Toronto FC and a little something new altogether.
The hype is significant, a product of the club's team-building process and the explosive enthusiasm their arrival in the city as created. Before they've played a competitive match, Atlanta already has the look of one of the more high-profile teams in the league.
Coach
Martino's pedigree speaks for itself, but just how the former Barcelona manager's soccer philosophy will hold up over a 34-game schedule in MLS's unique environment is an open question. What we do know is that Martino's preference for a highly mobile, highly interchangeable front six could make Atlanta United one of the more fun teams to watch on the attacking end of the field in 2017.
In preseason, the team has played with a fluid 4-3-3, very much in line with what Martino used in his other stops. The formation figures to be high tempo, high pressure, with turnovers converted into breaks as quickly as possible. Martino's wing players will be tasked with pushing into the box and providing additional scoring threats.
Stadium
Shiny new Mercedes-Benz Stadium, with its full wrap-around video screen and state-of-the-art amenities, will be the permanent home of Atlanta United once completed. To start their inaugural campaign, the club will make do with Georgia Tech's venerable American football venue, Bobby Dodd Stadium. Bobby Dodd seats a robust 55,000, and with the club's massive season ticket base of 30,000 (the best in MLS) and discounts for students on the Georgia Tech campus, Atlanta United shouldn't have much problem filling it up. The dimensions of Bobby Dodd aren't ideal, with width in particular lacking.
Come July, when they move into Mercedes-Benz Stadium, they'll take with them the big crowds but have to adjust to an artificial surface. Mercedes-Benz will undoubtedly be more comfortable for everyone involved, however, as it has a retractable roof to keep out the smothering summer Georgia heat.
Fans
Thirty-thousand season tickets say just about all you need to know about Atlanta United's new fan base, but there are other details worth noting. The club has multiple supporters groups, though the largest are Terminus Legion, named for the original label that eventually became Atlanta, and Footie Mob, a group that takes its name from one of Atlanta's many famous musical acts.
Atlanta's growth in recent years ensures a diverse, vibrant group of fans will show up to each of their 17 home matches this season. The excitement for big-time soccer is evident, and it will be fascinating to see what character Atlanta United's support takes as the calendar goes by.
Jason Davis covers Major League Soccer and the United States national team for ESPN FC. Twitter: @davisjsn.