Unconvincing Roma earn Champions League Round of 16 place
Roma qualified for the knockout stage of the Champions League for the first time since 2010, but you'd never have guessed it from the livid reaction from the sparsely populated Stadio Olimpico at the end of their goalless draw with BATE Borisov.
Rudi Garcia's out-of-form side were booed off at both half- and full-time by the few fans who bothered to turn up and it was not hard to see why: Roma had goalkeeper Wojciech Szczesny and Barcelona's 1-1 draw at Bayer Leverkusen to thank for their qualification more than their own performance, and they look no closer to coming out of a slump that threatens to derail their season.
Roma have got through with a pitiful six points, the lowest total of any side ever to qualify this season. It's also the same as Europa League-bound Leverkusen, and Roma only stay above the Germans thanks to a frantic 3-2 win over them in Rome, which gave them the better head-to-head between the two sides.
That win was the only one managed by Roma in a traumatic group stage campaign that contained more humiliations than triumphs. The 6-1 hammering by Barcelona on Matchday 5 and the 3-2 defeat by BATE in Belarus back in September were the latest European embarrassments for Roma, and ones that saw them set a record for most goals conceded by any team ever to qualify -- a whopping 16.
Nonetheless the whistling and booing left a sour taste among the players, who didn't know how to react after the game. Auxiliary right-back Alessandro Florenzi said that he would have preferred "70,000 jeers".
"The team deserves to be applauded for qualifying, but it's frustrating when you come here and they're getting whistled at," said the club's American owner James Pallotta on the official Roma TV channel. "The fans should be cheering us on. The lads work day after day to improve and deserve a different response from the crowd."
Just as bad as the barracking at the end of the match was the silence during it, as Roma's hardcore ultra supporters maintained their months-long stadium boycott in protest at the division of the Curva Sud into two sections. They preferred to go to the team's youth games instead.
The team's recent struggles mean the rest of the fan base is also staying away and fewer than 30,000 went through the turnstiles for Wednesday night's game, an unthinkably low number for such an important clash.
Those that did attend were not the sort to bother themselves with vocalising their support. Without the core support to create an atmosphere that once made the Olimpico one of Europe's most exciting arenas, the ground becomes a cavern, bereft of soul.
Pallotta in is Rome principally to try and get finalised plans for a new stadium passed by the city council, but he will also meet the city's Prefect (head of civil protection) Franco Gabrielli on Friday afternoon to discuss the supporter issue. He's unlikely to have much success with the stubborn Prefect, who also has the Catholic Holy Jubilee and terrorist threats to contend with.
"Without the Curva Sud the atmosphere at the stadium is different," said Garcia to Mediaset afterwards. "At the end of the day we qualified and right now, with this negative environment, to get through the group stage sends an even stronger message."
Not helping the atmosphere is the turgid football that has characterised recent performances, with goals from open play drying up since November's international break. Of the four goals Roma have scored in their last five matches, two have come from set-piece situations, and one of the two scored from open play was Edin Dzeko's consolation goal in that destruction by Barca.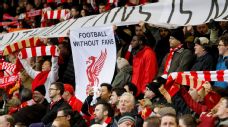 Dzeko was disappointing again against BATE and one wonders if he's ever going to rediscover his best form. Sent through by Miralem Pjanic two minutes into the second half, the Bosnian weakly shot straight at goalkeeper Syarhey Chernik and that was as good as it got for the striker all night. He stays on just five goals.
A sudden uncertainty in front of goal has afflicted a formerly flamboyant Roma who, despite being way below par still had enough chances to win the game. They were almost made to pay for their profligacy.
Had it not been for Szczesny's miraculous save in the 68th minute, which drew one of the night's few cheers as he somehow palmed Michail Gordeychuk's close-range shot away when a goal seemed certain, Roma would have finished bottom of Group E, a fate that wouldn't have been entirely undeserved.
"The team did everything to score and had 24 attempts," added Garcia. "Obviously we could've done better and Wojciech Szczesny made a crucial save, but ultimately we did qualify."
Qualifying in the manner in which they did is nothing to shout about, however. It must be particularly galling for Napoli fans to see their hated rivals make it through without once playing well, when their own team failed to reach the Round of 16 in 2013 despite getting 12 points in a group that contained Borussia Dortmund and Arsenal.
Even sadder is thinking about teams Roma could be paired with in Monday's draw. In their current form you wouldn't fancy them against any of Real Madrid, Atletico Madrid, Wolfsburg, Manchester City, Bayern Munich or even struggling Chelsea, who seem to have more of a handle on European football than Roma despite their vastly inferior position in their respective league.
Luckily Roma now have until February to regroup and hopefully recruit some new players. They are in desperate need of at least one new defender, plus a deputy for Dzeko and they will need to get wingers Gervinho, who was set to start vs. BATE but pulled up in the pre-match warm-up, and Mohamed Salah back to full fitness. Without them Roma are predictable and sluggish in attack.
"We must think positively," said midfielder Radja Nainggolan. "Jeers or not, it doesn't matter, the fans just expected a victory from us. Qualification is a positive thing, now we have to work."
Terry is based in Rome and is ESPN FC's AS Roma blogger. Twitter: @T_Daley