Roma hope that victory won't be necessary vs. BATE
Roma go into their final game of a tortuous Champions League group stage campaign knowing that, if they beat BATE Borisov in Rome on Wednesday, they will go through to the knockout stages of the competition. It should be simple, but Rudi Garcia's side are in the middle of a horrible slump, and it's hard to see where the wins are going to come from.
Watching on at the Stadio Olimpico will be club owner James Pallotta, who flew into the Italian capital from his base in Boston at the weekend to meet with his directors and discuss (among other things, including a finalised new stadium proposal) a crisis in form that is threatening to destabilise what, before the November international break, looked to be a very promising season.
Roma are without a win in four games in all competitions and still seem to be reeling from the 6-1 thrashing they took from Barcelona at the Camp Nou on matchday five. The only consolation was that the result had no impact on their qualification chances, as Bayer Leverkusen drew at BATE.
Roma go into Wednesday's match level on five points with Leverkusen but are above them thanks to their better head-to-head record against the Germans.
Despite being bottom of the group, BATE are only a point behind Roma and will qualify themselves should they take the three points, barring an unlikely Leverkusen win over Barca, who have been a huge help to Roma, in that their spectacular displays have kept direct group rivals on low points totals.
Their 1-1 draw in September means Roma are the only team to have taken any points off Luis Enrique's side, and that has greatly increased their chances of qualification: With Barcelona huge favourites to get at least a point in Germany, Roma can draw with BATE and still realistically expect to make it through.
However handy that is given their current dip in form -- and in particular given the attack has become ponderous in the absence of injured wingers Gervinho and Mohamed Salah -- it scarcely seems fair that the team with the competition's worst defence will likely make it through.
In total Roma have conceded a whopping 16 goals in just five games, and that's way too many to deserve a spot in the round of 16. Worse than the beating by Barca were the humiliating 3-2 defeat at BATE and the throwing away of a two-goal lead with minutes remaining in a 4-4 draw at Leverkusen. With defending like that it's hard to pick a team in the next round that you'd fancy Roma to beat.
That's partly why Pallotta is in town: European football is a priority for the American, and continued embarrassment on the continent is a major irritant, especially given how well Italy's other clubs are doing in both the Champions and Europa leagues.
It's also partly why local media keep suggesting alternatives to coach Garcia. Monday's Corriere dello Sport had Marcello Lippi moving in as interim, with Italy coach Antonio Conte taking over full-time after Euro 2016. But the club continues to deny any possibility of the Frenchman being sacked.
"Did we talk about Garcia? Forget about it," sporting director Walter Sabatini said to journalists after Sunday's meeting with Pallotta. "If Garcia sinks, we all sink together"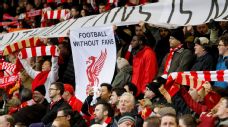 Wednesday's game will be the latest at home that Roma tackle without support. The continued boycott of games by the hardcore supporters over the decision to split the Curva Sud, as well as general apathy among the rest of the fan base mean that, as of Monday morning, just 10,000 tickets have been sold for the match.
Even if sales pick up, the ground will be half-full at best and almost entirely silent. Not long ago that would have been unthinkable for a game of this magnitude and the atmosphere comes in stark contrast to the large, raucous crowds in front of which title rivals Inter, Napoli, Fiorentina and Juventus play.
For this reason Pallotta also wants to meet Rome Prefect (head of civil protection) Franco Gabrielli to see if there could be any compromise that might get fans back into the ground. The American will be aware as much as anyone just how bad an empty stadium looks to TV audiences and sponsors, but Gabrielli has shown no interest in going back on his decision.
Not having the fans on their side will not help the Roma players, especially given how much many of them are struggling for form, but that situation isn't likely to change before the end of this season, so they're just going to have to get used to it.
It's just as well that, despite everything, they almost certainly won't have to win to complete one of this season's minimum requirements: Qualification for the Champions league knockout rounds.
Terry is based in Rome and is ESPN FC's AS Roma blogger. Twitter: @T_Daley