Mesut Ozil and Alexis Sanchez will be crucial for Arsenal this week
Arsenal's 5-2 win over Leicester on Saturday will undoubtedly boost confidence before Tuesday night's Champions League clash against Olympiakos.
There's a temptation to look beyond it, to Sunday's Premier League meeting with league leaders Manchester United, but also a danger of falling into the trap that so affected them against Dinamo Zagreb on matchday one in Europe.
For that game, Arsene Wenger's team selection was informed by an upcoming clash against Chelsea. It's fair to say it didn't work out as both games were lost, albeit in ways not entirely down to the team selection. Red cards in both games -- Olivier Giroud against Zagreb; Gabriel and Santi Cazorla against Chelsea -- played a major part in both defeats, but losing the first European game puts extra pressure on the Gunners to get points on the board on Tuesday.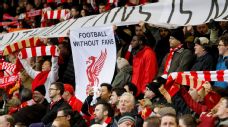 "You have to win your home games if you want to qualify from the group stage, it is simple as that," said Wenger on Monday.
"We cannot afford to drop points now against anyone at home."
And remember, that includes Bayern Munich. Olympiakos arrive in London top of their league in Greece having won five out of five, scoring 16 goals and conceding just three. Even if you wish to downplay the overall quality of the league, there's a lot to be said for teams brimming with confidence and belief.
The statistic that Zagreb had gone 44 games unbeaten at home was dismissed before they faced Arsenal. We were told it was more relevant they hadn't won a Champions League group game since 1999. Look how that turned out -- so Wenger's team will have to be mindful of a team that looks to have hit its stride domestically, especially when Arsenal's performances have been inconsistent to say the least.
If the collective performance was a cake, the impact of the two most expensive signings in the club's history was the icing on top. Mesut Ozil and Alexis Sanchez needed to step up and become the attacking fulcrum of the team, and against Claudio Ranieri's high-flying, confident side they did just that.
Sanchez's contribution is most obvious, the three goals at the King Power stadium making him the first player to score a hat trick in the Premier League, La Liga and Serie A. The goals were a wonderful illustration of his all-round talent. The first was a classic poacher's goal, snapping on to a loose ball in the box. The second was a showcase of his movement, aerial ability and bravery -- climbing high and nodding home before keeper Kasper Schmeichel could get to the ball. The third was a piece of explosive individual brilliance, the Sanchez fans have been waiting to see all season.
You could say Ozil played a supporting role with an assist and a superb ball in the build-up to the first, but that would be doing him a disservice. The German was allowed to glide around the pitch, linking the Arsenal attack and midfield. In doing so, he became the creative force the team needs him to be, making seven chances in the 90 minutes.
The challenge now is for the two of them to repeat that. Some will say it was "only Leicester," but these matches in particular are when the pair should be dominating. Of course it would be excellent to see them do it in the so-called "big games," and if Arsenal are to challenge for the title this season, they are going to have to do that. But it's the ability to produce on a week in, week out basis that will prove most important.
"You have to be consistent -- that's what we focus on," said Wenger after Leicester. Tuesday's game with Olympiakos is another chance for Sanchez and Ozil to showcase their considerable talents and help drive the Gunners to victory. Then on Sunday, one of those big games, against Manchester United, will test them even further.
Andrew Mangan is one of ESPN FC's Arsenal bloggers. You can follow him on Twitter: @arseblog.