Sanchez's Champs League chance
Eight years ago Chile's Mark Gonzalez climbed off the bench to score a vital goal for Liverpool, one which took them past Israel's Maccabi Haifa and into the group stage of the 2006-07 Champions League.
It was a lucrative goal for his new club, and an important one as well. So close to early elimination, Liverpool ended up making it all the way to the final of that year's competition, where they went down to Milan.
By then, though, Mark Gonzalez was stuck on the bench and soon on his way out of Liverpool. The young left winger had not lived up to expectations, either as a result of injury problems or a lack of professional focus. He moved on to Betis, then to CSKA Moscow, and earlier this year, still only 30, moved back to Chile to rejoin Universidad Catolica.
- Palmer: Giroud could be out for three months
- Gladwell: Lukas Podolski linked with Serie A
Arsenal would be delighted if their new Chilean, Alexis Sanchez, can score the goal this Wednesday that gets them past Besiktas and through to the group phase of this season's Champions League. But they will expect much more of the second most expensive signing in the club's history.
Coach Arsene Wenger will hope that he has considerably strengthened his squad with the addition of one of the sharpest attacking weapons in the world game.
Now 25, Sanchez grew up kicking a ball around the dusty streets of Tocapilla, in the north of Chile. Neighbours were angry with the broken windows, but before long they were proud that their glass had played a small part in the rise of a wonderful talent.
He was playing for Cobreloa in the Chilean first division just a couple of months passed his 16th birthday. Udinese of Italy, so effective with their South American talent spotting, soon picked him up, loaning him at first to Santiago giants Colo Colo.
In the last few months of 2006, together with Matias Fernandez and Humberto Suazo, he was part of one of the most attractive sides on the continent. In early 2007 he drove rival defences to distraction in the South American Under-20 Championships. At the time I sang his praises in a page devoted to him in World Soccer magazine.
"He is stronger on the ball than his frame would indicate," I wrote. "He has terrific tight space skills, is full of tricks in one against one situations and has the courage to use them where they are most effective. He can combine well, playing quick passes to his strike partners. And his subtle free kicks offer another attacking threat."
Seven and a half years later he is all of that and more. Sanchez is physically stronger and, predictably, much more astute.
Back then he was primarily a dribbler. These days he can also unlock opposing defences with his passing, and he has matured into a penalty area goal scorer.
None of this, though, makes him a target man centre-forward. Wenger's decision to play Sanchez alone up top for the visit to Everton on Saturday was not a success, and the player was withdrawn at halftime. He works much better when he can drop deeper and find space, and is especially effective when able to wander across the attacking line.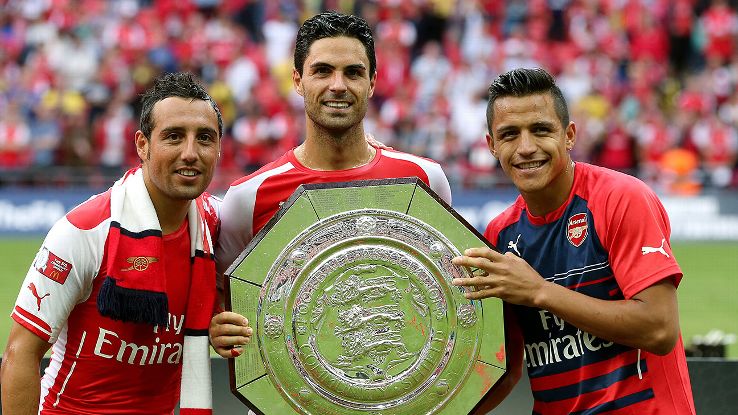 At Barcelona that was never going to be an option; the presence of Lionel Messi in the free role inevitably restricted Sanchez to a more fixed function on the wing. With the Chilean national team, however, he has relished the opportunity of leading the attack, and the freedom to move around the pitch that such responsibility has brought him.
The collective side to his game was clearly visible on his competitive debut for Arsenal against Crystal Palace, when he played on and from the right wing.
Sanchez kept trying to associate with his teammates and bring others into the play. There were flashes of real quality.
These, though, are early days in London, and with the team understanding still being forged, there were times when the move broke down. Sanchez spent much of the game with his arm raised in apology.
On Wednesday the home crowd in the Emirates will hope to see him with his arm raised in triumph -- a sight that Arsenal fans can dream of witnessing not just against Besiktas, but for as long as Alexis Sanchez is playing his football in North London.
Tim Vickery covers South American football for ESPN FC. Follow him on Twitter @Tim_Vickery.