Giroud saves Sanchez after struggle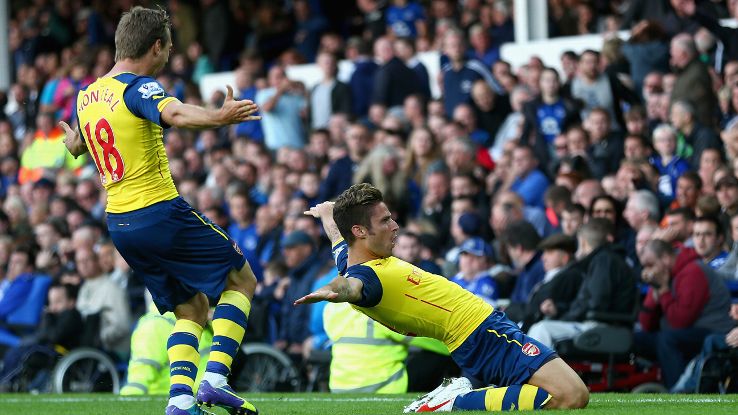 The second half of the match between Everton and Arsenal was one every Arsenal fan enjoyed, as the Gunners fought back from 2-0 down to snatch a draw from the jaws of defeat. However, one man in Arsenal colours will have spent that 45 minutes in a period of quiet reflection, with Alexis Sanchez a disconsolate figure on the bench. The Chilean forward was withdrawn at halftime, as Arsene Wenger cut short the experiment of fielding him as a centre-forward.
- Three Points: Everton 2-2 Arsenal
- Wenger: Praise for Giroud
It's a role he has filled before and one he will almost certainly occupy again. But at Everton, Sanchez disappointed. He is still getting used to English football and appeared to struggle with the physical buffeting he received. What's more, he's not yet on the same wavelength as his teammates. This was the first time Mesut Ozil and Sanchez have played together, and it showed. Runs and passes seemed to diverge rather than come together. It simply didn't click.
It was something of a surprise when Sanchez was named at the summit of the Arsenal attack in the starting 11. After suffering a humbling 3-0 defeat at Goodison Park last season, Wenger was clearly seeking to mix up the formula. He reintroduced a rusty Ozil and put Olivier Giroud on the bench. In the Frenchman's stead, Sanchez was charged with playing as the most advanced Arsenal forward.
After the match, Wenger was asked to analyse Sanchez's display. He was measured in his response, saying: "I wouldn't like to go into any individual assessment. At the moment he is not completely ready physically, but I don't worry about him.
"At the moment, he knows that he's not at his best physically, and once he's at his best, the confidence will come back. It's all linked together."
Sanchez's adaptation will take time. Wenger knows that, and he went through a similar process last season with Ozil. The Arsenal manager deserves credit for not sacrificing the second half at Goodison to accelerate Alexis' acclimation. The manager saw that a change needed to be made and was ruthless. Giroud was swapped in at the start of the second half, and the Frenchman's impact was immediate.
Although he is far from the perfect striker, Giroud is fully adapted to the Premier League. Straight away, he gave the team a focal point for its approach play to revolve around. He also grabbed the crucial equaliser, nodding in after an excellent cross from Nacho Monreal. If Giroud had been annoyed to be left out, his performance was an outstanding response.
Now Sanchez must provide a similar reaction to a setback. Toward the end of the Everton match, Giroud turned an ankle. With Yaya Sanogo also sidelined, Sanchez could be called on to play as a centre-forward once again.
He has all the attributes required to succeed in the role. He is quick, an intelligent mover and an emphatic finisher. However, the process of adaptation will take time. Thierry Henry famously struggled when he first began the transition from flighty winger to greedy goal-getter.
Sanchez must undergo a similar transformation. Player, manager and fans alike will have to show patience as the Chile international learns on the job. There is a great striker within Sanchez, but it may be some time before we see him thrive in that position in the Premier League.