Five Club America wishes for the Three Kings
On Saturday afternoon at Estadio Azteca, Club America will start a new marathon, one that begins in early January and ends in the middle of December. However, it will be a special marathon because it takes place in the year that the club turns 100 years old. America's history demands the team to, at the very least, win one title.
To close out 2015, the club finished in fifth place of the FIFA Club World Cup and reached the Apertura semifinals. The loss against Guangzhou Evergrande FC in the Club World Cup quarterfinals proved to be the lowest moment of the Ignacio "Nacho" Ambriz era, while the 3-1 win over Pumas in the second-leg of the Apertura semifinals proved to be the highest. Ironically, the events happened in the same month and were only several days apart from each other.
Ambriz's first months in charge of Las Aguilas have reflected a series of inconsistencies, which have provoked disarray among americanistas. Patience is running out, and Ambriz's America will have to start this important marathon with a bang. If not, Ambriz's continuity as America head coach will be in danger.
Here are five azulcrema wishes for the Three Kings as America prepares its Clausura debut versus Puebla:
1. An injury-free Dario "Pipa" Benedetto
Last season, Benedetto only went for 90 minutes on two occasions for the club -- America's first two Apertura home games. After that, Benedetto would go at most 70 minutes during matches, then be substituted, or as was the case in the latter part of the season, be the first player off the bench. The Argentine-Mexican missed three games due to injury, yet the rumors coming from the team's training grounds suggested that in the last weeks of the season and during the Liguilla, Benedetto was not 100% fit.
Even with the series of muscular injuries he had to overcome, Benedetto was still America's best forward in the Apertura. He finished the season with 10 goals -- eight scored in the regular season and two in the postseason. An injury-free season will allow Benedetto to lead America's attack, which always needs the presence of a goalscoring machine like Benedetto.
2. Improved home record
America only managed to get four home wins in the Apertura, three of those coming during the regular season. This statistic has to change. If America is unable to make its home field advantage felt, then the probabilities of the team winning the league drop dramatically. Its first three home games are against Puebla, Pachuca, and Santos. Only Puebla qualified to last season's Liguilla, but Santos and Pachuca are two teams that were busy in the transfer window and made interesting additions. Nevertheless, Ambriz's Aguilas are capable enough to go three for three.
3. Cut down on the yellow, red cards
Sixty-seven yellow cards and eight red cards in 21 Apertura matches were some of America's gruesome numbers in recent times. One could suggest that four of those red cards prevented Las Aguilas from reaching the Apertura final. It's unheard of to see a club lose two players in each of its semifinal games due to red cards, but that was the case for Ambriz's America.
Rubens Sambueza, the team's captain, was red-carded three times in the Apertura. As a whole, the team needs to cut down on the yellow and red cards, but especially "Sambu". After renewing his contract during the holidays, it's imperative for Sambueza to act like a leader who is able to control his emotions. If he fails to do so, Las Aguilas will suffer the consequences.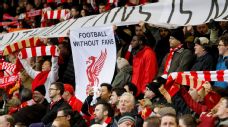 4. An excellent Oribe Peralta
At America, Peralta doesn't give off a vibe of joy. He seems oppressed and tied down, unable to take charge whenever the team needs him the most. His goals in key games have been very limited, almost nonexistent. Since signing for Las Aguilas in May 2014, he hasn't been able to score goals against Chivas and Pumas. And in 12 Liguilla games with America, he has only scored twice. If Peralta recuperates his joie de vivre on the pitch, America's important 2016 marathon will not be so difficult.
5. A Gignac-calibre signing
When Ivan Zamorano agreed to play with America in 2001, he was 34-years-old, and when Claudio "Piojo" Lopez arrived in Coapa, he was 30-years-old. Both were star signings at the time. In 2016, one of America's main objectives will be to try to bring in a player of the caliber of Lopez or Zamorano in the summer transfer window.
After the Zamorano and Lopez signings, Los Azulcremas went on to win league titles. The arrival of Andre-Pierre Gignac to Tigres has positively benefited Liga MX because a transfer of these sorts not only generates attention in the Americas, but also in other parts of the world. America will have a great opportunity in the summer to match Tigres' important 2015 summer signing, or perhaps surpass it, with an even bigger one.
Nayib Moran covers Liga MX and the Mexican national team for ESPN FC. Twitter: @nayibmoran.