Can Flamengo end 2019 as world champions and will Jorge Jesus stay in Brazil?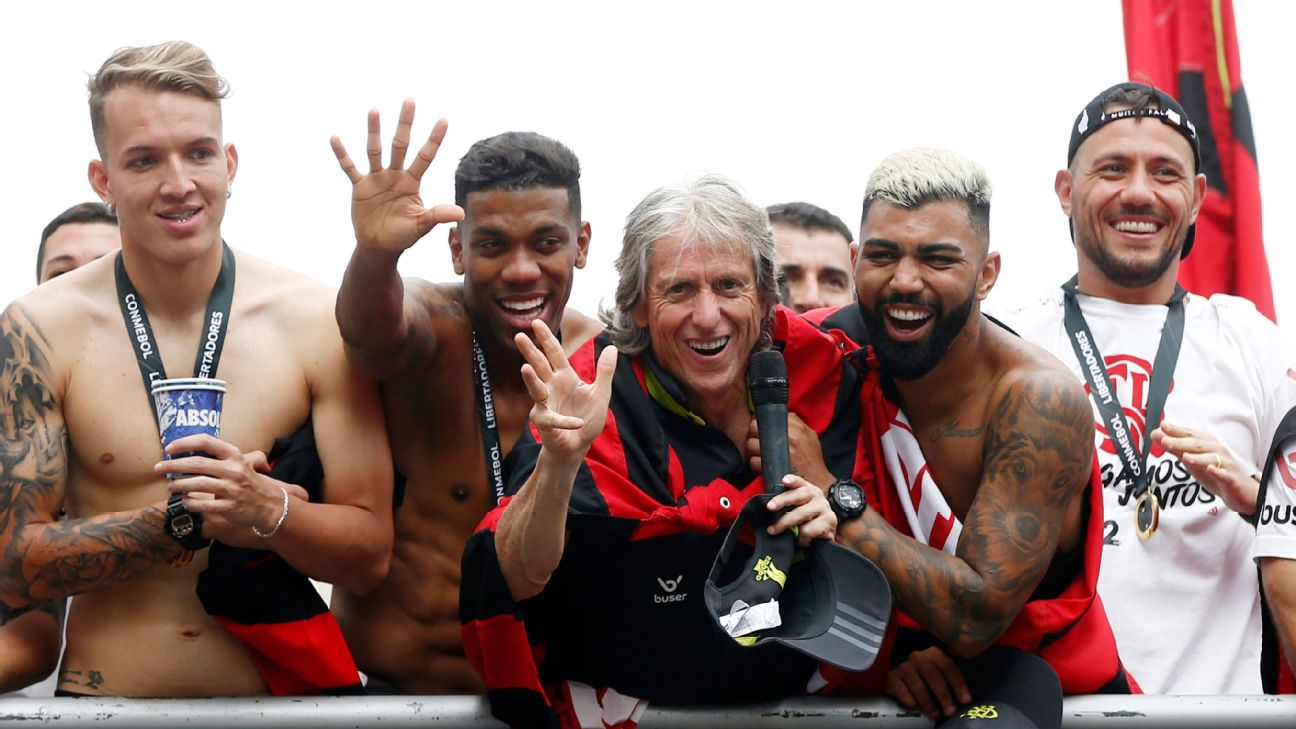 Given the size of the country and the number of established teams, the Brazilian league is often considered one of the most competitive in the world. But that does not apply this year after Flamengo of Rio de Janeiro turned the 2019 Championship into a cakewalk, a glorious victory procession.
They made sure of the title with several rounds to spare and finished with a 16-point advantage over second-placed Santos, who beat them 4-0 on the final day to inflict the champions' first league defeat in four months.
Delirious fans flocked to the Maracana -- Flamengo's average home crowd of around 55,000 was more than 20,000 higher than their nearest rival -- not just to cheer the team on to victory, but to delight in the way that victories were achieved. They also flocked to acclaim the architect of the triumph.
Veteran Portuguese coach Jorge Jesus took over for the 10th round and had plenty of convincing to do, given the considerable resistance in Brazil to the idea of foreign coaches. However, he became the outstanding figure of the championship.
A dynamic, white-haired figure, who appeared to be kicking every ball on the touchline, Jorge Jesus had two powerful factors working in his favour. First, Flamengo have got their finances right in recent years and have the resources to assemble a deep squad. Second, he used the break during Copa America to work his team on the training ground and bed in ideas.
This was fundamental, because he set about to do something different. In recent years, domestic Brazilian football has been dominated by caution; the calendar is punishing and job security for coaches is minimal. In consequence, teams often defend deep, striking out sporadically in counter attacks.
Under Jorge Jesus, though, Flamengo sought to impose themselves on the game in the manner of a top European team. His side play a high defensive line and Spanish centre-back Pablo Mari proved a magnificent acquisition, parachuting in from the second division in his homeland to organize with authority.
The high line also enabled compact play in the opponents' half of the field. Veteran full-backs Rafinha and Filipe Luis were brought back from Europe to construct from deep, while central midfielders Gerson and Willian Arao were up and back, snapping into tackles and breaking forward with purpose.
Meanwhile, Flamengo's front four clicked in fine style. Everton Ribeiro dictated the rhythm with his left-footed prompting, Giorgian De Arrascaeta added refinement and the strike duo of Gabriel "Gabi-gol" Barbosa and Bruno Henrique were ideally suited to a 4-4-2 formation, moving across the attacking line and finding space.
Between them, the pair combined for 47 goals in a side that could not stop scoring. The Jorge Jesus era began with a home debut in which Goais were beaten 6-1 and the Maracana campaign ended last Thursday when Avai were thrashed by the same score. Flamengo scored 86 goals in the campaign; the next highest total was 64.
The conclusion of the Brazilian Championship leaves two big questions. First, how will Flamengo's rivals react? Santos finished second, a magnificent achievement given the club's limited resources, and another triumph for a foreign coach with an attacking approach: Argentina's Jorge Sampaoli.
It will be fascinating to see whether the success of the top two leads to a widespread, countrywide rethink. It is to be hoped that it does. Prior to Flamengo's dramatic Copa Libertadores final win against River Plate, the previous five years saw just one Brazilian team reach the final of South America's Champions League; a damning indictment given the financial advantage clubs enjoy over continental rivals.
The second question is what happens to Flamengo. Will Jorge Jesus stay on? Or, as he has hinted, will he go back across the Atlantic and search for a team that might give him a chance of winning the UEFA Champions League? The answer may depend on events over the next few days.
Flamengo fly off to Qatar to represent South America in the FIFA Club World Cup, which is an obsession in South American generally and especially at Flamengo, whose greatest moment came in 1981 when they beat Liverpool 3-0 to claim the old Intercontinental Cup. With the Anfield club representing Europe again, a rematch is on the cards and fans are dreaming of a repeat.
They are dreaming of more glory, but it could go wrong. Until those extraordinary final minutes in the Copa Libetadores final, Flamengo looked set for defeat and had created very few chances. Disappointment in the Club World Cup would put a dampener on a fine season, but nothing that happens in Qatar can take away the magical way that Flamengo won the 2019 Brazilian Championship.