Borussia Dortmund fans set to protest over Stuttgart ticket prices
Borussia Dortmund supporters are set to protest against ticket prices in Germany once again, having announced they will stage a walk-out for the first 20 minutes of Tuesday's DFB Pokal quarterfinal at Stuttgart.
Stuttgart are charging Dortmund fans €19.50 for standing tickets and €38.50 for the cheapest seats, excluding advance booking fees of €1 and postage fees of €6 per order, with the latter charge going into BVB's accounts. The match has been graded in the highest-price category by Stuttgart.
Protests against price hikes in Germany began as early as September 2010 with the "Kein Zwanni" campaign, which roughly translates into "Don't pay more than €20." It was set up to fight prices of over €20 for a standing ticket, and has since adapted the "Football has to be affordable" tag.
"We will not go into the standing section for the first 20 minutes," Marc Quambusch, a Kein Zwanni spokesperson, told Der Westen. "This also means: No support! We won't even try to grin and bear it, but rather show that you just can't do this."
The campaigners hope that not only will the hardcore BVB supporters join the protest, but also the rest of the fans attending the match.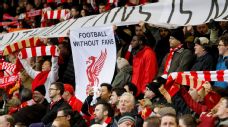 "Of course, it's a shame," Quambusch said. "We travel so far to support BVB, but the stadium is the only stage we have."
Speaking to SWR, Stuttgart president Bernd Wahler said that the DFB Pokal match was an opportunity to generate more income for the club.
"We need more money. And it's an option to take in a bit more in such a match," he said.
According to Stuttgart's official website, around 44,000 tickets have so far been sold for the 60,449 capacity Mercedes-Benz Arena.
Stuttgart are one of three Bundesliga clubs to have not sold out a single league match this term, kicker reports.
Dortmund fans boycotted last season's away match at Stuttgart, but unlike with other clubs' attempts, the Kein Zwanni campaigners were unsuccessful in trying to improve the price structure.
Earlier this season, Hoffenheim, hit by a Kein Zwanni boycott, said they would donate additional revenue from the top match surcharge against Dortmund to their opponent's charity, while the club's media director Holger Kliem told ESPN FC that they intend to implant a "more moderate price structure."