#UltimateUCL: The 22 Champions League winners
Take a walk down memory lane as ESPN FC recalls the 22 teams to have won the Champions League.
Which ranks as No. 1? Look out for our #UltimateUCL feature, beginning September 8, in which you can vote on the best of the best!
1993: Marseille (#UltimateUCL seed: 18)
The first winners of the Champions League provoke considerable debate, given that they were found guilty of match-fixing in the French league shortly afterward and relegated. The irony was that they had constructed a formidable team, and benefited from fortune. They narrowly pipped Rangers to the final in the group stage that, at that time, replaced the quarterfinals and semifinals, before defeating a great Milan 1-0 in the showpiece through a Basile Boli header.
1994: AC Milan (4)
One of the best defences in history, one of the best final performances in history. After a campaign in which they conceded only two goals in 11 games, Fabio Capello's Milan then put four past Barcelona's so-called "Dream Team." It was the Rossoneri that fired the imagination in the final, which was all the more impressive given the solidity of their season.
1995: Ajax (6)
A strikingly young team that defied the growing economic reality of the Champions League and went all the way to victory undefeated. The 1-0 win over Milan in the final was their third victory over the defending champions in that campaign, with teenage goal scorer Patrick Kluivert perfectly displaying the youthful vibrancy of the side.
1996: Juventus (7)
The Old Lady denied Ajax back-to-back titles with a penalty shootout win in Rome. Marcello Lippi's team of veterans included Gianluca Vialli, who scored in both legs of the semifinal, as well as Didier Deschamps and Antonio Conte. Juve's youth was provided by a 21-year-old called Alessandro Del Piero, who scored six goals in the tournament.
1997: Borussia Dortmund (17)
It was Juventus who were unable to retain the trophy the following year as Dortmund pulled off a stunning upset. Ottmar Hitzfeld won the first of his two Champions Leagues with a starting XI that contained eight Germans, one Swiss, one Portuguese and one Scot, Paul Lambert, who set up the first of Karl-Heinz Riedle's two goals and did an effective job shackling Juve's star man, Zinedine Zidane.
1998: Real Madrid (21)
Juventus may have been the team of the late 1990s in the competition, but they failed in two of the three finals they reached. This time it was Real Madrid, who had not won the European Cup for 32 years at the time, that prevailed, thanks to a goal by Predrag Mijatovic. Managed by a German, Jupp Heynckes, Madrid saw off Bundesliga opposition in the quarterfinals (Bayern Munich) and semifinals (Borussia Dortmund).
1999: Manchester United (5)
There may never be a finish to a Champions League like that in 1999, and there have certainly been few seasons like it. Alex Ferguson's joyously attacking side were involved in a rip-roaring campaign, from two 3-3 draws with Barcelona to their epic comeback from two goals down against Juventus in the semifinals. It was arguably United's weakness that resulted in such matches, but that only allowed them to show their glorious strengths.
2000: Real Madrid (15)
The first Champions League final to feature two teams from the same country saw the side from Spain's capital earn a comfortable 3-0 win vs. Valencia. The road to the Paris final had not been as smooth, with Madrid pushed hard by each of the previous year's finalists. They eventually saw off Manchester United and Bayern Munich in the quarterfinals and semifinals respectively, dispatching each 3-2 on aggregate.
2001: Bayern Munich (13)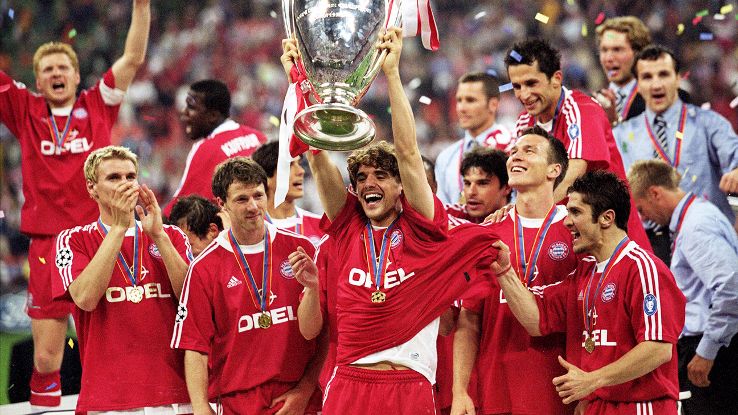 After coming so close two years before, Bayern, managed by Ottmar Hitzfeld, knocked out Manchester United and Real Madrid before finally getting their hands on Europe's biggest prize for the first time since winning three in a row in the 1970s. Valencia were the beaten finalists again, though in more heartbreaking fashion, as Oliver Kahn saved three penalties in a seven-round shootout.
2002: Real Madrid (9)
This was the season in which the so-called Galactico project reached its greatest height and its greatest player touched the sky with a ball dropping out of the sky. Having eliminated Bayern Munich and then Barcelona in superb fashion, a team containing Luis Figo and Zinedine Zidane narrowly bested surprise finalists Bayer Leverkusen thanks to the French playmaker's glorious winning volley.
2003: AC Milan (16)
Milan beat their city rivals Inter in the last four and then claimed a sixth European Cup with a victory over another Serie A giant, Juventus. Goalkeeper Dida was the penalty shootout hero, stopping shots from David Trezeguet, Marcelo Zalayeta and Paolo Montero. The triumph was especially sweet for Milan manager Carlo Ancelotti, who had been fired as Juventus boss two years earlier.
2004: Porto (20)
The triumph that created the legend of Jose Mourinho, but only because of his side's ultra-realistic tactics. Porto overcame so many financial gaps by creating a cast-iron defence, out-thinking pretty much every team they played and fostering an intense fighting spirit. The latter was certainly on show in their last-minute round-of-16 win over Manchester United, which made the later games seem so much easier, especially their formidable 3-0 final win over Monaco.
2005: Liverpool (22)
The greatest comeback ever? It was all the more impressive because Liverpool's mere presence in the final was something of a surprise. Rafa Benitez's team nevertheless possessed a resilience and tactical edge that saw them overcome so many weaknesses, as well as sides of the calibre of Juventus and Jose Mourinho's Chelsea. The final then seemed insurmountable as a rampant Milan led 3-0 at halftime but Liverpool recovered to ultimately win on penalties.
2006: Barcelona (12)
This team would ultimately be overshadowed by Pep Guardiola's greats, but Frank Rijkaard's side laid a considerable foundation. The reality is also that they had few worthy rivals in Europe that season, as they glided to the trophy with Ronaldinho at his glorious best. The only stumble came in the final as Arsenal took the lead, but Barca showed a grit to go with their great football.
2007: AC Milan (14)
Rarely the best in Italy at that time, as they only once won Serie A in the first decade of the millennium, Milan often saved their best for Europe. Kaka, en route to winning the Ballon d'Or that year, helped the Rossoneri motor past Manchester United in the semifinals before they gained revenge against Liverpool for 2005 in the final, with Pippo Inzaghi scoring twice.
2008: Manchester United (8)
The 1999 team may have been involved in grander occasions, but that's partially because they didn't have the sleekness of this later side. A peak Cristiano Ronaldo added a fluency to a historically good defence. The brilliance of that backline was particularly evident in a narrow semifinal win over Barcelona, before it held firm against Chelsea in Moscow. John Terry missed a cup-winning penalty. He slipped, United didn't.
2009: Barcelona (2)
The ascent of the first season of Pep Guardiola's historic team, but Barca had to show a durability to go with the dynamism of their football. They scraped past Chelsea by the thinnest of margins in one of the most dramatic -- and controversial -- semifinals ever seen, before reasserting their superiority by dismantling Manchester United 2-0 in Rome.
2010: Internazionale (10)
The side that broke Barcelona's dominance, by themselves generating an almost unbreakable spirit. Inter were perhaps the purest example of a Jose Mourinho team as they intensively outplayed Chelsea before outsmarting the Catalans in another epic semifinal. After that, the final was almost a procession, as the Nerazzurri defeated Bayern Munich 2-0 with a hugely accomplished display.
2011: Barcelona (1)
A 3-1 winning score may not have been perfect, but the performance in the final was. The manner in which Barcelona overwhelmed Manchester United in the Wembley showpiece was the ultimate display of the effectiveness of their possession-pressing game. It was "Total Football" reborn, with the Lionel Messi-inspired semifinal win over Real Madrid at the Bernabeu helping to complete the campaign.
2012: Chelsea (19)
You could say this was the campaign in which Chelsea's previous bad fortune in the Champions League finally evened out, except for the fact that this was a side that fought to make their own luck. Stamford Bridge may have seen superior teams, but few had this one's defiance. Chelsea showed it repeatedly from the last eight on, with a comeback against Napoli, followed by the epic elimination of Barcelona before that grandstand finish to defy Bayern Munich in their home final.
2013: Bayern Munich (3)
The year the Bundesliga dominated the Champions League saw its best two sides meet at Wembley, where Bayern overcame Dortmund thanks to a late Arjen Robben goal. Jupp Heynckes went into retirement as a European champion, having overseen not only the final victory, but a 7-0 aggregate dismantling of Barcelona in the semifinal.
2014: Real Madrid (11)
Deep into the third minute of injury time and with their city rivals Atletico holding on to a 1-0 lead, Madrid's obsession with winning La Decima, the club's 10th European Cup, looked set to be extended beyond 12 years. But then Sergio Ramos headed an equaliser and Carlo Ancelotti's side went on to score three times in extra time. The last goal went to Cristiano Ronaldo, his 17th of a record-breaking individual campaign.
Starting on September 8, ESPN FC's #UltimateUCL feature will decide which Champions League winners were the best of all-time!