Brazil move past star absences
Brazil appear to have shaken off the double blow they suffered on Friday by losing Neymar for the remaining games of the 2014 World Cup and Thiago Silva for the important Tuesday semifinal against Germany in Belo Horizonte, Brazil.
Manager Luiz Felipe Scolari and his captain, Silva, took part in the prematch news conference on Monday, and if you've had the chance to meet the pair, you know they are not amazing actors.
Thus, the Selecao might be licking their wounds, but they look as determined as they could be to upset the odds tilting toward Joachim Low's team.
There is a famous story from the 2002 World Cup in which Scolari hugs his assistant Flavio Murtosa and says, "I think we'll be all right tomorrow," after he walked out of his hotel room on the eve of the final game (also against Germany) to find Ronaldo, Roberto Carlos and other teammates improvising a mini-golf tournament in the corridor.
Twelve years later, his Selecao side shared a similar moment just one day after Neymar had traumatically departed the team's Teresopolis headquarters on a stretcher. The manager walked into the dining room and found David Luiz doing an impersonation of him. In that moment, Big Phil felt that his group had moved on.
"I am not trying to downplay how much we will miss Neymar's happiness and what he brought to us on and off the pitch," Scolari said. "But the moment of sadness has gone since we were assured we couldn't rely upon him anymore.
"The players now understand that Neymar did his part for us here. And now it's the time for the players do theirs. This game against Germany we will be playing for ourselves, the country and for Neymar, but the group needs to focus on the job."
The Barcelona forward will not be the only absence at the Mineirao. Silva will sit out the semifinal thanks to a booking picked up against Colombia. But the fact that the defender attended the news conference and joined Scolari in some jokes showed a different mood that could not be more distant from the gloomy walk Brazil made through the mixed zone at the Castelao on Friday.
"It will be very hard to sit this one out, I tell you," the PSG star said. "But just as I spoke to Luiz Gustavo when he was suspended against Chile, I have a strong feeling my mission here is not finished. I am suffering, but I have absolute confidence in the guys that will step in tomorrow."
Which guys he was talking about remains a mystery.
Few would bet against Dante stepping in to replace Silva, especially when he knows so much about his Bayern Munich teammates on the German team.
Gustavo, another player who has had a lot of contact with most of the Mannschaft and plays in the Bundesliga, seems poised to return to his midfield holding role that has been one of Brazil's highlights in this competition.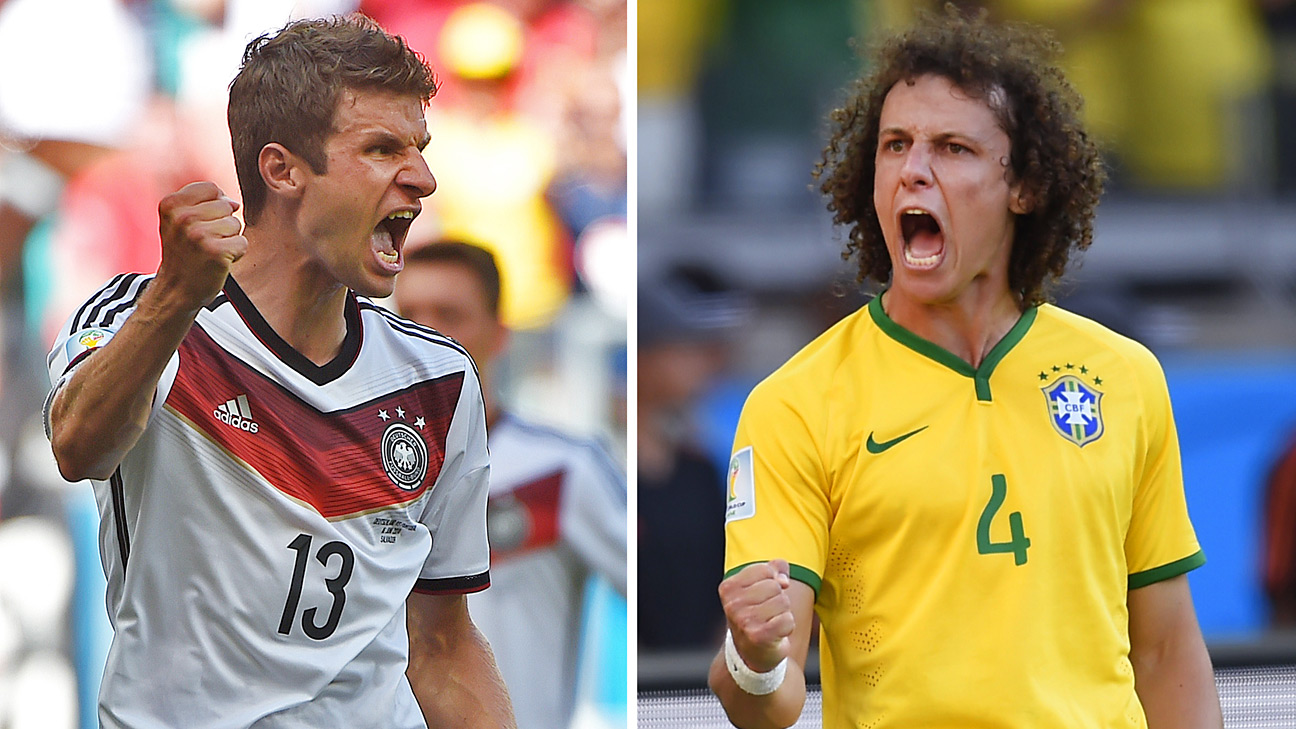 The identity of the rest of the starters, however, looks as fuzzy as it could be. In practice sessions on Sunday and Monday, Scolari seemed to be teasing journalists in the stands in Teresopolis by changing players and formations at breakneck speed.
Some patterns, however, stood out: Brazil look certain to have Oscar as their midfield maestro, perhaps positioned in front of a "wall" formed of Fernandinho, Gustavo and Paulinho, and serving Hulk and Fred. Or there could be a tweak in Brazil's 4-2-3-1 formation that Scolari has deployed since taking over two years ago, with Willian sliding into the right side of attack.
A big issue here seems to be second-guessing Jogi Low's plans for Philipp Lahm. After using his captain as a midfielder in Germany's first four games, the manager switched him to full-back for their quarterfinal showdown with France.
One could be tempted to think that Low will be looking forward to exploring gaps left by Marcelo's upfield advances. On the other hand, that could lead to Scolari opting to unleash twinkle-toed Bernard from the start in order to give the Germans something to consider.
Scolari also has to address his own right-back situation. With a midfield focused on defence, he would be able to deploy Dani Alves again, although Maicon's display against Colombia showed that he is a good solution to address the vulnerabilities on the right flank.
Whatever he does, Scolari's priority has been working on his players' state of mind. Since he took over in November 2012, this will be the first time in 28 games that Big Phil will not be able to rely upon Neymar even for a training session.
"It hasn't been the easiest of times, but don't forget that I have a spectacular group," he said. "I have the team in my mind and will have a good night's sleep.
"I have told all the players that whoever is not playing is still very special because they are special guys on which we rely for special moments. I don't even think the word 'reserve' is appropriate to describe these players."
Make no mistake, behind all the positive talk Scolari knows well that the Selecao would face a formidable battle even if Neymar were still on the pitch.
He knows that these players need a speech like the one Al Pacino delivered in the American football movie "Any Given Sunday."
But after two days of disarray thanks to emotional blows, serious injuries and the criticism of the international media for the cynical way the Selecao battled Colombia in the quarterfinals, Scolari seems to have regained control of an overwhelming situation.
"We are facing a German team that has prepared for almost six years for this tournament, and we have to respect Germany for everything they have done so far," Scolari said. "But we will play to be respected, and that will only happen if we try to impose ourselves.
"If we do things as we can, we could cause them trouble, and then it will get interesting. Sometimes we don't do things in a pretty way, but we are still walking. Let's hope we can take another step."
That, for the moment, is all that Brazilians want to hear. No need for punching the table or barking at referees. All they want is to see the Selecao not pulling out of a fight, just as it says in the lyrics of the national anthem they have been shouting around the country for the past few weeks.
Fernando Duarte is a U.K.-based Brazilian football expert who has reported on the Selecao for over a decade. Follow him on Twitter: @Fernando_Duarte.