U.S. Grades: Yanks' Dream Over
SALVADOR, Brazil -- It took more than 90 minutes for Belgium to find a crack in the granite wall that was U.S. goalkeeper Tim Howard. But find it the Red Devils did, as extra time goals from Kevin De Bruyne and Romelu Lukaku gave Belgium a highly-deserved 2-1 victory.
U.S. substitute Julian Green added a goal in the second half of extra time, and the Americans nearly conjured up a miracle with some late efforts, but it wasn't enough to complete the comeback.
Prior to extra time, Howard thwarted Belgium at every turn, delivering a slew of impressive stops with practically every part of his body, be it his feet, hands, or midsection. While Howard will no doubt rue getting beat to his near post on Lukaku's strike, the U.S. would never have made it that far without him.
What will be disappointing is the Jekyll and Hyde manner of the U.S. performance. The first half was played out largely on even terms. But the second period witnessed utter domination by the Red Devils, as the U.S. midfield was overrun. Only Howard and an overworked backline kept the Americans in it.
When De Bruyne and Lukaku struck in extra time the match seemed over only for the U.S. to pull a goal back through Green and then find another gear, and the Americans came agonizingly close to equalizing through Clint Dempsey.
Why the U.S. could only conjure up such an effort after going down is largely due to Klinsmann's refusal to use his subs earlier. It was only after the U.S. was 2-0 down that Green, the final sub, came on. They certainly could have used some fresh legs earlier, regardless of who entered the match. It's a question that will certainly haunt the U.S. team as it looks back on the night.
Klinsmann sprung a bit of a surprise with his starting lineup, dropping midfield mainstay Kyle Beckerman -- who was sitting on a yellow card -- in favor of Geoff Cameron.
For Belgium, defender and captain Vincent Kompany passed a late fitness test, but out of form striker Lukaku was dropped in favor of Divock Origi.
Origi nearly put Belgium ahead inside of a minute. De Bruyne stole a U.S. pass in midfield, and after long run found Origi in the box. The Belgian's shot was on target, but Howard did well to save with his right foot.
The U.S., operating out of a 4-3-3, then settled into the match, looking to exploit the flanks through outside backs DaMarcus Beasley and Fabian Johnson. Beasley and Johnson were played into space on several occasions, but the final ball was lacking.
The U.S. created its first good look in the 21st minute thanks to quick combination involving Michael Bradley and Dempsey, but Dempsey's shot lacked power and was easily saved by Belgium goalkeeper Thibaut Courtois.
Belgium hit back with a pair of great chance in a two-minute span. Graham Zusi was caught in possession in the 23rd minute, allowing Jan Vertonghen to run at the U.S. defense, but De Bruyne's shot was deflected wide by Omar Gonzalez. Vertonghen then got behind the U.S. backline three minutes later, but his low cross brought a superb clearance from Beasley with Marouane Fellaini on the doorstep.
The U.S. sustained a big blow in the 31st minute when Johnson went down with a strained right hamstring. But substitute DeAndre Yedlin made an immediate impact, delivering some dangerous crosses while also holding up well defensively.
The Americans created a good look from a set piece in the 34th minute, with Dempsey redirecting Zusi's corner to Jermaine Jones, but his shot went wide.
A pair of Yedlin crosses created some good openings starting in the 38th minute. One cross forced Daniel van Buyten to head clear at full stretch, and another delivery found Zusi in space, only for him to fan on his attempted shot.
Belgium

United States
Game Details
Belgium had the last word as the half ended, with Origi finding De Bruyne at the top of the box, but his first-time show was easily handled by Howard.
The second half began with Belgium dominating, with the Red Devils continually attacking the flanks. Howard was forced to tip Dries Merten's header over the bar after being set up by De Bruyne. Vertonghen continued to threaten with a cross that just missed Origi in the 54th minute. Origi's header clipped the bar two minutes later from Toby Alderweireld's cross. The flurry was finished off in the 57th minute when Vertonghen's tight-angled shot was saved by Howard with his left foot.
The U.S. responded in the 60th minute when a loose ball fell to Zusi, but his shot was well side of the mark, and while it caused it brief scramble in the box, it was eventually cleared.
But Belgium was soon back on the attack, aided by the addition of Kevin Mirallas in the 60th minute. Origi played the substitute in on goal five minutes later, but Howard was on hand to make another foot save. Minutes later, a ball in the box fell toEden Hazard only for Howard to parry his effort wide.
Klinsmann had brought on Chris Wondolowski for the disappointing Zusi, but aside from a few long distance efforts from Dempsey and another dangerous cross from Yedlin, the U.S. could not mount a sustained attack.
Howard continued to take center stage, saving with his feet from Mirallas in the 76th minute and then tipping a Hazard effort over the bar.
Incredibly, the U.S. had a glorious chance to win in the third minute of stoppage time.
Extra time began with Lukaku coming on for Origi, and he made near immediate impact. Belgium broke out of its own half, and after muscling Matt Besler off the ball, he raced into the box. The forward's centering feed was cleared only far as De Bruyne, who rifled his shot just inside the far post.
The U.S. tried gamely to get back into the match, but Lukaku then looked to have put the game away when he finished with authority past Howard in the 105th minute.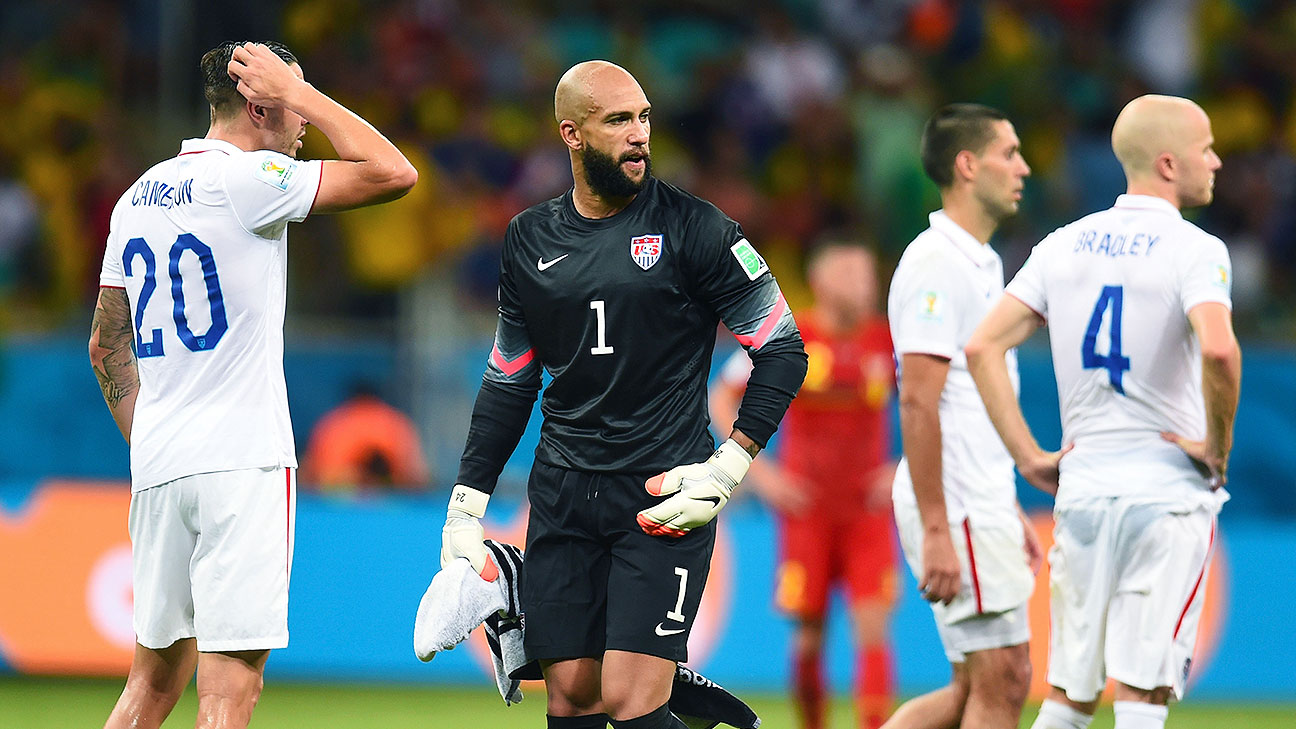 Green gave the U.S. a lifeline, finishing Bradley's deft chip past Courtois in the 107th minute. When Jones stabbed narrowly wide from Wondolowski's knockdown, a miracle comeback seemed possible.
It seemed almost certain when a clever free kick routine saw Wondolowski put Dempsey clean through on goal, but Courtois was off his line quickly to stuff the U.S. striker's shot.
The U.S. pushed and pushed, but an equalizer never materialized, and the Americans now find themselves eliminated in the round of 16 for the second tournament in a row.
Player ratings: (0-10)
G Tim Howard, 10 - Some might quibble with Howard getting beat to the near post on Lukaku's goal, but Howard was immense. His hands were outdone by his feet, as he used his lower limbs to make several fine saves. Was alert from the beginning, stopping Origi's early effort. Continued his fine play with stops of Vertonghen, Origi, Mirallas, and Hazard.
D DaMarcus Beasley, 6.5 - Timed his runs forward well, though the end product was lacking. Looked sharp defensively, and had a huge clearance that saved a goal in the 26th minute. Play began to erode in the second half against Mirallas, but hung in there.
D Matt Besler, 6.5 - Was positioned well to clear numerous deliveries into the box. Had a key block on a Van Buyten effort in the second half. Was certainly culpable on the goal, but stood strong for most of the night.
D Omar Gonzalez, 6.5 - Allowed Origi to get away from him in the first minute, but then settled in and was sharper thereafter. Still struggled to track Belgium's forwards, but came up with some huge blocks as well.
D Fabian Johnson, 5 - Got forward well, but found it tough to cope with Vertonghen's overlapping runs. Right hamstring injury ended his night in the 32nd minute.
M Alejandro Bedoya, 5 - Put in his usual shift defensively, and took good care of the ball, but just wasn't that impactful in the attacking half.
M Michael Bradley, 6 - Played a bit deeper, and it helped initially. Struggled with his long passing early on, but eventually found his rhythm, and delivered a gorgeous assist to Green. Struggled to be impactful for much of the second half, however.
M Geoff Cameron, 6 - His athleticism proved to be a boost, especially in the ground he covered. Battled well against Fellaini. That said, he could do little to stem the tide against Belgium.
M Jermaine Jones, 4 - Had less of an impact than in his previous matches as he blew hot and cold with his passes for much of the evening. Fought until the bitter end but couldn't stab home a chance in extra time.
M Graham Zusi, 3 - Struggled with his touch all night, and one giveaway sparked a Belgium counter. Did little to help Yedlin against the runs of Vertonghen.
F Clint Dempsey, 6 - Did what he could against the hulking duo of Kompany and Van Buyten. Still was plenty involved, though he should have done better with one first half chance.
Subs:
D DeAndre Yedlin, 7 - A revelation in the first half. He not only got forward well, but provided excellent defense, especially against Hazard. Struggled a bit against Vertonghen and Hazard in the second half, but an excellent performance under adverse circumstances.
F Chris Wondolowski, 4 - He'll have nightmares about his miss as well as failing to corral a late pass from Yedlin. His trademark positioning revealed itself, but he simply has to put that chance at least on target.
M Julian Green, 7 - It must be said, he took his goal with aplomb. Certainly an exciting prospect for the future.
Jeff Carlisle covers MLS and the U.S. national team for ESPN FC. Follow him on Twitter @JeffreyCarlisle.