Arsenal's Mesut Ozil gets stealth nutmeg from Shkodran Mustafi for 30th birthday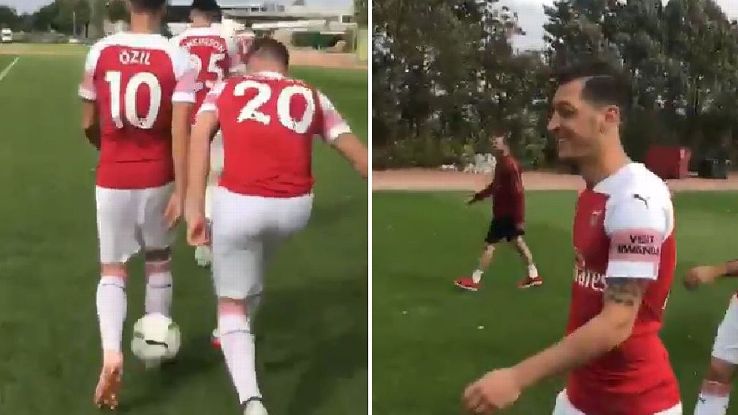 To celebrate Mesut Ozil turning 30 on Monday, it was left to Arsenal teammate Shkodran Mustafi to provide the special "birthday gift."
As the players walked out at the Gunners' training ground, Mustafi claimed Ozil's very soul with a stealth nutmeg before fleeing the scene entirely.
Thankfully, there were more traditional birthday messages on offer from elsewhere, with several teammates past and present expressing their best wishes to their old pal on his big day.
Congratulations to this brilliant footballer and great friend, who is celebrating his 30th birthday today! Alles Gute, Mesut Abi! ❤👊🏼 @MesutOzil1088 #happybirthday #YaGunnersYa #gibgäs #M1Ö #SeoKol pic.twitter.com/GpHWxMsmuB

— Sead Kolašinac (@seadk6) 15 October 2018
Alexandre Lacazette wishing Mesut 'Mesutinho' Ozil a happy birthday. 😂 pic.twitter.com/AZqoowHbMv

— Arsenal FC News (@ArsenalFC_fl) 15 October 2018
Happy birthday to My friend and top player @MesutOzil1088 i hope you have a great day,all the best a Hug 🎁👍👏🎂 pic.twitter.com/2MOhdj9rfU

— Santi Cazorla (@19SCazorla) 15 October 2018
There was also a wish of many happy returns from the German FA, with an image that featured that man Mustafi in the foreground. It's always those closest to you who betray you...
Happy Birthday, Champ! 🎉@MesutOzil1088 #DieMannschaft pic.twitter.com/524PWBDRrd

— Germany (@DFB_Team_EN) October 15, 2018
A lot of the birthday messages made reference to Ozil being the "Assist King" -- a grand moniker befitting a man with stats as regal as his.
Indeed, Opta cemented the fact by confirming that, since they started compiling their data in detail some 12 years ago, the Arsenal playmaker has created more chances than any other player in Europe.
1033 - Since the start of detailed data collection in all of Europe´s top 5 leagues (01/07/2006), birthday boy @MesutOzil1088 has created more chances than any other player (1033). Maestro. @Arsenal pic.twitter.com/k7cTBc25OM

— OptaFranz (@OptaFranz) October 15, 2018
No doubt the German enjoyed a some quality time on the games console as a birthday treat to himself. Last week he embarked on his first ever Twitch live stream, thrilling a whole new set of fans with his Fortnite skills.
Watch Highlight: Mesut Ozil plays Fortnite from mesutozil on www.twitch.tv
Ozil then marked his actual birthday by announcing his new role as an ambassador for the Rays of Sunshine foundation.
I'm happy to announce on my birthday, the best present of all which is I have become an ambassador for @RaysofSunshine! I'm looking forward to continue spreading rays of sunshine by helping grant wishes for seriously ill children across the UK 🙏🏼☀ #M1Ö pic.twitter.com/tZeaDk0fjR

— Mesut Özil (@MesutOzil1088) October 15, 2018
Rays of Sunshine is a charity that grants wishes for children with serious and life-limiting illnesses across the United Kingdom.
Of course Ozil was only too happy to offer his assistance to such an admirable endeavour. After all, assisting is what he does.