Valentine's Day or PSG vs. Real Madrid? French rail company helps you decide
It's a classic Valentine's Day dilemma: deciding whether your love of the beautiful game is more than that for your beautiful partner. And it's never easy to explain why you always choose watching football with your friends...
So to help out Paris Saint-Germain fans caught between a rock and a hard place for Wednesday's Champions League round of 16 tie with Real Madrid, French rail company SNCF has published a ready-made letter of explanation to cut out and send to your amour in L'Equipe.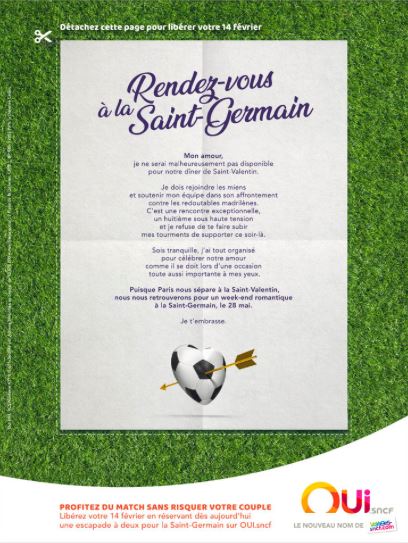 "It's an exceptional encounter, a high stakes Last 16 game, and I refuse to make you suffer my torment as a supporter that evening," reads the letter, branded "Enjoy the match without risking your couple," before trying to soften the blow.
"As Paris separates us on St. Valentine's, we'll meet up again for a romantic weekend on St. Germain's Day, the 28 May."
That shouldn't present a problem. It's two days after the Champions League final and before the World Cup starts. And it's a Monday.
Ian is ESPN's French football correspondent. Twitter: @ian_holyman