Christian Eriksen shows why he is Tottenham's Most Valuable Player
Things were getting so desperate for Tottenham against Brighton that, as the minutes ticked by with the score 0-0, Vincent Janssen was brought on for his first appearance since August 2017. Still no breakthrough came, though, and it looked as if Mauricio Pochettino's side would drop points in their quest for Champions League qualification.
But then Christian Eriksen took charge.
Tottenham's most valuable player -- not their best, but their most irreplaceable -- collected the ball with 88 minutes of superb rearguard defending from relegation-threatened Brighton on the clock and fizzed a no-doubter beyond Mat Ryan and into the bottom corner. Suddenly home fans wondered what they had worried about during a textbook bus park from the visitors to Tottenham's new home.
"Christian's goal was amazing," Pochettino said afterwards. "He has an unbelievable shot with left and right. I always had hope, even at 88 minutes. Maybe the next action, the next action!"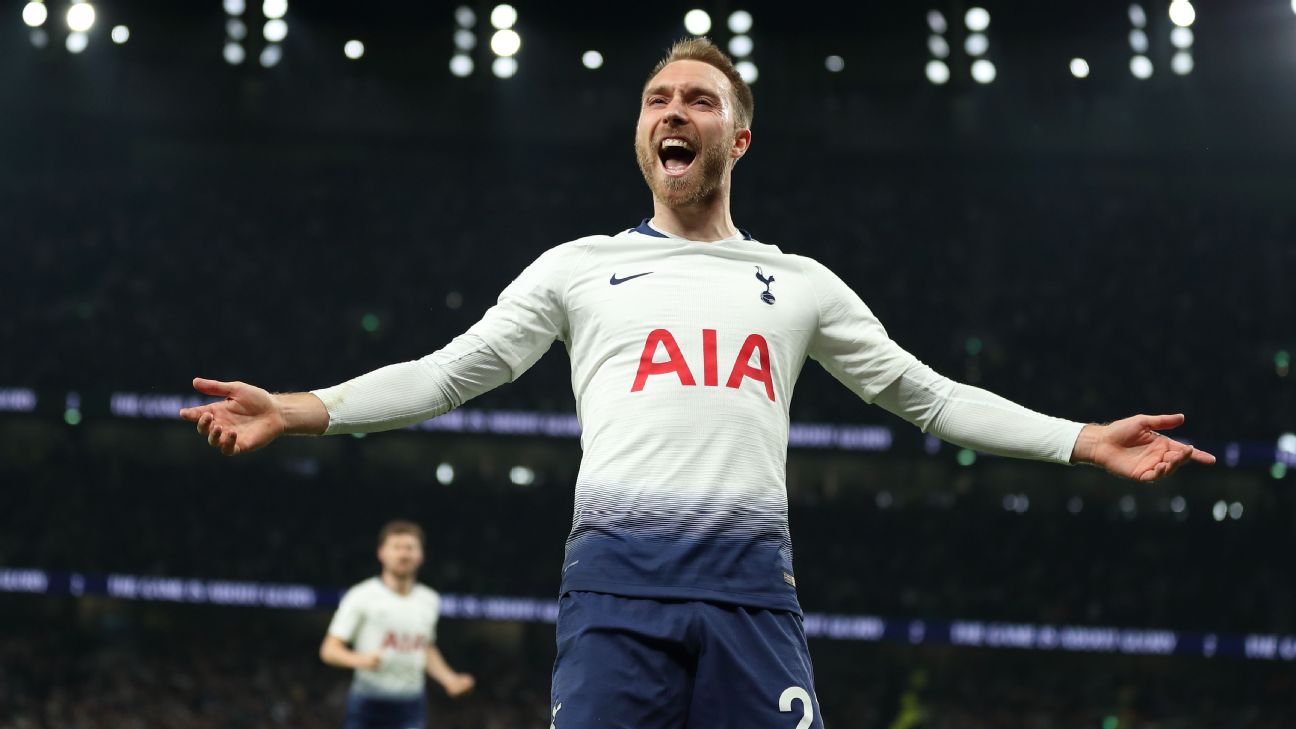 Harry Kane is Tottenham's top man and most reliable source of goals, Son Heung-Min has probably played the best this season, Toby Alderweireld and Jan Vertonghen are still somehow underrated and Harry Winks' importance has been emphasised by his absence, but Eriksen is most important.
Pochettino does not have anyone else who can do what the 27-year-old does; barely any manager does, in truth. Most of the time, Eriksen is a subtle playmaker who tries to unpick an opposition defence, but as he showed Tuesday he can also punch a hole in one.
Games such as this, when he emphasises his importance, also serve as a reminder of the ticking clock that is Eriksen's contract. His current deal runs out in just over a year, so now is about the time when people start panicking as the day gets nearer that he could theoretically leave for nothing.
"The timing for him and for the club might be different [to other players]," Pochettino said when asked about Eriksen's negotiations. "I hope and I wish he can be with us for the future. We are so open to talk, but there is plenty of time at the end of the season."
Perhaps those talks will be easier if Spurs know they will be playing in the Champions League next season and the signs are good. As well as remaining in this season's competition, this was the club's fourth straight win -- without conceding a goal into the bargain -- to begin life at their gleaming, cacophonous new stadium.
- Premier League sprint to the finish: Title race, Champions League chase, relegation battles
Two of their three remaining league fixtures are at home and, after a weekend that saw the other three candidates for the two available top-four spots -- Arsenal, Chelsea and Manchester United -- show few signs they could take their chance, these three points were even more valuable; Tottenham are four points clear of fifth-placed Arsenal.
But it was far from easy against opponents that made defending their focus. Off the back of two wearying visits to Manchester City, Tottenham faced a different type of challenge. For long spells, the Brighton player farthest forward was no more than 30 yards from his own goal, while Ryan began time-wasting after 11 minutes and was jeered when he held the ball for more than five seconds.
So tightly packed was Brighton's five-man defence that it often comprised nine men. Tottenham's attacking threat was limited to long shots and crosses to Fernando Llorente who, inevitably, had three centre-backs marking him. Even when they did punch through, they were denied; Lewis Dunk and Shane Duffy both cleared off the line at full stretch and Toby Alderweireld hit the post.
Tottenham's brightest moment for a long time looked to have come on the big screen before kickoff, when highlights of that still faintly unbelievable Champions League second leg vs. Man City were played. Some 28 shots followed amid mounting frustration, before Eriksen broke through with the 29th.
It was reminiscent -- almost identical, even -- to a December match at Wembley when Burnley defended with fervour for 91 minutes before Tottenham found a way through. That game was a few weeks after they struck an 80th-minute winner against Inter in the Champions League. The last-gasp scorer on both occasions was Eriksen; when something happens this often, you can be sure it is not an accident.
Should Tottenham qualify, it will be the fourth straight season of Champions League football under Pochettino, having made it to European football's premier club competition just twice previously. He continues to get this team punching above their weight, but even the best managers need a player who can help when all seems lost.
Pochettino has Eriksen. While that remains the case, he will always have hope.