Liverpool show again they can win 'by any means necessary' to set up a showdown with Barcelona
PORTO, Portugal -- If the apocalypse comes and all life is wiped out, Liverpool will be right there next to the cockroaches.
They're the side that won't go away. They're the side that in the space of a year has turned from a reckless teenager into a furrowed-brow 30-something, from a side just as liable to blow teams away as explode into one that wins by any means necessary, grinding out results when you didn't think them possible.
-- Mane 9/10, Fabinho 8/10 as Liverpool ease into semifinals
A 4-1 win at Porto might sound like the sort of freewheeling performance they specialised in a season ago, but it was nothing of the sort, especially in the first half. Porto were aggressive and relentless in the first 30 minutes, knowing that the best chance to overturn the 2-0 deficit from the first leg was to get one back early.
But Liverpool countered that by playing ugly. They took their sweet time with free kicks, goal kicks and throw-ins, causing significant consternation from the home crowd: Porto fans are, it turns out, extremely loud whistlers.
They scrapped and dug in, and even though their passing was askew and they barely created a chance, they were in the game. It didn't seem to matter that they spent much of the opening 45 minutes in their own half: Everything they've done this season convinced you that they would be all right in the end.
Before the game, James Milner mentioned this quality as the most impressive feature of 2019's iteration of Liverpool, the ability to regroup and be decisive after "the tricky 15 minutes when you're not on your game." It was a tricky 26 or so minutes in this case, until Sadio Mane scored the opener, the away goal that effectively killed the tie stone dead. From there, even if the quality of Liverpool's play didn't improve massively until the last quarter, when Porto more or less gave up, they were comfortable.
"We had to defend a lot in the first half an hour," Jurgen Klopp said afterward. "That's OK, that's no problem. The big difference from the past is we can do it. It's no problem. That's what you have to do. If we have to do it, we do it."
It almost sounded as if Klopp, and by extension his team, enjoyed digging in and having to defend. How times have changed!
This was the crucial part of the game. "They needed an early goal tonight but didn't score it," Klopp said, "and then their intensity level drops a little bit, and we are still there. To be back in the semis is a big statement. We did it in different ways, which makes it even more special."
In the second half, they showed the other side of their maturity, controlling the game, keeping Porto at bay with the jab and picking them off with three more goals. The highlight of those was Mohamed Salah's composed finish after a through ball from Trent Alexander-Arnold that even Kevin De Bruyne would have been jealous of.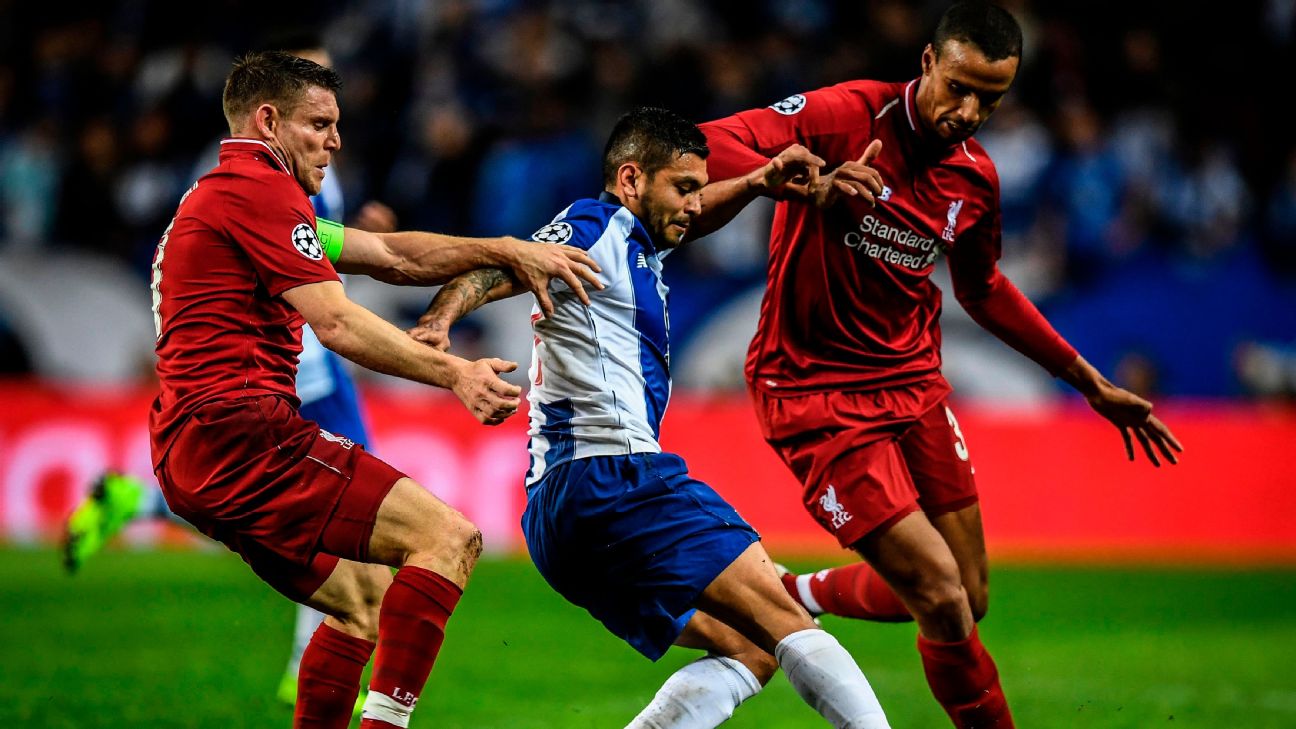 Now to the semifinal. There are enough tales about Liverpool's famous nights in Europe to fill libraries, and this will be a relative footnote, but it sets up a potentially historic next chapter, in which they will face Barcelona.
This more pragmatic approach has taken Liverpool a long way. It has taken them to the top of the Premier League. It has made everyone believe they can win their first title since 1990. It has taken them to the Champions League semifinal. But will it take them past Barcelona?
In a fairly extraordinary turn of events, you could make a decent case that Liverpool are the most reliable and solid team left in the tournament. In the quarterfinals so far, Ajax, Tottenham and Barcelona have shown their vulnerabilities to different degrees, even if in some cases their opponents didn't have enough to take advantage.
Liverpool on the other hand have barely looked in trouble for a second. The hairy group stage, in which they lost three times and progressed on goal difference, feels like a very long time ago. They have comfortably won their past three games, against Bayern Munich and two versus Porto, but doing that against Barcelona -- or rather, doing that against a team with Lionel Messi -- is a different challenge entirely.
"Thank God I don't have to think about that tonight," said Klopp, who has never faced Barcelona, when asked how he would stop Messi. "I have a few more nights to think about that. Everybody has tried that, but so far nobody can do it. We're looking forward to it, but we have so many different jobs to do before."
Maybe in Virgil van Dijk they have a defender able to neuter him. Maybe in Alisson they have a goalkeeper able to stop his shots. Maybe in Salah, Mane and Roberto Firmino they have an attack that is clicking into gear at the perfect time and enough to make him irrelevant. It could happen.
Even if they stop him, they have a couple of old friends to deal with. Questions have been asked about Philippe Coutinho and Luis Suarez this season, but narrative dictates that at least one of them will have a moment or two over 180 minutes.
The second leg of the semifinal will come five days before the last Premier League game of the season, at Anfield against Wolves, which Liverpool might need to win to become champions for the first time in 29 years. It will be the biggest week the club has seen in a generation, but if any Liverpool team can handle that, it's this Liverpool team.
On Tuesday, Porto manager Sergio Conceicao said that sometimes, Liverpool are the best team in the world. If they can beat Barcelona, more people might agree with him.