Unai Emery, Arsenal need to settle on a 'Plan A' and identity to progress forward
On the face of it, this was an excellent night for Arsenal -- three points, back into the top four, and at long last, a clean sheet away from home.
But this was a hugely disappointing performance, especially when Arsenal's two matchwinners here were actually opposition players. Ben Foster's dawdling when attempting to clear a back pass resulted in him thumping the ball against Pierre-Emerick Aubameyang and into his own net for the lone goal. Moments later, Watford captain Troy Deeney needlessly threw his arm into the face of Lucas Torreira, and was shown a straight red card.
Ten minutes in, Arsenal had a one-goal and a one-man lead, thanks entirely to Watford errors.
This, then, should have been a stroll in the park for the Gunners -- stretch the play, keep the ball, tire Watford and then exploit gaps in the closing stages. Instead, Arsenal provided a peculiarly tame, casual performance and were fortunate not to be punished by Watford in the closing stages.
Watford manager Javi Gracia will feel he got the better of Unai Emery -- his old Real Sociedad teammate -- in the tactical battle. Gracia was forced to shift from a 3-5-2 to a 4-4-1 after the red card, and Watford were rarely overawed in midfield. In Abdoulaye Doucoure and Etienne Capoue they boast arguably the division's most combative midfield duo, while Will Hughes took up clever positions and threaded passes into attack. "It's not fair to speak about the game only in relation to the result," Gracia said afterwards. "We showed our spirit, our character, we created chances when we were able to -- one crossbar, one post. I think my players deserve recognition."
Arsenal, for long periods, struggled to make their numerical advantage count, and Watford twice hit the woodwork: first Craig Cathcart's shot was turned onto the post by Bernd Leno, and later Adam Masina unleashed an outstanding long-range drive that clipped the angle between post and crossbar.
Arsenal player ratings: Auba 7/10, Mkhi 4/10 in fortunate win
From an early stage, Emery realised things weren't going swimmingly. Midway through the first half he called down an assistant, located up in the stands to get a proper view of the tactical battle, and they conducted a lengthy discussion about how to reformat, although there was no immediate change in approach.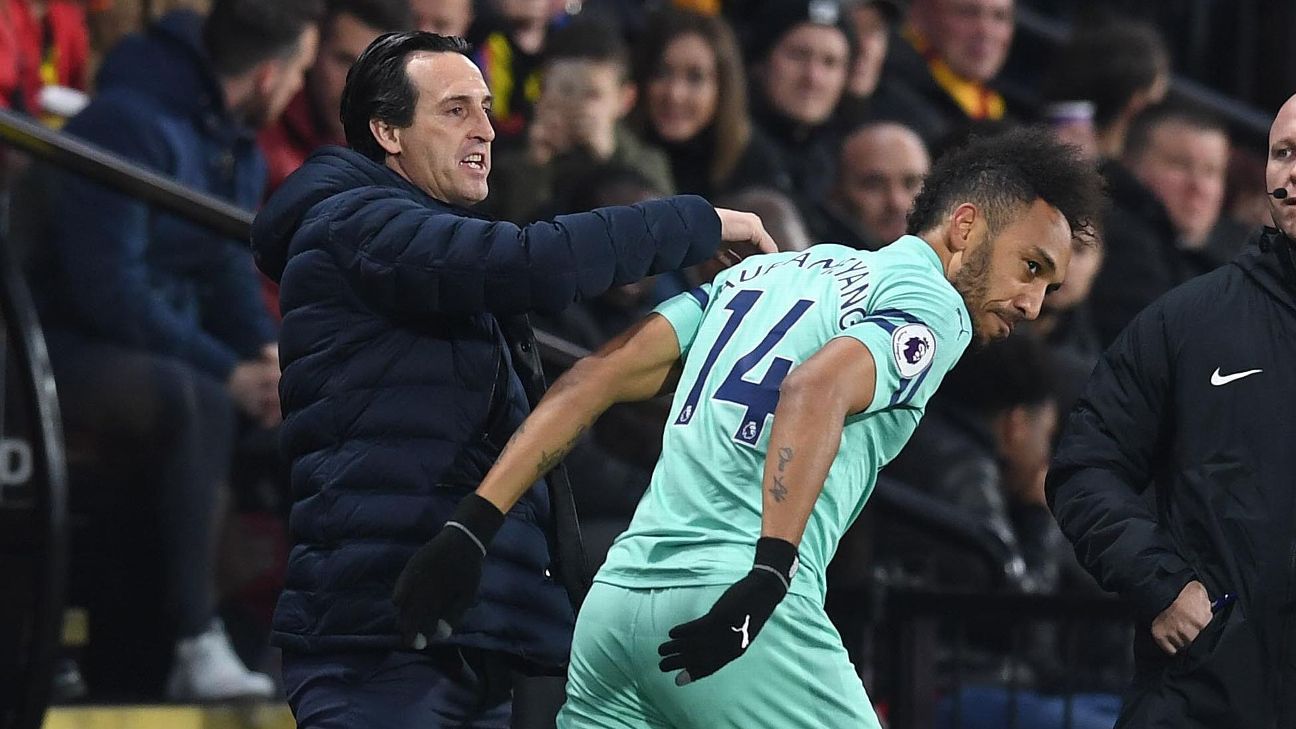 At half-time he turned to his bench, introducing Mesut Ozil for Lucas Torreira, and moving Aaron Ramsey into a deeper role. He then brought on Matteo Guendouzi for Konstantinos Mavropanos and moved from a 4-2-3-1 to a 3-4-2-1, which Arsenal's defenders seemed bemused by -- and makeshift wingers Alex Iwobi and Henrikh Mkhitaryan didn't look any more convinced of. Less than 10 minutes later, Ainsley Maitland-Niles was summoned in place of Aaron Ramsey, as Emery returned to the back four. His players looked comfortable in neither system. "We didn't control the match like I wanted, and I was thinking three centre-backs would be enough and to use one player more in the midfield, but this didn't give the control that I wanted, and went back to 4-2-3-1," Emery explained afterwards.
And this is the concern about Emery: he's too much of a tactical tinkerer, too inconsistent with his approach. It's a stark contrast to 22 years of Arsene Wenger, who would barely change system and generally made straight swaps, an approach which was rightly criticised as Arsenal were undone by more tactically astute managers. But under Emery there's a danger Arsenal have gone too far the other way. This, after going 1-0 ahead, should have been a simple task for Arsenal: play your natural game, keep the ball. They seemed incapable of frustrating Watford, and Emery incapable of sticking to a set plan.
A curious element of Arsenal's approach this season is the situation upfront, where Alexandre Lacazette and Pierre-Emerick Aubameyang have generally rotated for big games, and sometimes been fielded together with mixed levels of success against smaller sides. Lacazette and Aubameyang are very different in style: the former is good at coming deep and linking play, the latter always wants to sprint in behind to get on the end of through balls, and is barely involved in link-play.
Aubameyang wasn't particularly involved here, completing just 15 passes in the game, as Lacazette remained on the bench throughout. It's likely that Aubameyang will now be omitted from the starting XI for the trip to Napoli, with Lacazette fielded from the outset, tasked with holding up the ball and bringing others into play. Strangely, Arsenal could probably have done with that here.
Emery probably likes having two different forwards to use: he can deploy the two tactically at different times, according to the situation at hand. But maybe this summarises Arsenal's problem: they're not accustomed to playing to the strengths of a particular forward, and their approach varies too much from week to week. The sporadic use of Ozil is a similar issue; while there are games that the German isn't suited to, it's peculiar that in some games Arsenal's side is based almost entirely around him, and in others he's been omitted from the squad entirely.
Arsenal are now on course for a fourth-place finish, which would qualify as a great success in Emery's first season. For Arsenal to progress in his second campaign, though, you sense there's a need for more of a default style, more of a Plan A. Being a reactive manager has its benefits, but constantly adapting to lower-placed opposition when 1-0 down and one man down for 80 minutes isn't a positive look.