Altidore the hero as Toronto beats Seattle to lift MLS Cup, win treble
TORONTO -- Toronto FC claimed the 2017 MLS Cup final with a 2-0 victory over the Seattle Sounders on Saturday, completing the first domestic treble in MLS history.
Toronto was utterly dominant on the night but had to wait until the 67th minute to find a breakthrough, as Jozy Altidore lifted the ball over Seattle goalkeeper Stefan Frei on a breakaway for the first goal. Four minutes into stoppage time, Victor Vazquez iced the match, converting after Armando Cooper's shot hit the post.
Here are three thoughts on Toronto's deserved victory.
1. Altidore the hero as Toronto completes historic treble
From the moment the Reds fell on penalties to Seattle in last year's MLS Cup final, they've been on a mission. The front office filled in the cracks on the roster. Manager Greg Vanney managed his squad with a deft hand. As a consequence, Toronto conquered all challenges before it, adding the MLS Cup to the Canadian Championship and Supporters' Shield it claimed earlier in the year.
It was a match in which Vanney once again kept his opponent guessing with his tactics, this time going with a four-man back line and a diamond midfield. It seemed a risk, given that TFC operated for most of the season out of a 3-5-2. But Vanney toggled back and forth between three- and four-man back lines against Columbus in the Eastern Conference finals, so it was a case of Toronto's players expecting the unexpected.
The change certainly didn't slow TFC down. The tempo Toronto played at on both sides of the ball was simply too much for Seattle. In attack, TFC's passing was crisp. In defense, its midfield pressure was withering to the point that Seattle could rarely get into a rhythm. Unlike last year, Toronto created no shortage of chances.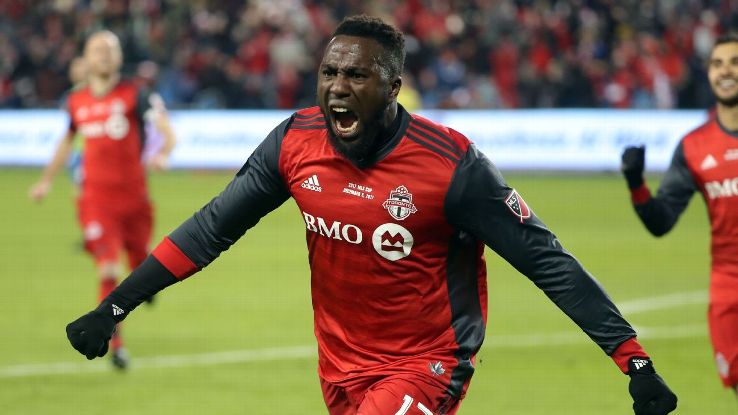 There are times when none of that matters against a goalkeeper in the kind of form Frei was enjoying. The Swiss-born shot-stopper was having one of those nights when he could do no wrong, repelling everything that was sent his way, whether the shots were low, high, to his left or to his right.
But finally, Toronto's pressure paid off in the 67th minute. A flowing move that typified the home side's play on the night saw Sebastian Giovinco slip Altidore through on a clear breakaway -- in a tight decision, but the linesman's flag stayed down for offside -- and he made no mistake, deftly lifting the ball over the advancing Frei and into the net.
Vazquez, whose acquisition in the offseason did plenty to push Toronto into the championship stratosphere, left no doubt as to who would prevail, scoring four minutes into stoppage time.
For the first eight years of its existence, Toronto FC was a punching bag, as inept an organization as you could find. But with the arrival of GM Tim Bezbatchenko, Vanney and a passel of quality players, including Michael Bradley, Altidore and Vazquez, TFC are now worthy champions.
2. Frei valiant in defeat
After the Sounders claimed last year's MLS Cup final at Toronto's expense, Seattle was loose and confident that it could make it two in a row.
Alas for Seattle, it was no match for a rampant Toronto side. The Sounders, their midfield in particular, never seemed to get so much as a toehold in the match. When Joevin Jones managed to get a shot on goal in the 30th minute that resulted in a routine save for Toronto keeper Alex Bono, a murmur went through the press box. It was the first shot on target for the Sounders after 150 minutes of play in MLS Cup finals.
Simply put, Frei was the only Seattle player to show up on the night. He certainly seems to love tormenting the team that drafted him out of the University of California in 2009. Last year, Frei delivered the play of the game when his diving save denied Altidore's goal-bound effort.
This time around, Frei will be remembered for much more than just one sparkling effort. He delivered a superb, diving save in the 10th minute to deny Jonathan Osorio. He then did just enough to get a piece of Giovinco's breakaway attempt just a minute later. The Seattle keeper then denied Giovinco again in the 23rd minute, tipping the Italian's effort over the bar. Frei continued to put on a show, somehow pawing away a seeing-eye drive from Vazquez in the 41st minute.
The second half was more of the same, as Frei dove to his left to deny Giovinco in the 63rd minute. But there is only so much that a goalkeeper can do, and four minutes later, Altidore finally managed to put the ball past Frei and into the net.
On a night when Seattle's bid for a repeat MLS Cup triumph fell short, Frei stood tall.
3. "Best ever" talk suits Toronto
TFC have lived with big expectations all year, and as they reached one milestone after another, the talk of their place in MLS history increased. Now with the treble in their possession, they can rightly call themselves the best side in MLS history.
Comparisons are always tricky, of course. The introduction of targeted allocation money (TAM) has significantly altered the kind of teams that can be built. It's likely that a player such as Vazquez, whose part in the buildup to Altidore's goal was precisely the reason Toronto acquired him, never arrives in Toronto without the program's introduction. TFC have certainly stretched the league's roster rules to the limit -- and they have every right to do so -- with a payroll in excess of $20 million. Their three designated players have been worth every penny, and their role players such as Steven Beitashour and Justin Morrow have been outstanding.
MLS is a league that still strives for parity, and the rules are meant to level the playing field. But there's nothing stopping other teams from taking a similar approach. Toronto, from Bezbatchenko to Vanney on down to the players, has put in a season for the ages, with a record points haul to go with its three trophies. As an organization, Toronto has cracked the code to a record-breaking degree. It can now head into the offseason with its place in history secure.
Jeff Carlisle covers MLS and the U.S. national team for ESPN FC. Follow him on Twitter @JeffreyCarlisle.