England let 2-0 lead slip, settle for 2-2 draw vs. Spain in Wembley friendly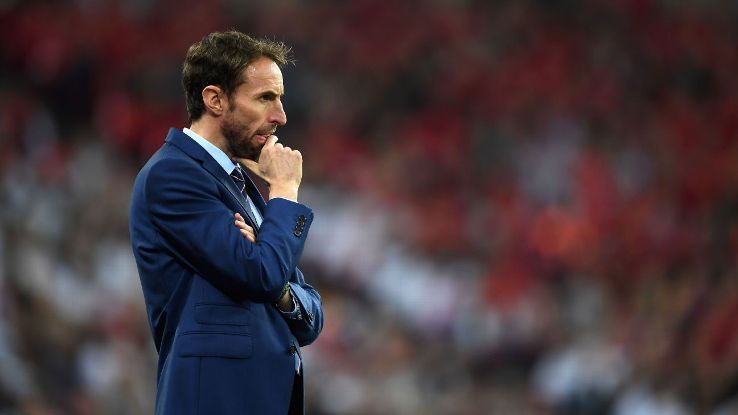 LONDON -- Three quick points from Wembley Stadium, as England stormed to a 2-0 lead versus Spain only to end up with a 2-2 friendly draw.
1. England let lead slip vs. Spain
A strange year for England ended in slightly disappointing fashion on Tuesday night, as they threw away a two-goal lead to draw 2-2 against Spain; 2016 started with a 3-2 victory over Germany, and the intervening months saw the calamitous European Championships campaign and the loss of two managers. As befits England's national team, it's been another memorable 12-month span.
Goals from Adam Lallana and Jamie Vardy gave them a 2-0 lead but Iago Aspas, with two minutes remaining, and Isco in the fifth minute of injury time denied Gareth Southgate a victory in the fourth and final game of his initial caretaker spell in charge. Now we wait for the FA to confirm whether the caretaker will be trusted with the national team keys on a more permanent basis; however, unless the decision has been taken already, the way England allowed Spain back into the match in the latter stages might not reflect particularly well on him.
England

Spain
Game Details
After chasing shadows for the first seven minutes, England took the lead in the eighth. Two Liverpool players, Lallana and Nathaniel Clyne, combined to win the ball on the right flank before the former curled a sensational ball around the back of the Spanish defence, Jamie Vardy slightly miscontrolled the ball but took it past Pepe Reina and then tumbled over the goalkeeper's torso. Lallana stepped up and launched the penalty into the top corner to make it three goals in three England games for Lallana, after scoring none in his first 26.
Playing in a No.10 role, Lallana continued to demonstrate he is England's form player in the following minutes, but had to be removed shortly afterward after collecting a knock. That he walked down the tunnel looking relatively happy with life and was able to sit on the bench without any trouble, suggesting that the injury was mild and, presumably much to the relief of Jurgen Klopp, the substitution was merely a precaution.
The lead was doubled not long after the break as Vardy broke his 14-game scoring drought, thumping a header past a grasping Reina from a nicely clipped Jordan Henderson cross. If this was a game of consequence, Spain boss Julen Lopetegui might have been furious at why Vardy was allowed so much room at the back post: as it is, he may just settle for a polite enquiry.
The rest of the game played out in the manner that these affairs usually do: occasional flashes of nice football, fun in the crowd but any real flow disrupted by the many, many substitutions. Nonetheless, Spain gradually crept back into the game, advancing further and further until they broke through. In 88th minute, substitute Iago Aspas (a notable Liverpool alumni) spanked home a terrific equaliser, a brilliant left-footed shot into the top corner, before Isco found space in the box in the closing seconds and slotted the leveller between substitute keeper Tom Heaton's legs.
On the touchline, Southgate looked as if he'd lost more than simply a friendly victory.
2. Vardy gets a goal, will it be the first of many?
Some goals you can see coming: players in form and with confidence have a fizz and a menace to them that suggests they're going to score at some point. They're simply waiting to decide exactly when it will be. That wasn't the case with Vardy, who in the first half looked bereft of confidence, a man struggling with his place in the world and indeed the team. He won the penalty but the Vardy of last season would probably have swished the ball into the net well before Reina had the chance to take him out.
There was one moment that seemed to sum up his season so far: Sterling streaked down the left and whipped a low cross into the middle, just in front of Vardy, but the Leicester man hesitated and by the time he thought about properly reacting, it was too late. He looked frustrated, not necessarily that he missed the chance but that he barely went for it.
Then a few minutes into the second period, the goal came, his first in any football since a consolation in a 4-1 defeat to Liverpool in September. He's been dropped twice by Claudio Ranieri in the interim, something unthinkable after the glories of last term.
Of course he, like Leicester, was never likely to perform another miracle but part of the reason he was so good last season was how confident he looked, a confidence that seems to have drained away in the last few months.
Will this goal bring some of that back?
Southgate (or whoever is England manager for their next fixtures in March) should hope so because they might well need him. Wayne Rooney's decline has been discussed at length, Daniel Sturridge is not in the Liverpool team, Harry Kane's injuries have disrupted his season and Marcus Rashford is still young and learning. England's striking options suddenly start to look a little thin but are much healthier with a confident and in-form Vardy.
3. Spain's tinkering bears little fruit at Wembley
Any England fan getting giddy at the prospect of this largely creditable performance shouldn't need a note of caution, especially given the countless examples of disappointments that have followed promising games such as this in the past. But another one to highlight is that, in the first half, Spain were experimenting with a new system and didn't look entirely comfortable with it. The 3-4-2-1 seems to be de rigeur at the moment, with Mauricio Pochettino at Tottenham and of course Antonio Conte at Chelsea using versions of it to varying degrees of success.
It makes sense for Lopetegui to try it out in a friendly such as this. Indeed, in theory it should suit Spain if only because it essentially allows them to play four central midfielders: two men stationed a little deeper and two (in this case David Silva and Juan Mata) in more attacking positions just behind the striker. In this case, Lopetegui didn't seem massively impressed because he reverted to a more typical back four at half-time, but that doesn't mean it wasn't a worthwhile experiment.
And as much as anything else, Lopetegui needs to think about long-term ideas, specifically life without Andres Iniesta. The Barcelona man is currently out with a knee injury but is 32 and won't be around to dictate games forever. Spain know they can't rely on his genius. They have to think of new ways of playing.
Nick Miller is a writer for ESPN FC, covering Premier League and European football. Follow him on Twitter @NickMiller79.