Spain's late push shows Southgate how far England have to go
LONDON -- This is how it goes for England, a team seemingly locked in a loop of unending misery. High hopes, great promise, then a kick in the teeth just as the scent of success begins to fill the nostrils.
As Isco raced away to celebrate his 95th-minute equaliser for Spain, five minutes after Iago Aspas had seemingly scored nothing more than a consolation goal for Julen Lopetegui's team, the story of the England football team had been condensed into 90 minutes at Wembley.
England

Spain
Game Details
Gareth Southgate's players had been bright, energetic and confident. They built a 2-0 lead through Adam Lallana's ninth-minute penalty and Jamie Vardy's diving header from Jordan Henderson's cross early in the second half.
Yes, they were forced to endure lengthy periods of Spain dominating possession, but rather than cave in, as England teams have done in the past against superior opposition, they were solid. They held on and displayed the threat going forward that comes with pace and purpose in attacking positions.
Then came the sucker punch, with England letting their guard down, failing to display the nous and game management required to succeed at the highest level. Southgate's glorious coronation as the national team's new permanent manager was dealt a painful dose of reality.
That is no bad thing, however.
Southgate, perhaps as early as next week, will be confirmed as Sam Allardyce's full-time successor after four games in interim charge, and it might work in the 46-year-old's favour that England's frailties have been exposed, just as misplaced optimism had begun to grow during an unbeaten run against the collective might of Malta, Slovenia and Scotland.
England went to school against Spain and were ultimately taught the lesson that nothing comes easily at the international level.
There was really nothing to get excited about against the mediocre opposition England had faced under Southgate prior to Tuesday night, but a game against the dominant force of world football over the past decade will have given Southgate reason for optimism as well as cause for concern.
"We played one of the best teams in the world, and I can't have asked for any more," he said. "But maybe not winning will be better for us in the long run, knowing what we have to do at this level."
Southgate is a smart cookie -- not one to fall for hype or the misplaced arrogance that has often contributed to England's failings -- so he will use Spain's late fight back to his advantage.
He came closer than most to helping England end their wait for silverware with Terry Venables' team at Euro '96, and he has admitted to learning key lessons from that experience, in terms of the mindset required to end England's days as also-rans.
Can Southgate inspire this generation of England players to the success that the likes of Sven-Goran Eriksson, Fabio Capello and Roy Hodgson all failed to deliver since the turn of the century?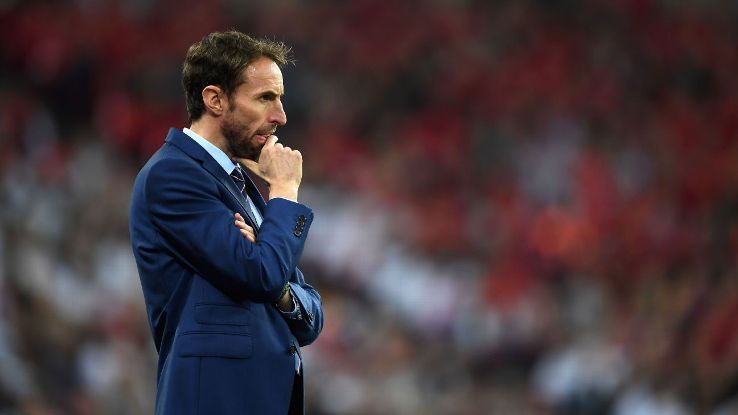 There is quality to work with; the emerging talents of John Stones, Eric Dier, Dele Alli, Raheem Sterling and Marcus Rashford are as promising as any comparable youngsters in the world game. Adam Lallana's development into a goal-scoring midfielder at international level is another plus.
The freedom of movement and pace delivered against Spain, by the likes of Sterling, Jamie Vardy and Theo Walcott, were similar to that which contributed to the 3-2 March victory against Germany in Berlin, when Hodgson's young team sparked the kind of optimism and excitement that prompted many to believe England could win Euro 2016.
That proved to be a false hope, but the ingredients in that victory remain, and at any level, pace and movement are a problem for even the best teams; Lopetegui admitted after the game that England's "pace and quality on the break" were a concern for his players.
One significant absentee against Germany and Spain was Wayne Rooney. Southgate has already displayed the single-mindedness and strength of character to drop the England captain, against Slovenia last month, and he might now be ready to contemplate going without Rooney on a more permanent basis.
The 31-year-old, who is neither a forward nor a midfielder, slows the team down and makes England far too predictable. His leadership qualities are valued by Southgate, but Rooney no longer merits a place in the team.
Alli, absent through injury against Spain, is a better option in the No. 10 role, while Harry Kane, Rashford, Vardy and Daniel Sturridge are all ahead of Rooney in an attacking sense.
Meanwhile, given Jordan Henderson and Dier once again impressed as a midfield pair at Wembley, Southgate is likely to find it harder to accommodate Rooney than leave him out.
Results and performances are the ultimate acid test, and neither has been good with Rooney in the team in 2016, so to take England forward, Southgate has to make the big call when the squad next meets up in March.
"There is a lot of potential," Southgate said of his squad after Tuesday's game. "But there is a long way to go before we can consider ourselves to be a top team."
The building blocks are there, however, and Southgate insists he has shown the credentials to take the job permanently.
"I've proved that I can handle big occasions," he said. "Until this run, under this spotlight and in matches like Friday's against Scotland under intense pressure, you're never sure how it is going to be. But I'm pleased, and I think the remit we were given has been fulfilled."
The job will only get more difficult, but if anybody was under any illusion as to the size of Southgate's task, Spain at least did him the favour of bringing that reality into sharp focus.
Mark Ogden is a senior football writer for ESPN FC. Follow him @MarkOgden_