Lionel Messi's pain, Argentina woe show power of international football
EAST RUTHERFORD, N.J. -- Has an era ended with a penalty that Lionel Messi sent high over a New Jersey crossbar?
Many Argentina fans had an air of resignation as they came away from MetLife Stadium, but there were stronger emotions boiling over in the dressing room. Anger, revolt, disbelief and profound sadness must have been more prevalent. How much of this can the players take?
Messi announced his retirement from international football after the game. Others might follow, or they might rethink. It is still too early to tell. After last year's defeat, Javier Mascherano (who had just lost his fourth final) was said to be contemplating international retirement. But it proved to be a five-minute storm -- until now, a fifth failure at the final hurdle.
Argentina
Chile
Chile wins 4-2 on Penalty Kicks.
Game Details
It will be interesting to see how this develops. Messi has just turned 29, a year older than Sergio Aguero, Angel Di Maria and Gonzalo Higuain. On the one hand, Messi is clearly fed up with the Argentine FA, and on Friday, he promised to discuss this matter in the future. Why bother playing for them?
On the other, there will surely be changes within the AFA, and moreover, Messi has little time left to win a title with his country. The cold light of day might be painful, but it could cause him to reflect that trying to win the 2018 World Cup and the following year's Copa could be preferable to an old age spent regretting his absence from the international arena.
Argentina have lost three finals in three years: two on penalty shootouts and one by a single goal. All went to extra time. The striking thing is that a generation that stands out for its attacking brilliance has failed to score a single goal in six hours of cup final football. How can this be explained?
Especially the previous two years, Argentina have been victims of end-of-season tiredness. This time around, the problem seemed more psychological. From the moment Higuain rolled his early chance wide after a mistake by Gary Medel, a feeling of "here we go again" appeared to take hold of the players, who snatched at every second-half opportunity and wasted some good situations.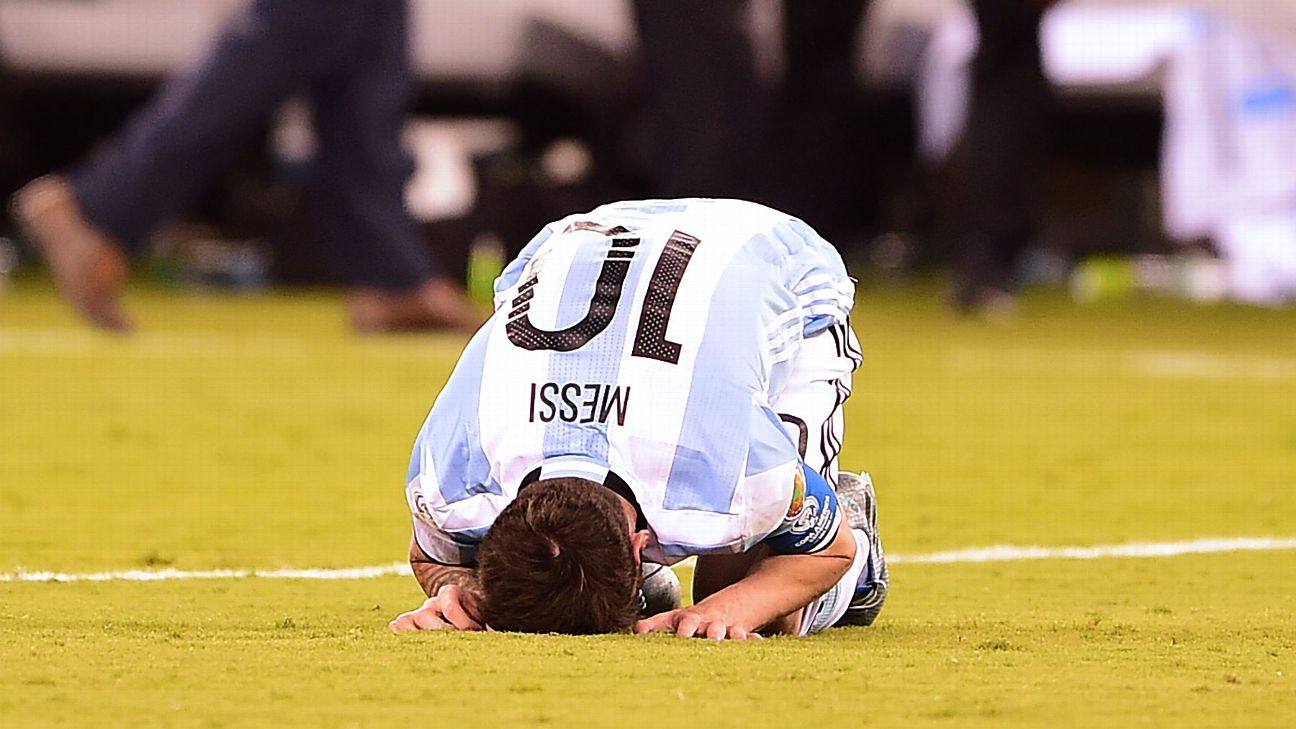 Messi can make good on his threat to stop playing for Argentina, and his place in the pantheon of the greats will be untouched. He has scored more goals than anyone else for his national team. Moreover, in the UEFA Champions League, which these days displays a higher standard of play than the national team, he has been magnificent season after season. At club level, he has won all that there is to be won.
Yet he sent that penalty high into the New Jersey air. How to explain this miss? How different would the shootout have been had he scored? The pressure would have been on Chile. Instead, the pressure got to Messi.
In a way, this is a tribute to international football. It might have lost plenty of ground to European club football. But it still has an unrivaled power to make people feel represented. On Sunday, the pressure of that power proved too much for Messi.
Tim Vickery covers South American football for ESPN FC. Follow him on Twitter @Tim_Vickery.