Lionel Messi superb as Argentina ease into Copa semis, thrashing Venezuela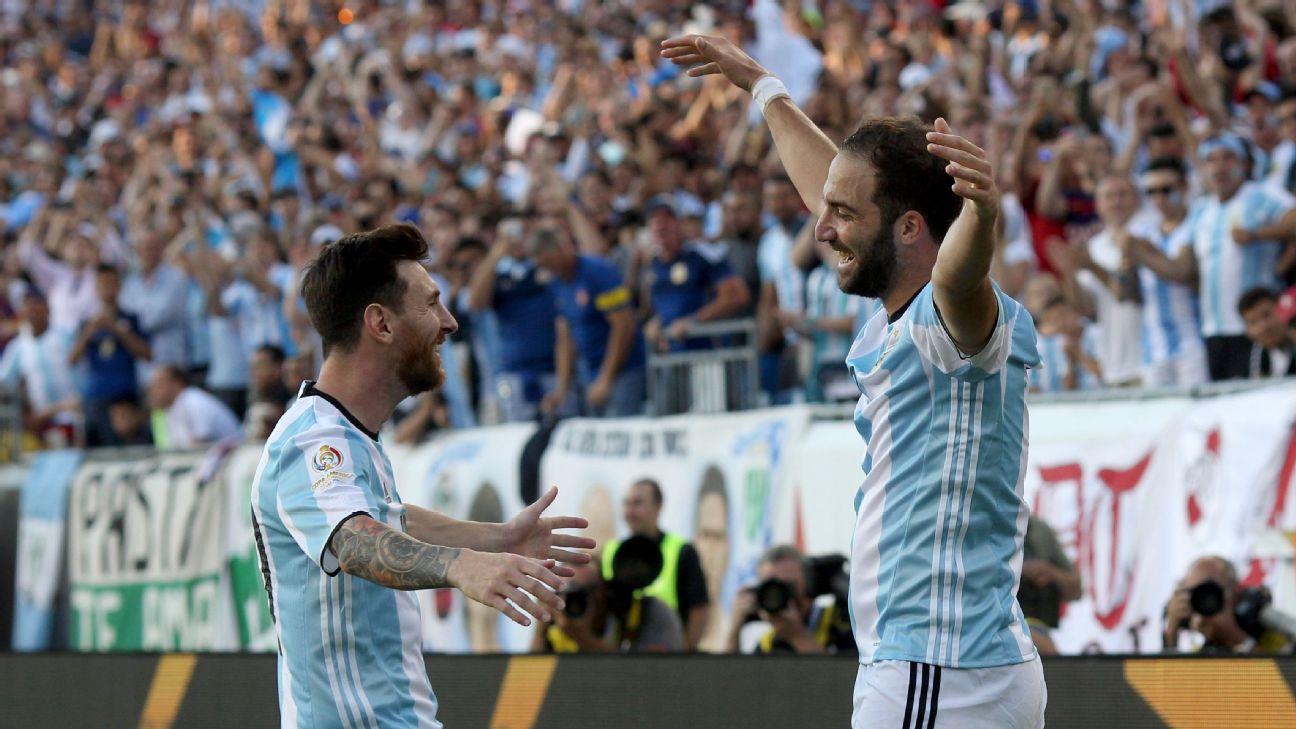 FOXBOROUGH, Mass. -- Argentina booked their spot in the Copa America semifinals with a 4-1 win over Venezuela on Saturday. Lionel Messi scored once and had two assists. Gerardo Martino's side now prepare for a meeting with hosts the U.S. on Tuesday in Houston, Texas.
1. Messi foils Venezuela's trap
An old South American football saying has it that trying to get the balance of a team right is like having a small blanket on a cold night: Cover your neck and your feet get cold, but if you cover your feet, your neck freezes. Venezuela coach Rafael Dudamel might be dwelling on this after making a switch that ended up leaving his team exposed at both ends.
In a last-minute change, Luis Manuel Seijas came in to serve as an extra body in central midfield, forming a three-man block alongside Tomas Rincon and Arquimedes Figuera. It was designed to squeeze Lionel Messi's space by stopping his darting, diagonal runs at the source. But, as his teammate with club and country Javier Mascherano puts it, where other players are controlled by what happens in the game, Messi can control it. He has the mind of a strategist.
The little number 10 rendered Venezuela's central block irrelevant in the early stages by operating outside it and positioning himself wide on the right. It was from here that he curled in the cross that was met by Gonzalo Higuain's sweet stretching volley to give Argentina an important early lead.
Argentina
Venezuela
Game Details
Dudamel's attempt to stiffen up his defence had failed, and in making the change, Venezuela's coach had also harmed his attack. Having three in the centre of midfield forced a changing role on Josef Martinez, who dropped to a wide left midfield role instead of playing up front with Salomon Rondon. But in order to cause problems against a suspect Argentina defence, Venezuela needed Rondon and Martinez to be close to each other and able to combine, the strength of the former dovetailing with the speed of the latter.
At the half-hour mark, Dudamel moved Seijas out wider and pushed Martinez back up front, and straight away, Venezuela started to create chances, including the penalty so foolishly wasted by Seijas. But by then Venezuela were two goals down. They never came close.
2. Sergio Romero stands tall
Sergio Romero is Argentina's most capped goalkeeper, but he has had a strange career. With most of his clubs, he has spent more time on the bench than between the posts. In this tournament, though, he has shown few apparent signs of rust. He made a crucial early save from Alexis Sanchez in the first match against Chile and did so again this time to deny Rondon. But perhaps the moment that Argentina's giant keeper enjoyed most was the penalty save.
A year ago, the final of the 2015 Copa went to penalties. Alexis Sanchez stepped up with the chance to seal the title for Chile and made sure of his place in history with a little Panenka dink down the middle.
Romero was not going to be beaten that way a second time. Venezuela won a penalty shortly before the break, a precious opportunity to haul themselves back into the game. Seijas, a left-footer who has scored with Panenka dinks for Independiente Santa Fe in Colombia but since moved to Internacional in Brazil), prepared to take it. This time, Romero was prepared to stand his ground. If the keeper does not commit himself, the ensuring Panenka looks ridiculous, a glorified back pass, and that is what happened this time.
It kept the score 2-0 Argentina at halftime, and Gerardo Martino's side went on to win with relative ease.
3. Venezuela offer more than anticipated
For a team that have been having such a disastrous time in World Cup qualification, Venezuela should emerge from this tournament with confidence restored after beating Jamaica, Uruguay and (nearly) Mexico in the competition. The secret of their group stage success was that they never conceded the first goal; in fact, they did not concede a goal at all until Mexico's equaliser late in the third game.
But falling behind early against Argentina exposed their defensive problems, in particular a lack of pace at the back. In some respects, they were lucky it wasn't worse. Holding midfielder Arquimedes Figuera was very fortunate to stay on the field and also seemed to have given away a first-half penalty.
But the bright spot for the Venezuelans in this game was the number of chances they created, especially during an excellent spell in the last 15 minutes before halftime. The true test of a team is always when it goes a goal down.
Yes, Venezuela's defensive problems were evident. But the Rondon-Martinez partnership is a real threat, and there are several interesting youngsters coming through in the wide midfield positions. Russia 2018 looks a long, long way off, but at least Venezuela will leave the U.S. this week with momentum and morale restored.
Tim Vickery covers South American football for ESPN FC. Follow him on Twitter @Tim_Vickery.