Jamie Vardy magic keeps Leicester top of the league with 2-0 win vs. Liverpool
LEICESTER, England -- Here are three points from King Power Stadium after Leicester defeated Liverpool 2-0 on Tuesday night.
1. Spectacular Vardy keeps Leicester's title quest going
Perhaps nothing changed in January after all. If the remainder of the season is essentially a new, 15-game, mini-season between title contenders with fresh, restocked squads, then it has begun exactly where we left off. Jamie Vardy seems on a one-man crusade to propel Leicester to the most implausible of Premier League titles, and two instinctive second-half goals Tuesday -- his first being maybe the very best of his burgeoning collection -- kept Leicester top of the Premier League heading into Saturday's tantalizing trip to Manchester City.
The match had fallen into a reliable pattern, when on the hour, Vardy intervened with a stunning bolt from the blue.

Leicester City

Liverpool
Game Details
The hosts had been content to absorb periods of ineffectual Liverpool pressure and counter swiftly when, from a long clearance, Vardy found himself running between Mamadou Sakho and Alberto Moreno down the right-hand channel. Not for the first time, the Liverpool defenders hesitated at the sight of the England striker in full flight, the ball was allowed to bounce, and after a quick glance, Vardy chanced his luck. His 25-yard volley arced, dipped and swerved beyond Simon Mignolet for his 17th goal of the season and sent the King Power Stadium, which has gotten used to stunning individual feats this season, into raptures.
Eleven minutes later, the result was put beyond doubt. This time, it was a finish that showcased the best of Vardy's predatory instincts: Shinji Okazaki's low shot deflected to him at the far post and was met by an emphatic finish. Despite attempting to narrow the angle, Mignolet could do nothing once more.
Vardy's earlier work had largely consisted of working the channels, chasing down the centre-halves and teeing others up while waiting for the kind of glimpse of goal that opened up decisively in this instance. Tireless as ever, he was a deserving match winner Tuesday, and by now, none of us should be remotely surprised.
2. Leicester show they won't go away
The King Power Stadium knew what was at stake before this one. It felt in many ways like the beginning of the real title race for Leicester, whose astonishing work in the previous six months had earned them a shootout for English football's biggest prize. Claudio Ranieri had given his players three days off after their previous game, a win over Stoke on Jan. 23, and the task now was to show they would simply not be going away.
This team does not look likely to. Leicester came out flying in the first half, feeding off a crowd that responded raucously to every challenge, chase and block. Riyad Mahrez's long-range shot and Okazaki could have put them 2-0 up inside the opening 10 minutes, and it was the latter's chance that epitomized their methods. Danny Drinkwater, operating in a whirlwind of a midfield partnership with N'Golo Kante, simply showed more desire than Jordan Henderson to a challenge and drove forward to release Vardy, whose cross was met by a free header that Mignolet turned over.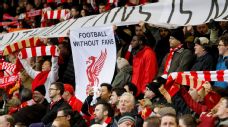 Perhaps Leicester's doggedness was summed up best by Mahrez. The gifted winger almost scored a goal that would have topped Vardy's before halftime by whipping in a 30-yard shot that Mignolet tipped over, yet it was one of his scrappier contributions that helped put the game to bed. Mahrez's persistence in battling for a direct ball and helping it on for Okazaki paved the way for Leicester's second goal and underscored the impression that something special is happening with this team.
Leicester have a squad with players of many background, nationalities and attributes, but every one of them has bought into the sheer force will required to drag a team over the line in a title race. Whatever happens at the Etihad on Saturday, and even at the Emirates a week later, it is impossible to doubt a team whose application is as consistent as this.
3. Liverpool's striker woes are laid bare
For the second match in a row, Jurgen Klopp named a forward called Teixeira among the substitutes -- but not that one. Their winter-long pursuit of Shakhtar Donetsk forward Alex Teixeira failed, which means fringe player Joao was called up, and as he sat alongside the firmly out-of-favour Christian Benteke, Liverpool's paucity of trustworthy attacking options was evident once more.
Benteke's situation was cast firmly into light by the fact that Klopp opted for a rarely-used 4-4-2 here -- matching the formation that has served Leicester so well -- but chose Roberto Firmino and Adam Lallana to spearhead the attack. Firmino's recent work as a nominal centre-forward has been successful; the bigger surprise was to see Lallana generally operating ahead of him.
The plan worked to an extent during a first half in which Liverpool recovered to exert a measure of authority after a torrid start. Lallana was a particular threat when drifting into wide areas and bringing a narrow midfield into the game. The point was made after 33 minutes, when he worked his way into the left side of the penalty area before arrowing in a cross for Jordan Henderson coming in from the right. The midfielder would have scored had Fuchs, intervening bravely, not headed the ball inches over his own bar.
Yet a direct threat was lacking, and it was a similar story in the second period. A deflected Henderson shot from an angle, and an Alberto Moreno cross shot, fisted away by Kasper Schmeichel, were the best Klopp's side could muster. Benteke was introduced after 66 minutes but to no effect, as Liverpool were forced to chase the game.
By the end, Liverpool's supporters were left to amuse themselves by chanting the name of Steven Gerrard. How this team could do with players of his character and quality -- as well as his ability to conjure up a decisive goal.
Klopp's theory was clear in selecting this lineup, but the bottom line is that with Daniel Sturridge's fitness still a thorny question, Liverpool have left themselves well short.
Nick Ames is a football journalist who writes for ESPN FC on a range of topics. Twitter: @NickAmes82.