Steve Birnbaum takes his U.S. chance with winning goal vs. Iceland
CARSON, Calif. -- Steve Birnbaum made the most of his opportunity in the U.S. national team's 3-2 victory over Iceland on Sunday. Coming on at halftime, the D.C. United defender earned an assist on Michael Orozco's 59th-minute equalizer and then bagged the game-winner himself, nodding home Michael Bradley's free kick in the 90th minute.
It wasn't a bad Sunday for a player who wasn't even on the January camp roster when it was first announced. Birnbaum had endured an inconsistent and injury-hit second season in MLS. The fact that U.S. coach Jurgen Klinsmann was using the camp to bring together some core players from the U.S. U23 team meant roster spots were even tougher to come by.

United States
Iceland
Game Details
Even with all those circumstances, Birnbaum said he was "disappointed" by the initial omission, especially since he had shown well during the 2015 edition of the January camp. But just days before camp was due to start, Birnbaum got a reprieve. Injuries to Marc Pelosi and Fatai Alashe had reduced the roster's numbers, and Klinsmann opted to call the defender in.
"I didn't really think I was going to get called into camp," he said. "And then a couple of days before he asked me, 'Can you be in on Monday?' And I was like, 'All right, I'm in.' I was running the whole offseason, so I was semi-fit coming into camp. The first couple of days it took me a little bit to get my legs in and kind of just [hit] my stride."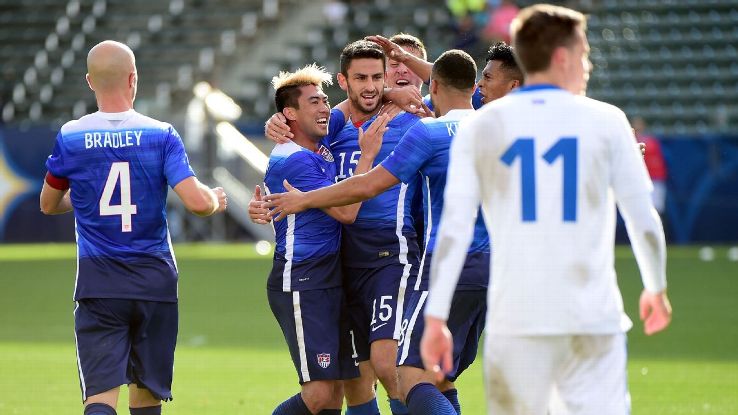 Granted, Birnbaum's primary task is to defend, and while he was decent during his 45-minute spell, he admitted that the U.S. "definitely had some shaky moments" at the back, and he held up his hand for failing to do more on Iceland's second goal. The U.S. was caught napping on a quick restart. Birnbaum felt he could have done more to close down Iceland winger Aron Sigurdarson, who curled his shot past U.S. keeper Luis Robles.
"Probably just position my body a little more inside, have him go wide," Birnbaum said about the play. "I thought [Jermaine Jones] was coming close, but that's on me."
Birnbaum more than made up for his miscue with his efforts on the offensive end, validating Klinsmann's decision to bring him in. Klinsmann, for his part, insisted that he never forgot about Birnbaum in 2015 even as the defender gritted his way through the season. Klinsmann added that there isn't much separating the pool of center-backs, regardless of what league they happen to be playing in.
"Once a player comes here and is with us, we follow them," he said. "We follow them also through their down periods. Then you can always discuss what is the hierarchy, what is the ranking of every position, of every player, which we always as coaches do. But he's always there."
Klinsmann later added, "We keep on working with all of them, and they all have their case. We always encourage them that when you get the opportunity to be on the field, make the most out of it and [Birnbaum] did."
Birnbaum's day was made even more special by the fact that he numerous friends and relatives in attendance, including some from as far away as Missouri. Given that he grew up in nearby Newport, California, his mother, Peggy Schmidt, didn't have as far to come. "It was cool to be able to do that in my hometown basically," he said.
Birnbaum will likely get another chance when the U.S. takes on Canada this Friday at StubHub Center.
Notes:
-- Among the takeaways from the match was the improved midfield balance involving Bradley and Jones. There have been times where the two didn't always seem in sync in terms of who should hold and who should get forward. On Sunday, Jones took up more of a defensive role and as a consequence, he and Bradley largely controlled matters in midfield. The two also looked more cohesive during last November's World Cup qualifier against Trinidad & Tobago, but Klinsmann noted that managing that relationship is an ongoing process.
"Obviously [Jones] has it in his DNA to go here and there," he said. "Moving out of that position is just in his blood. You can scream as loud as you want to, suddenly he goes. And Michael is similar. It's an ongoing discussion that you can have for years: When can Michael go, when can Jermaine go? The important part is really that they work off each other.
"When [Jones] sees that Michael goes in an advance position because that's when Michael connects with Jozy, with the players up front, he has to stay. Once he moves out of that position, we have a problem because we leave the space open behind us. That's where always Kyle Beckerman saved us, because Kyle stayed, and these other two would just up and down, up and down. So we'll talk often about that."
-- Kellyn Acosta admitted he was nervous ahead of his first cap with the full national team. The fact that he had spent the vast majority of the current camp playing right-back, only to be switched to the left a couple of days ago, didn't make things any easier. But after a shaky opening few minutes, Acosta eventually settled down and turned in a solid performance.
"I was a little timid at first," he said. "I was too afraid to make a mistake. I think that was my downfall. But as the second half went on I think I was more committed to getting forward and helping my team any way possible."
Klinsmann noted Acosta's progression, saying he was pleased with the defender's play. "I think after he settled his nerves, 10-15 minutes, he really played like he belonged in this team," he said. "It was really fun to watch."
Given that suiting up for the full national team was a lifelong dream, Acosta admitted that getting the first cap out of the way was like a weight off his shoulders and he'll be looking to improve against Canada. "Now I know what to expect," he said. "Canada is a good team, they're going to be tough, but I think I'm ready to go. I know what it takes getting my first cap under my belt."
-- Klinsmann was careful to couch the performance (both the good and the bad) in modest terms. That included the defensive frailties shown at times.
"We're not concerned about any of it because they're literally in preseason and trained for three weeks," he said. "So we told them 'Listen, you're going to make mistakes today. It's not going to go smooth, it's not going to be perfect.'
"There will be mistakes that led, unfortunately, to two goals. But as long as you keep going and get a rhythm and try to create chances and try to score your own goals as well. We're not concerned about it at all, because the benchmark today is not really a benchmark. It's three weeks of preseason. That's all."
Jeff Carlisle covers MLS and the U.S. national team for ESPN FC. Follow him on Twitter @JeffreyCarlisle.