Leicester condemn Chelsea to ninth Premier League defeat with 2-1 win
LEICESTER, England -- Three thoughts on Leicester's impressive 2-1 home win against Chelsea at the King Power Stadium, a result that puts them back atop the Premier League.
1. Leicester hold off Chelsea's late surge to go top
Another beaming smile of victory from Claudio Ranieri, a further pained grimace from Jose Mourinho. Chelsea suffered their ninth Premier League defeat Monday night as their season of oblivion lurches further towards total disaster. Leicester climbed back atop the Premier League and look to stay there for some time, while the deposed champions better get used to the idea that they are now a full part of the relegation equation.
Jamie Vardy ended a goal drought of just one match by scoring Leicester's first-half opener, and Riyad Mahrez, having given Cesar Azpilicueta twisted blood with a series of feints and shuffles, boomed in a superb second.

Leicester City

Chelsea
Game Details
Chelsea rallied in a much-improved second half, as if belatedly realising that they had to fight for their footballing lives, but this is a team without confidence in itself, nothing like as coherent or high-quality as the side that secured last season's title. From being set up to avoid defeat, they now had to chase the game and Loic Remy's 77th minute header from a Pedro cross gave them hope, albeit a show of spirit that came too late. Leicester proved themselves capable of digging deep; Chelsea are no longer an outfit capable of sustaining the waves and waves of pressure they produced at their best.
The last time Chelsea visited the King Power, former manager Nigel Pearson took out his frustrations on a local beat reporter. It was the night of his infamous "ostrich" rant but comparing then and now couldn't be more stark. That April evening saw a 3-1 Chelsea win take them within one step of the Premier League title while Leicester still needed points to save them from relegation.
Seven and a half months later, with Leicester pushing to return to the top of the pile, Mourinho's Chelsea began the night a single point above the relegation zone, dropped into 16th thanks to weekend wins by Bournemouth and Newcastle. Seventeen points below Leicester at the beginning of the evening became 20 at the full-time whistle. These two clubs best represent the reverse logic of what has been an incredible 2015-16 season so far.
At the end, Mourinho offered a handshake to Ranieri, an opponent and Chelsea predecessor he has lampooned viciously in the past, and it was a gesture returned with typical warmth. Having shown both class and determination, the Italian and his team fully deserved that respect.
2. Dissent in the Chelsea ranks?
Mourinho selected the same XI that supplied the best performance of Chelsea's season so far, the team that swatted aside Porto 2-0 in the Champions League last week. European football had provided a brief oasis but the Premier League continues to bring little but embarrassment.
Diego Costa, recently back in his manager's good books after a barnstorming (though goalless) outing against Porto, led the line in his usual overtly physical style but his touch still looks short. He and Leicester's Wes Morgan engaged in the running battle of the night and the Foxes captain ran out the eventual winner, although goalkeeper Kasper Schmeichel, who made a marvellous blocking save when Costa seemed destined to score in the 60th minute, provided able emergency assistance.
If Costa is considered low on goal power (he has scored once since October), he is hardly helped by those around him. The quality of opportunities Chelsea eke out these days is barrel-scrapingly low, as is the level of their finishing when chances arrive. Last season, Cesc Fabregas was a chance creator on a similar level that Arsenal's Mesut Ozil has been during this campaign. Here Fabregas was banished to the bench, his demotion the result of his lack of contribution to defensive duties. He only came on for John Terry when Mourinho decided to throw caution to the wind.
Eden Hazard, similarly lacklustre, could take no further part in proceedings after 30 minutes after a foul by Vardy sent him crashing to the ground. Mourinho was none too amused when receiving the news that he would have to replace the Belgian and appeared to ask him to continue only to be angrily waved away, a gesture that said everything about the diminishing morale among last season's fallen champions. Before that, Costa could be seen miming a sleeping motion to his teammates when defending a corner.
As Chelsea's season slides into a historic level of shame, they looked anything but a happy camp.
3. No answer for Riyad Mahrez
Leicester blazed out quickly from the opening kickoff, their high pressing forcing an early chance for Mahrez to show off his drop of the shoulder and shooting skills with an effort that Thibaut Courtois did well to catch on the full. It was prelude to another scintillating showing from the Algerian, now out on his own as the player of the English season. Last year that accolade was Hazard's but even during his 30-minute cameo, Chelsea's fading star was left in Mahrez's wake.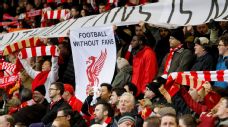 The loss of Danny Drinkwater -- a player Ranieri has converted into an adept deep-lying playmaker -- to a first-half injury looked a serious blow to a team whose lack of absentees has been a significant factor in an amazing rise. Leicester briefly suffered from a lack of flow, partly due to having to rejig the midfield as sub Andy King is a player of lesser passing quality and partly due to Chelsea's spoiling tactics. There was no chance Mourinho would be employing a high-defensive line against the electricity of Mahrez and Vardy's running.
Yet despite Kurt Zouma and John Terry being camped on the edge of their six-yard box, they still allowed that alliance to create Leicester's first. Mahrez's cut-back sliced between the pair of them for Vardy to convert from close range.
Terry ended up being an additional victim of Mahrez's wizardry when Mourinho threw the dice and went three at the back 10 minutes after Leicester's second goal, a period in which his team were being utterly dominated.
John Brewin is a staff writer for ESPN FC. Follow him on Twitter @JohnBrewinESPN.