Olivier Giroud the hero as Arsenal beat Olympiakos 3-0 to reach UCL last 16
PIRAEUS, Greece -- Three points from a fine Wednesday night for Arsenal as Olivier Giroud's first hat trick for the club secured their spot in the Champions League round of 16.
1. Composed Gunners get their miracle
This time, they pulled it out of the fire. Arsenal's propensity for setting themselves impossible Champions League escape tasks has tended to yield valiant failure, but Olivier Giroud's hat trick brought Olympiakos' challenge to a thudding halt and ensured that remarkably, they passed through the group stage for the 16th consecutive year with a 3-0 win. There was no need for intricate calculations or contortions; after a difficult first 20 minutes, this was a comprehensive win.
Arsenal's three previous visits here had for all intents and purposes been meaningless. This one could not have been more different, and backed by the kind of atmosphere that makes Stadio Giorgios Karaiskakis one of Europe's most intimidating venues, the home team began vibrantly. The power and directness of their front three (Felipe Pardo, Seba and Brown Ideye) exposed Arsenal time and again in the first 20 minutes, with right-back Hector Bellerin particularly exposed by the slippery Seba.
Olympiakos

Arsenal
Game Details
When Ideye took his turn to get behind the Spaniard down the left, he drew Petr Cech but could not find Pardo with his cross from a tight angle. Seba volleyed over from the edge of the box and Aaron Ramsey was booked for a cynical tug on Kostas Fortounis. On what looked a brittle, bobbly surface, Arsenal were struggling to establish a meaningful foothold.
Yet there was always the knowledge that it would take only one moment to change the entire feel of this tie. It almost arrived with Arsenal's first opportunity of any note after 25 minutes, when Joel Campbell found space to cut back for Mathieu Flamini to shoot against the bar via a deflection off Manuel da Costa. But Arsenal did not have to agonise for long. Released by a sublimely weighted Mesut Ozil pass, Ramsey broke down the left and clipped in a cross toward Giroud, who glanced home at the near post.
With an hour remaining, time was on Arsenal's side for the two-goal lead they needed. There seemed little need to force the issue, and Theo Walcott's shot wide after a strong run infield was their only further threat before the interval.
Four minutes after the interval, Arsenal had the decisive margin and it owed much to a sensational piece of play from former Olympiakos loanee Campbell. Arthur Masuaku seemed to have him under control as he reached a lofted pass from Ozil, but Campbell bought himself time and space with some neat footwork before beating three defenders with an angled, no-look pass to Giroud. From 10 yards, the striker could barely miss.
Fortounis swiftly supplied a reminder that a tiring Olympiakos only needed one goal themselves, forcing Cech to parry his shot from 20 yards at full stretch. Ideye then appeared to tread on the ball on the edge of the six-yard box, missing his chance to shoot. He was made to pay when Omar Elabdellaoui committed a handball when diving to block a Nacho Monreal shot. It was a clear penalty and one that Giroud, blocking out a crescendo of whistles, converted confidently.
Olympiakos had been muted; their race was run, their body language in no shape to suggest a comeback, and the final 23 minutes were played out with a fraction of the tension expected at the outset.
Arsenal will know they need to be better -- much better -- than they have in this group stage if they are to seriously trouble the tournament favourites. But for tonight, after one of their more elaborate flirtations with Champions League danger, such concerns can wait.
2. Giroud goes from villain to hero
The debate about Giroud's suitability as Arsenal's centre-forward will probably rage for the duration of his time at the club. That said, his contribution toward Arsenal's progression to the last 16 cannot be overstated. Giroud has come good in Europe when it mattered, both by giving Arsenal some kind of foothold in their group against Bayern Munich and by producing a clinical, decisive display on Wednesday night. There could have been no better time to score his first hat trick for the club.
Giroud's dismissal in the 2-1 defeat at Dinamo Zagreb in Match Day 1 is now a distant memory -- a misdemeanor that would have gone down as one of a number of costly moments had Arsenal fallen short this year. All three of his goals here were expertly taken. The crucial opener, from Arsenal's first meaningful attack, was a neat header from a difficult angle. Roberto would have deserved plaudits had he saved it, but he might all the same believe he should not have let the ball squirm beneath him.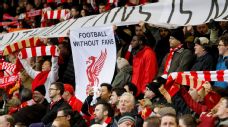 A crisply taken second goal gave Roberto even less chance, but the manner in which he avoided distraction to send him the wrong way with his third, from the penalty spot, was more impressive. Giroud could even have scored a fourth, only a sharp Roberto block thwarting him before the end.
Giroud has scored before in Arsenal comeback attempts (against Bayern Munich and Monaco). Neither of those goals counted for anything in the end, but this trio on Wednesday night might just have galvanised their entire season.
3. Wenger's tactics are rewarded
For 25 minutes, there was a danger that Arsenal were going to let the match pass them by. They had made no impression inside the Olympiakos half and Ozil, in particular, had shown a troubling propensity to be hassled out of possession by a sharp, purposeful home team.
But Arsene Wenger deserves credit for how he managed this latest challenge. Olympiakos are a counterattacking side by nature; in their five previous group-stage games, they had only once held more than 44 percent of possession. The plan looked like Arsenal would be as patient as possible and draw their opponents on, knowing that they had the means to exploit any gaps in an unconvincing home back line.
As it turned out, this tactic worked to perfection. Ozil found his range twice, measuring the kind of pass he plays better than anybody to supply Ramsey before the first goal and later lofting delicately for Campbell to have a memorable assist of his own. Before the match, Wenger had expressed the hope that Arsenal would learn from last year's exit at Monaco, in which he believed they became ragged in chasing the game too hard. Here, they were composed and patient after going a goal up. In the end, it was an expertly methodical treatment of moderate opposition.
Wenger's selection came good, too. Aware that neither Walcott nor Alex Oxlade-Chamberlain would be able to complete 90 minutes, he stuck with Campbell and was rewarded. Campbell can frustrate at times but on Wednesday, he was a jet-heeled threat whose confidence visibly grew. Walcott, too, became sharper with time, even if he should perhaps have scored when a 56th-minute volley was deflected wide by Arthur Masuaku.
Walcott's miss ultimately didn't matter, and despite being criticised for his tactics at this level, Wenger got this one spot-on.
Nick Ames is a football journalist who writes for ESPN FC on a range of topics. Twitter: @NickAmes82.