Raheem Sterling stars as Manchester City come from behind to top Gladbach
MANCHESTER, England -- Three thoughts from Manchester City's come-from-behind 4-2 win over Wolfsburg in the Champions League at the Etihad on Tuesday.
1. City's comeback kings leave it late again
It was a fitting way to win. Manchester City's Champions League campaign has been defined by acts of escapology. The comeback came a little earlier than usual, but otherwise City conformed to a familiar pattern.
They had required injury-time goals to beat Borussia Monchengladbach and Sevilla earlier in the group stage. They were trailing the German club with 12 minutes to go on Tuesday. Then they struck three times in six minutes to save face, spared themselves a fourth defeat in six games in all competitions and top Group D.
Raheem Sterling had particular cause to celebrate. He marked his 21st birthday with a brace and illustrating why City paid £49 million for an embryonic talent. Wilfried Bony came off the bench to add muscle, record a couple of assists and score a goal. Manager Manuel Pellegrini could point to a game-changing substitution as evidence that he is not the ineffective, passive character he sometimes seems.
Manchester City
Borussia Monchengladbach
Game Details
It could prove a particularly telling turnaround. More than most, City are aware of the perils of finishing second in a group. They have done so twice and drawn Barcelona twice in the round of 16. Now they will avoid the European champions, plus Bayern Munich and Real Madrid, in the next round. Juventus' defeat in Seville enabled them to leapfrog the Italian champions at the last.
City won because of their attacking firepower and in spite of their porous defence. After David Silva broke the deadlock, they continued their unfortunate 100 percent record without Vincent Kompany in the starting XI this season: In each of the 14 games the Belgian has not started, they have conceded. Gael Clichy allowed Fabian Johnson to burst inside him and pick out the unmarked Julian Korb, who drilled a shot past Joe Hart. Then Oscar Wendt's low cross was met by Johnson, whose shot was turned in by Raffael.
Each goal stemmed from Borussia's left flank. It was no coincidence. Pellegrini had selected Clichy, the right-footed left-back, on the right of the back four. He may have rationalised that the overworked Bacary Sagna, who had struggled at Stoke, needed a rest. Clichy is a stranger to the position and it showed, but City possess the talent to compensate for their flaws at times. This was one such situation.
2. Sterling stars as striker and winger
Imitation may be the sincerest form of flattery. Or perhaps Pellegrini is simply slower to cotton on to an idea than his counterparts elsewhere. Or maybe it was simply a vote of no confidence in Bony, the only available specialist centre-forward at his disposal.
Whichever, City deployed a fluid front three with no out-and-out striker. It was a tactic that worked well against them when deployed by Stoke's Mark Hughes on Saturday and Liverpool's Jurgen Klopp two weeks earlier. Instead, City's Liverpool old boy was reinvented. For the first time in his City career, Sterling started as an auxiliary striker.
He was more in the mould of Liverpool's Roberto Firmino or Stoke's Bojan Krkic, a false nine, a mobile attacker rather than a physical, focal point of the attack. At times, Silva or Kevin De Bruyne wandered into the centre-forward's position while Sterling adopted a deeper or wider role, but more often than not it was the Englishman up front.
While Sterling was installed in a scorer's position, he is a supplier at heart. He conjured his most memorable assist for City, turning until he faced his own goal and backheeling the ball into the path of the advancing Silva. Usually so delicate, the Spaniard rifled his shot into the roof of the net with relish.
Sterling showed an attacker's instinct to anticipate Nico Elvedi's chested control back to Yann Sommer and got a touch on it, drawing a crucial save from the goalkeeper. Theirs was an increasingly important duel. Initially the Swiss won it, making a second stop. Then came Sterling's sublime response, two goals in two minutes, one tucked into the net and the other curled past the keeper in the manner of Aguero, trebling the Englishman's career tally of Champions League strikes.
Yet both came when he had been relocated to the left flank. Pellegrini reverted to orthodoxy and brought on Bony, who applied a touch before Sterling leveled and set up his second. That could suggest it was a mistake to use a winger in the middle to begin with, but the stand-in striker's bright display meant this was one worthwhile experiment.
3. City still the scourge of Schubert
City are unique. They are the only team to have beaten Monchengladbach under Andre Schubert. Now they have done so twice. The fact that those wins are separated by two months shows the scale of the revival under the interim-turned-permanent appointment.
Yet a 12-game unbeaten run came to an abrupt end. That sequence included two draws with last season's Champions League finalists Juventus and the first victory anyone has recorded over Bayern Munich in the current Bundesliga campaign. Considering Gladbach recorded five successive defeats in August and September, it represented a stunning turnaround. Schubert may simply have been a welcome antidote to his famously intense predecessor, Lucien Favre. His methods have nonetheless brought results in the Bundesliga.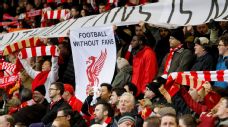 Whereas City can seem to have a surfeit of superstars, Monchengladbach have none. Yet they outmaneuvered City for long spells, having 63 percent of possession before the break, and looked a well-coached team. They possess plenty of in-form players, plus the quickness and cohesion to capitalise.
Johnson, their increasingly influential American, did not score for a fourth consecutive game, but registered two assists. Wendt overlapped enthusiastically and effectively from left-back. Captain Granit Xhaka read the game and reacted unselfishly, dropping in wherever there was a gap.
It made their late capitulation all the more unexpected. Defensive errors suddenly materialised. Far from getting a landmark result, Borussia were denied even a Europa League place.
Richard Jolly covers the Premier League and Champions League for ESPN FC. Twitter: @RichJolly.