Zlatan Ibrahimovic stars for Sweden with a double to book Euro 2016 berth
COPENHAGEN, Denmark -- Three thoughts on Denmark 2-2 final against Sweden, as Zlatan Ibrahimovic helped secure his country's passage to Euro 2016 via the playoffs.
Denmark
Sweden
Game Details
1. Zlatan gets his final chance
Cometh the hour, cometh the Zlatan. Perhaps no other footballer has more expertly crafted his image than Zlatan Ibrahimovic, but the reality is that beyond the sound bites and the bravado, he is the difference more often than not for Sweden when it really matters. His two goals in Denmark mean France will be graced with his presence next summer, just how he would want it.
After a terrible opening 15 minutes in which his side could barely string two passes together amid fierce Danish pressure, the away team's record scorer stepped up and produced as beautiful a finish as he ever has.
His 61st goal for his country was one to savour, the movement intelligent and the flicked finishing touch placing the ball well out of Kasper Schmeichel's reach. Denmark were deflated following Ibrahimovic's second goal in as many matches against them, having previously failed to find the target against this particular adversary. His second strike surpassed the first, a sumptuous free-kick that sparked further Swedish celebrations.
Evening the away goals score and making it 3-1 on aggregate drastically changed the momentum in this leg of the tie. By extension, it swayed the overall momentum further in Sweden's direction, undoing the disappointment of conceding late at the Friends Arena last Saturday and giving the Danes no more straws to clutch at, even if their pair of late goals salvaged some pride.
The two goals were not Ibrahimovic's only intervention of note, the Malmo native's importance to this team going beyond scoring in big matches. When Erik Hamren's side were at their worst, Ibrahimovic sensed his opportunity, doing the dirty work by dropping deep in order to help Sweden get a foot on the ball. A true leader on the night, he even made a few lung-bursting runs -- atypical of his play these days -- in order to try and force Denmark deeper, preventing them from pegging Sweden back for too long.
His second goal on 74 minutes was simply magical, a stunning free-kick into the top corner that capped off another decisive performance. Euro 2016 will be richer for Zlatan's involvement, the Paris St-Germain striker possessing that wonderful quality to inspire and entertain.
Denmark rallied with two goals in the final 10 minutes from Yussuf Poulsen and Jannik Vestergaard, but it wasn't enough. Zlatan did the damage.
Prior to kickoff, there was worried talk in his homeland of this match possibly being Ibrahimovic's last game with the national team should the result not go in their favour. Rather than bowing out in disappointment, he will now have the chance of one last hurrah on the big stage next summer in France, the country he currently calls home. Having produced so much magic over the years, it is difficult to begrudge him the honour.
2. Denmark's style, Sweden's substance
Over the course of these two games, one team clearly played the more attractive football, yet ultimately, it wasn't the nation that progressed. At times Denmark's link-up play was excellent, Tottenham's Christian Eriksen in particular showing real ingenuity in how he attempted to release the players out wide in both Stockholm and Copenhagen.
When first leg scorer Nicolai Jorgensen and Pierre Emile-Hojbjerg were added to the Danish starting line-up at Parken, Morten Olsen was clearly hoping for even more creative quality.
Unfortunately for the Danes, that quality didn't appear frequently enough at either goalmouth. The finishing in particular was poor, summed up but not limited to a farcical scramble in the away team's area on eight minutes, when Kim Kallstrom somehow got away with smashing the ball off his own woodwork and his opponents were too flat-footed to capitalise.
As the game progressed, even Eriksen's attempts to pick the Swedish lock degraded into over-hit crosses, while Nicklas Bendtner's only appearance of note was to head a good chance wide before being substituted off to boos in the 60th minute. By the time Poulsen finally dispatched a chance, his nation had less than 10 minutes to score a further three goals. By the time Vestergaard put away a second, the game was already in added time.
Sweden, by contrast, scored few points for style but were clinically effective -- at least until their legs gave way in the final minutes. That was most obviously reflected by both of Ibrahimovic's goals, but also appeared in a discretely important performance by Marcus Berg, who made tireless runs and held the ball up in the face of opponents almost every time it was played to him. Kallstrom, meanwhile, rolled back the years at times, wriggling out of pressure and making a few accurate long diagonals that were a reminder of why Sweden are still clinging on to the veteran.
Hamren had talked in the build-up of the importance of courage for his team, and while effort and passion are sometimes given overstated importance in football, they are nonetheless useful commodities to have when trying to see the duration of a high-pressure tie out.
He will have seen plenty of that from his players, who threw body after body in the way of shots, and reduced Denmark's attractive play to anecdotal importance; the home side only managing to produce something tangible when it was too late.
3. Tournament will miss the Danes
For all that Denmark's failure to convert means they may not have deserved to go through over the course of two legs, their inability to qualify is still a blow for Euro 2016. The only past winner present in these playoffs, there were reminders of the country's significant prestige before kick-off, as a selection of some of Michael Laudrup's finest goals were shown on the big screens at Parken, as well as highlights of the triumphant Euro 1992 side.
The Danish exit also brings an end to a significant era in international football, and one that defies the revolving coaching cast in the modern game. Manager of his nation since 2000, Olsen is the longest-standing international coach in Europe, and one of the top 15 longest serving in the world. He confirmed his retirement plans in March, and Denmark would have hoped to give their faithful servant a better send-off than an agonising exit against their bitter rivals.
Though the final steps ended in disappointment, Olsen's era will ultimately be remembered fondly by Danes. Despite many recent incarnations of the national team not containing the quality of the Laudrup era, the manager's Ajax schooling helped to bring back a degree of flair and class to a side that was once known in Scandinavia as the Brazilians of the North.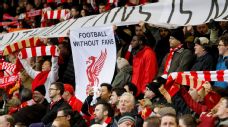 Denmark, and in particular Olsen's Denmark, do not adhere to 4-4-2 and the physical style that is common in neighbours Norway and Sweden. Despite taking what can be perceived by some as risks with his style, he helped Denmark qualify for multiple European Championships and World Cups and for that, he should be applauded and thanked.
As for his successor, the emergence of quality players like Hojbjerg on top of players of Eriksen's class means there is good reason for optimism. The only worry will be finding a striker capable of converting chances when Bendtner has an off day, as he did twice in these two matches.
Lee Roden is a European football writer based in Barcelona. Follow him on Twitter: @LeeRoden89.