Man City exploit Chelsea's surprising weaknesses to complete big 3-0 win
MANCHESTER, England -- Three thoughts from the Etihad as Man City completed a comfortable 3-0 win over Chelsea to stun Jose Mourinho...
1. Man City star, Chelsea struggle
This is all rather unlike Chelsea. Jose Mourinho's side tend to lead from the front in title races, rarely losing to their immediate rivals. But here they are, nine days into the Premier League season, with a solitary point on the board and already five behind Manchester City.
The Blues didn't impress in the Community Shield defeat to Arsenal, nor in their opening day 2-2 draw with Swansea, and this pattern of mediocrity continued at the Etihad Stadium. Chelsea, who only lost four games last season, have already been beaten twice in August.
Manchester City

Chelsea
Game Details
Sunday's 3-0 loss was their joint-heaviest defeat under Mourinho, and it was emphatic. City were excellent. They deservedly claimed what has to be called a rare victory. Manuel Pellegrini's only previous win against Mourinho in England occurred when the Portuguese picked a weakened team in the FA Cup in 2014, but there is no need to apply an asterisk to this scoreline. Mourinho named his strongest available side and they came off second best.
Chelsea only really threatened when Joe Hart saved Eden Hazard's low shot in the 70th minute. Instead, the Belgian on the score sheet was Vincent Kompany who, for the second successive game, headed in a David Silva corner. Then Fernandinho drilled in City's third goal after Branislav Ivanovic gave the ball away.
Sergio Aguero, meanwhile, could easily have a hat-trick of his own. He settled for one, wonderfully taken goal after half an hour to set up City's eighth successive league win. It was much their most significant and if the suspicion remains that Pellegrini's teams can be too attack-minded for their own good, they have nevertheless started the season with back-to-back clean sheets. Silva, in particular, has begun the campaign brilliantly and as he often is when City prosper, he was the outstanding player on the pitch.
But predictably when these two teams meet, there was a fractious air to proceedings. Even Pellegrini appeared animated at one point. Fernandinho was cautioned for an elbow that left Diego Costa both bandaged and riled, after the Blues striker had demanded a penalty for a challenge by Eliaquim Mangala. The City crowd enjoyed his annoyance and mocked the Chelsea doctors, Chris and Steve Hughes, when they were called on to the pitch to treat Costa and Gary Cahill.
"You're getting sacked in the morning," was the chant. If Mourinho saw the funny side of it, it did not show.
2. Aguero, Begovic excel in duel
A duel between the division's deadliest striker and a second-choice goalkeeper may sound one-sided. It was not as both Aguero and Asmir Begovic emerged in credit. The Argentinian's elusiveness and excellence influenced the outcome of this game; Thibaut Courtois' absence did not. Begovic is surely the finest reserve goalkeeper in the Premier League -- well, he is as long as Manchester United are refusing to pick David de Gea and Victor Valdes -- and he cut an authoritative figure. Sadly for Chelsea, the same could not be said for all of his teammates. The understudy was probably their best player.
Making his first competitive start for Chelsea, the former Stoke goalkeeper was not afforded the luxury of a gentle introduction. Within 20 seconds, Silva sent Aguero sprinting clear, but the Bosnian flung himself to his left and deprived the Golden Boot winner his first strike of the new campaign.
Aguero was not so much denied as delayed, opening his account half an hour later. It was the culmination of an onslaught and testament to his scurrying determination. He would have scored sooner but for Begovic. Twice more he dived to his left to repel shots from Aguero. After the Argentinian uncharacteristically volleyed wide, he scored at the fifth time of asking. He swapped passes with Yaya Toure on the edge of the box, weaving his way into space and angling a shot past the blameless Begovic.
The remarkable element was not that he scored (he does so regularly) but that he proved so potent after being fast-tracked back to competitive action. This was his first start since the Copa America final and had City faced lesser opponents, the chances are that Aguero would have begun on the bench. Instead, he seemed to gain in sharpness the longer the game went on, embarking on a series of menacing dribbles.
3. Chelsea's defence creaks
There are times when Chelsea's back four shield their goalkeeper so well that it scarcely matters who is between the posts. The start of the 2015-16 season may be a blip rather than evidence of permanent problems, but Mourinho's watertight defence is developing holes. Many are in between (or on either side of) the centre-backs. John Terry's lack of pace is well known. Cahill seemed slow, too, compared to Aguero. Indeed, if Chelsea need to justify a third bid for John Stones, they may find them on the DVD of this match.
By the end, they were shambolic. In particular, the sight of Cahill trailing in Aguero's wake when he scored may irritate Mourinho. Terry unexpectedly missed a cross from Aleksandar Kolarov and Aguero seemed so taken aback that when the ball came to him, he skewed his volley wide.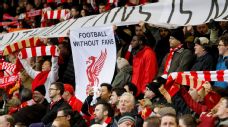 Terry did not return for the second half, amid suggestions of a thigh problem. The captaincy passed to Branislav Ivanovic, who was tormented by Swansea's Jefferson Montero eight days earlier and was booked on Sunday for chopping down Raheem Sterling. Yet he was troubled still more by the overlapping left-back Kolarov, who delivered a stream of telling crosses.
Ivanovic's frailties may be temporary but a long-standing issue is in front of the back four. Cesc Fabregas provides creativity but not solidity. Mourinho recognised as much when he started the Spaniard as a No. 10 in the Community Shield. Here he was in his more familiar beat alongside Nemanja Matic but when he is a deep-lying midfielder, he offers the defence insufficient protection. David Silva eluded him with ease.
Mourinho had installed more defensively disciplined performers (Willian and Ramires in more advanced roles but whenever Chelsea did not have the ball, Silva seemed to be in space.
Richard Jolly covers the Premier League and Champions League for ESPN FC. Twitter: @RichJolly.