Rout at hands of Man City reveals something isn't right at Chelsea
MANCHESTER, England -- Jose Mourinho's most pressing problem is no longer the makeup of his medical team. Mourinho's most pressing problem now is that his side have lost their aura of invincibility. They were beaten by Arsenal at Wembley, they were held at home by Swansea and now they have been walloped by a resurgent Manchester City. Something isn't right here. Either Mourinho doesn't know it, or he isn't accepting it in public.
"The 3-0 is completely fake," he scowled afterward. Asked to explain his thinking, he duly elaborated. "In the first half, the best team was winning," he said. "In the second half, the best team was Chelsea. We didn't score. The 1-0 result would be, in my opinion, an unfair result. So imagine a 2-0. Imagine a 3-0."
Mourinho, of course, is honour-bound to defend his team, and he excels at shifting the tone of the post-match debate. But this was palpable nonsense. City could have been three goals up by halftime alone.
Upon learning of Mourinho's comments, Manuel Pellegrini, usually so composed, looked briefly startled before quickly reapplying his poker face.
"In the first half we deserved at least three or four goals," he said gently. "The 3-0 is at least the minimum of what we deserve."
But it wasn't the margin of defeat that should cause concern for Chelsea, and it certainly isn't a question that should dominate the headlines. The real issue was the manner of the defeat. Mourinho's Chelsea might lose games from time to time, but never in this fashion. Never through casual defending, sloppy passing and an inability to prevent the opposition cutting through them at will.
The first half was a horror show for a manager as committed to shape and structure as Mourinho. While there was significant improvement after the break, the champions still didn't register a shot on target until the 70th minute when Eden Hazard picked out Joe Hart from close range, having been teed up by Diego Costa. And then, having threatened for so long to draw level, Chelsea fell apart at the back and a defeat became a rout.
Mourinho was on far safer ground with his justification for a most unexpected halftime change, the withdrawal of captain John Terry -- a move he had never before made in the league. Pressed on his reasons for the substitution, Mourinho grew exasperated.
Manchester City

Chelsea
Game Details
"I don't know if you ask this of [Rafael] Benitez, of [Andres] Villas-Boas, of [Roberto] Di Matteo, to the ones who never played him," he said. "I am the one you shouldn't ask because I am the one who played John every game, made him captain, recovered him from a difficult situation with other managers, and I am the one who has the right to look at the game and say I want [Kurt] Zouma on the pitch."
In this, Mourinho was absolutely right. His plan to turn the game around demanded a high line and a contraction of the areas in which City had had so much fun. Terry, as Villas-Boas discovered, cannot play that way, he does not have the pace. Cahill does and Zouma certainly does.
"The point was not to take John out," exclaimed Mourinho. "It was to put Zouma on. I wanted to have my fastest player on the pitch, not on the bench."
Did Terry take the decision well?
"I can tell you that he was not dancing in the dressing room," he said. "But I can tell you he was not having a bad reaction either."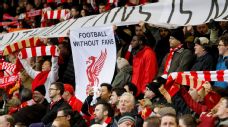 Defensively, Chelsea were startlingly poor before the break. The warning signs were there after just 19 seconds when David Silva released Sergio Aguero into space, the Argentine striker drawing a swift save from reserve goalkeeper Asmir Begovic, the rebound driven wide by Jesus Navas.
For 20 minutes, City piled on the pressure. Nemanja Matic can usually shut down games in the middle, but he was easily buffeted about here, repeatedly forced to turn and chase back as the hosts blew past him. Alongside him, Cesc Fabregas offered little support. From the flanks, neither Ramires nor Hazard could provide sufficient cover. This was most unlike Chelsea.
City could have stretched their advantage before the break. Eliaquim Mangala went close with a header as Begovic, fist outstretched, smashed the nose of Gary Cahill. Down went Cahill and on came Chelsea's backup medical staff, earning themselves a thunderous ovation from the City supporters who loudly announced that they were now getting sacked in the morning. Laughter and chants of "Eva! Eva! Eva," referring to the absence of Chelsea's first-team doctor Eva Carneiro, rolled around the stadium while Mourinho stood on the sidelines and scowled.
The laughter didn't end there. With Cahill off the pitch, Fernandinho piled into Costa with his elbow raised, wiping the Brazilian-born striker out and leaving him bloodied. Chelsea's medical team were occupied with Cahill's bloodied nose yet, and so the City doctors had to lend a hand. They too were told that they would be sacked in the morning by a crowd that was now enjoying the sideshow almost as much as they were enjoying the scoreline.
Mourinho did not share their glee. "My feeling?" he said afterward of Fernandinho's elbow. "Red card." Costa was even less amused. Head clad in bandages, he stormed off the pitch at halftime with retribution on his mind. Instinctively, Vincent Kompany and Mangala moved in to cover Fernandinho like Secret Service operatives surrounding the President. From Chelsea's bench came a most unlikely peace broker, arch-needler assistant Rui Faria, racing in to save Costa from himself as they vanished into the tunnel. Fernandinho owes the Chelsea coach a Christmas card.
It must have felt like Christmas for the City fans. First they got to unwrap the new South Stand expansion, another 6,000 seats inside a looming upper tier. Then they had the entertainment from the medical teams. Then Chelsea gave them two more presents in the final stages to seal a memorable day. Kompany doubled the lead in the 79th minute, shrugging off Branislav Ivanovic to nod home the second goal. Then Ivanovic erred again, giving the ball away outside his own area for Fernandinho to wallop home the third. It was fast becoming a shambles.
For City, by contrast, there were positives in every department. A flawless display from Joe Hart, another clean sheet, another improved shift from Mangala, a coruscating performance from Aleksandar Kolarov, further evidence that Yaya Toure is returning to his best and on top of everything else, yet another goal from the incomparable Aguero.
"Nothing is significant until the end of the season," warned Pellegrini, and he's right. But one team has started this campaign at 100 mph and one team has stalled on the starting grid. Mourinho has much to ponder.
Iain Macintosh covers the Premier League and Champions League for ESPN FC. Follow him on Twitter @IainMacintosh.