Direct Arsenal see off Chelsea to earn Community Shield win
LONDON -- Three thoughts from Arsenal's 1-0 win vs. Chelsea in the FA Community Shield.
1. Arsenal win to end Wenger's Mourinho hoodoo
The Community Shield is only a semi-competitive game -- it's not quite a pre-season friendly but not truly a major trophy. Nevertheless, both teams were determined to win this contest, especially with no love lost between the two managers Arsene Wenger and Jose Mourinho, and the atmosphere on a gloriously sunny afternoon at Wembley was fantastic.
Wenger had failed to defeat Jose Mourinho in 13 previous meetings -- seven losses, six draws -- and so will take heart from this narrow, unspectacular victory. No-one has got under his skin as much as Mourinho over the years and, while he insists the poor record against the Portuguese wasn't relevant, it will have hurt. Breaking that curse is, for Wenger, probably of more value than his sixth Community Shield win.

Arsenal

Chelsea
Game Details
Arsenal didn't play particularly sparkling football, but there will be plenty of opportunities to produce pretty passing moves throughout the 2015-16 campaign. Against the big teams, it's all about the result and that is arguably the most interesting thing about the Arsenal victory.
Usually you'd expect Arsenal to prevail in a good, open game of football and Chelsea to prefer a cagey, tactical battle. Instead it was the Gunners who came out on top by looking solid at the back and taking a rare goalscoring opportunity.
There's little evidence a successful pre-season leads to a successful season but, nevertheless, Arsenal have prepared for Premier League action by collecting three trophies. The Barclays Asia Trophy, the Emirates Cup and the Community Shield hardly qualify as a treble, but they've started the new season as they finished the last two: collecting silverware.
This win also furthers Arsenal's impressive recent record at Wembley. In 2014 and 2015 they've made the short trip across north London six times and prevailed on each occasion. Some of the victories have been somewhat unconvincing and needed extra-time or penalties.
Nevertheless, continued success means Arsenal's players and supporters now have nothing but positive memories of this stadium.
2. Direct approach pays off
Alex Oxlade-Chamberlain's tremendous winner was essentially a moment of individual magic but it also hinted at a more direct approach from Arsenal. That is something that has been apparent throughout their preseason campaign and particularly in the 6-0 thrashing of Lyon in the Emirates Cup last weekend.
Oxlade-Chamberlain has struggled to find consistency throughout his Emirates career, but has often proved extremely useful on the right flank with his sheer energy and directness, collecting the ball on the run and charging towards opposition full-backs immediately.
He's not a classic winger -- Wenger believes his future might be as a central midfielder -- and always prefers to cut inside from the flank. Nevertheless, his fine left-footed shot, high past Thibaut Courtois and into the far corner, came as something of a surprise.
Breaking quickly was the Arsenal game plan, though, and it's presumably why Wenger selected Theo Walcott rather than Olivier Giroud upfront, the same decision he made ahead of the FA Cup final win vs. Aston Villa in May.
Walcott didn't have many opportunities to get in behind Chelsea's defence, although did test Gary Cahill's pace in the opening moments, which forced John Terry to sweep in behind with a well-timed sliding tackle.
Walcott's pace is useful in an indirect manner, though, and benefits Arsenal's playmakers in that he forces the opposition to defend deep, which increases space between the lines for Mesut Ozil and Santi Cazorla. The two lifted the tempo of the game midway through the first half with a succession of neat one-twos.
Cazorla's positioning on the left, rather than in the deep midfield role he played in the second half of last season, means Arsenal lack genuine guile in the centre, because Francis Coquelin is not the most gifted playmaker and Aaron Ramsey concentrates on storming forward.
However, maybe that's not a bad thing as it encourages Arsenal to play the ball into their attackers more quickly. Wenger's sides have always been at their best when playing with directness, rather than as pure ball hoarders.
3. Chelsea's attack is blunted
Chelsea's 2014-15 Premier League title was built on a season of two halves. Before Christmas they were fast-paced, fluid and exciting but, from then on, they were frustratingly static and functional. The key to the opening weeks of the coming season is deducing which type of Chelsea Mourinho wants this time around.
On this evidence, it will be the more negative version after Chelsea failed to create many clear-cut chance to spoil the Arsenal debut of their former goalkeeper Petr Cech. Lining up with Ramires alongside Nemanja Matic in midfield, with Cesc Fabregas pushed forward to the top of the midfield triangle, Chelsea struggled to get into any kind of passing rhythm before half-time.
Ramires constantly played unambitious square balls and, while Matic is capable of more penetrative distribution, he was concerned by the counter-attacking threat of Mesut Ozil and remained in more defensive positions. The brightest Chelsea player was Willian, which summarised the fact Chelsea were playing with energy rather than finesse.
The most notable part of Chelsea's attacking play was, bizarrely, long throws. Branislav Ivanovic has always been handy in this respect, but midway through the first half he hurled an outrageous effort from the right which nearly reached the penalty spot.
Shortly before half-time, Cesar Azpilicueta did something similar, as if Chelsea spent their globetrotting pre-season campaign focusing upon nothing but throw-in practice.
The most disappointing performer was Eden Hazard. Unquestionably the league's standout player last season, here he cut a frustrated figure, wandering all over the pitch to collect possession, and forcing Fabregas to cover for him in a wide role.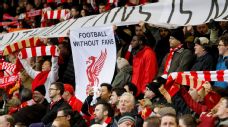 At one point Hazard dropped so deep that he was collecting five-yard passes from the centre-backs, hinting at his frustration with the distribution from central midfield. That must improve, if Chelsea are to start this season as they did last.
Mourinho became more ambitious after the break, introducing Oscar as a No. 10 in place of Ramires, which meant Fabregas dropped deeper, where he saw more of the ball and could see more of the play.
Within minutes Fabregas played the game's best pass, a penetrative ball into the path of Hazard, who shot over under pressure from Laurent Koscielny. The move didn't lead to a goal but did show Chelsea's quality when Fabregas is more involved. For all his tactical indiscipline, that deep role is probably his best position.
Chelsea were without their main marksman, Diego Costa, who was unavailable because of a hamstring injury. In his place, Loic Remy started, with Radamel Falcao replacing him at half-time, and neither proved themselves reliable understudies.
Remy wasn't involved enough while playing on the shoulder of the opposition defence. He had one bright moment, latching onto a Willian pass before playing a cross from which Ramires should have headed home. Otherwise, Remy simply didn't offer the physical presence of goalscoring threat of Costa.
Falcao, meanwhile, was the Manchester United version rather than the player who shone at Atletico Madrid. Always running laterally across the opposition backline, he regularly found himself in an offside position. He still lacks a yard of pace, which was seen when Koscielny easily beat him to a ball in the right-hand channel, and surely needs matches to regain match sharpness.
In that respect, Falcao will be hoping Costa takes time to return from injury. Mourinho might be hoping the opposite.
Michael Cox is the editor of zonalmarking.net and a contributor to ESPN FC. Follow him on Twitter @Zonal_Marking.