Barcelona's real hero vs. Bayern Munich was Marc-Andre ter Stegen
BARCELONA, Spain -- Football is a team game, and as Barcelona approach their fourth Champions League Final in nine years after a 5-3 aggregate win over Bayern Munich, now is not the time to suggest that only one man put them there.
The massive firework display that erupted over the city of Barcelona on Tuesday night was for "getting there" and also, if the emotions of those who partied long into the night could be canvassed, for the "tridente" of Lionel Messi, Luis Suarez and Neymar, whose flicks, assists and goals will win most of attention.
They will certainly dominate the most of the world's front and back pages as newspapers bring the joyous news of this semifinal of gargantuan proportions. All that said, it's not contrary nor obtuse to state that Barcelona are in Berlin because of 23-year-old Marc-Andre ter Stegen.
If it were not for the quality of his performance, it would be the FCB of Bavaria, FC Bayern, who'd be in the ancient German capital rather than Luis Enrique's Barca. The evidence was before your eyes.
Yes, it's true that the Messi-Suarez-Neymar connection was, again, celestial. I've seen players describe that trident as the "best ever." It's too soon and even injudicious to suggest such a thing, but it's a match made in heaven. Work, invention, honesty, friendship, technique and hunger; the trio tormented Bayern into crucial errors of position, timing and judgment.
If you look at the way in which Neymar's two goals were created, both involving his two partners in crime, it's easy to imagine that this was, again, a triumph of creativity. But that ignores what really happened in the Allianz Arena.
Pep Guardiola said at the end of the game that the "better" team had gone through. Who are we to gripe? Yet Bayern could have won this by a much bigger score line than 3-2, even putting Barcelona's place in the final in doubt.
That's no gratuitous dig at the Spanish league leaders. What's lovable about them is that they can take a punch. The first half was Leonard vs. Hagler, or Hagler vs. Hearns. Neither side held anything back; it was jab, hook, haymaker, uppercut, given and reciprocated.
The truth was, however, that Bayern looked capable of landing knockout blows before the halftime whistle. Not enough for Barcelona to throw the towel in and give the Roberto Duran call of "No mas!" perhaps, but it was a barrage.
And that's where ter Stegen comes in.
Bayern Munich
Barcelona
Game Details
I know the German goalkeeper only moderately well. He's a debutante at Camp Nou this season, and we've chatted four or five times -- sometimes without pressure, sometimes after matches.
What I can tell you is that the magnitude of his performance in Munich goes beyond the fact that he's nominally "second choice" at FC Barcelona. When he arrived, it was as the "unknown" guy in whom Andoni Zubizaretta, legendary Barcelona keeper and the club's football director at the time, had invested total faith.
"Zubi" and Luis "Lucho" Enrique are close friends, and the two ex-Barcelona players found it easy to agree that Claudio Bravo (Lucho's choice) and ter Stegen (Zubi's choice) might be the perfect solution.
I think it's apposite, now, to admit that few people had the same vision. It looked like Bravo, a time served and internationally successful keeper for Chile, would be without question the "alpha male." However, the communion between the former midfielder and the record-breaking keeper was sufficient that a "we'll look after everyone" solution was employed.
Bravo for La Liga! Ter Stegen in the Copas! The Chilean in the league, with the German picking up the pieces of one competition they didn't really care too much about winning and another they thought was out of their reach.
Now here we are. Ter Stegen's form started poorly, a night of work in Paris vs. PSG that would have made the Mona Lisa frown. But from then on, including the penalty save at home to Manchester City, he's proved that his attitude and talent transcend his age and CV.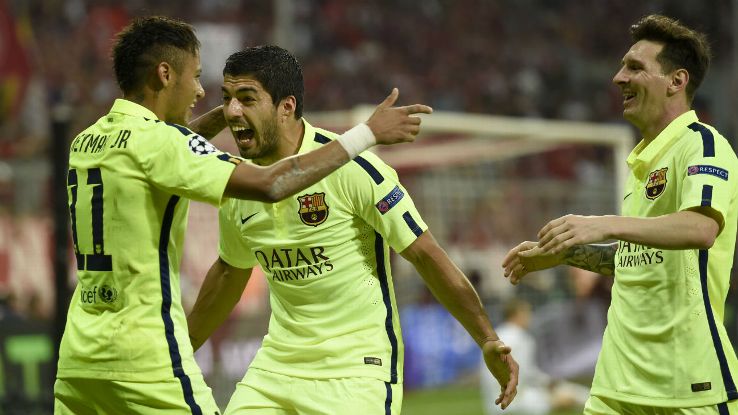 This is his debut season in the Champions League, and in this semifinal, he was playing against his idol, Manuel Neuer. When I met him recently, ter Stegen told me quite frankly that Bayern's No. 1 was his model to follow and that the older Mannschaft man was the reason ter Stegen wouldn't even put himself in his dream five-a-side team. "Neuer's ahead of me" was his response when I asked him why he'd not chosen himself.
Yet deference became defiance in the Allianz Arena on Tuesday night.
What's important about this eulogy is that ter Stegen isn't yet Neuer's superior. But when Neuer's team was superior to that of his junior's, ter Stegen kept them at bay.
His save from Bastian Schweinsteiger's header was superb. And when he reacted with the speed of a cobra to first parry a certain goal from Robert Lewandowski and then scuttle across the goal line to paw the ball away, it was utterly epic.
He was beaten three times, and Barcelona did lose. But in all frankness, when it was a tempest, he had an umbrella. When the rest of his team was gasping for breath and making sure it was waving not drowning, it was the young German who made sure that there was a lifebelt in a high-risk situation.
Barca's temperatures fell, calm ensued, and although there was a bit of a fever in the second half, the initial impact was of a storm avoided. Ter Stegen was in front of his hero. Barcelona were being bombarded. No matter who tells you otherwise, this tie could easily have ended in Barcelona exiting the competition.
When the first goal went in, a bullet header from Medhi Benatia the likes of which Barcelona haven't conceded in 2015, it was mayhem. Barca still had power up front, team work and little sprinkles of genius, but they remained resolute. When one goal became a deluge late on, when the Nightmare on Guardiola Street threatened to scare the life out of Barca, it was their youngest, newest recruit who had the answers.
Perhaps other players have grabbed more headlines. But if it had not been for this fella, the kid who wasn't fancied by the Catalan media, the kid who couldn't gain his club's trust sufficiently to keep "Zubi" in his job, the kid who is unhappy at sharing the first team duties with Claudio Bravo ... then Bayern would have overwhelmed Barcelona and it would be Neuer, the hero, going to Berlin instead.
Graham Hunter covers Spain for ESPN FC and Sky Sports. Author of "Barca: The Making of the Greatest Team in the World." Twitter: @BumperGraham.