Grades: Germany vs. Argentina
RIO DE JANEIRO -- Germany claimed its fourth World Cup title, defeating Argentina 1-0 in extra time thanks to Mario Gotze's goal in the 113th minute.
Germany's victory marks the first time that a European country has won a World Cup that was played in the Americas.
As the score line would suggest, it was a night full of standout defensive performances, with Germany's Jerome Boateng and Argentina's Ezequiel Garay both excelling. But it will be Gotze, a second-half substitute, who will go into the books as the hero, as he controlled Andre Schurrle's cross and volleyed home past Argentina goalkeeper Sergio Romero.
Germany
Argentina
Game Details
GERMANY
G Manuel Neuer, 6.5 -- Commanded his box well, including an authoritative punch that took out Gonzalo Higuain. Stopped what he needed to, though he benefited from some wayward Argentine finishing.
D Benedikt Howedes, 5 -- Wins this final's Nigel de Jong Award for getting a yellow when a red wouldn't have been out of the question for a nasty foul on Pablo Zabaleta. Should have done better with a free header in the first half that he put onto the post.
D Mats Hummels, 6 -- Impeccable with his distribution, and while he was twice beaten for pace by Lionel Messi, he recovered well in one instance to nick the ball away. Grew more commanding as the game went on, though his error in extra time gifted a chance to Rodrigo Palacio that was squandered.
D Jerome Boateng, 9 -- Aside from one shaky clearance early, an immense performance. He looked very composed, especially when Argentina tested Germany with balls over the top. His first-half goal-line clearance was critical, as well as the tackle on Messi late in the second half.
D Philipp Lahm, 6.5 -- Almost played as a fifth midfielder, and contributed plenty to the attack, delivering several dangerous crosses. Was defensively sound as well.
M Bastian Schweinsteiger, 7 -- Broke up countless plays tracking back, including one dangerous first-half pass from Messi, and his passing was near flawless. Was bloodied late, but continued on.
M Christoph Kramer, 5 -- A late addition after Sami Khedira was injured in the warm-up, Kramer provided plenty of hustle defensively, but failed to have much impact in the attacking half. A shoulder to the face from Ezequiel Garay forced him to be subbed off after 32 minutes.
M Mesut Ozil, 6 -- Had some bright touches and provided plenty of problems for Argentina with his movement in the first half. The opposite seemed true in the second as his touch let him down a few times, though he did set up Kroos for a great chance.
M Toni Kroos, 5 -- Nearly gifted Argentina the opener when his header put Higuain in on goal. Played a deeper role than against Brazil, and looked much less effective. Should have done better with an 82nd-minute chance.
M Thomas Mueller, 5.5 -- A handful in the first half, regardless of where he lined up. Seemed less impactful after half-time, though he never stopped running.
F Miroslav Klose, 5 -- Seemed a bit off the pace of the game, though he did what he could to harass Argentina's defenders when in possession. Still, a fitting send-off for the World Cup's all-time leading scorer.
Subs:
M Andre Schurrle, 7 -- Got right into the flow of the match after replacing Kramer, and had a few dangerous opportunities, though he would have liked to have done better with one shot hit straight at Romero. That said, his cross picked out Gotze in extra time to set up the game winner.
M Mario Gotze, 8 -- His clever pass teed up Schurrle for a good chance early in extra time, but he then saved his best for last when he chested down Schurrle's cross and rifled it past Romero.
D Per Mertesacker, NR -- Late cameo for the Arsenal defender.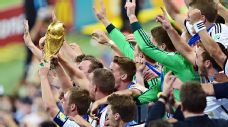 ARGENTINA
G Sergio Romero, 6.5 -- Commanded his box well enough, and delivered some sharp saves, including a drive from Schurrle early in extra time.
D Marcos Rojo, 6.5 -- Germany attacked his side continually, but he hung in there. He really grew into the match as the game progressed. Created a great chance for Palacio in extra time.
D Ezequiel Garay, 8 -- Won his aerial duels and provided good cover as well. A massive performance on the biggest stage.
D Martin Demichelis, 6 -- Put out plenty of fires and had some well-timed tackles in the first half. An otherwise magnificent night was spoiled in extra time when he failed to pick up Gotze.
D Pablo Zabaleta, 7 -- He did get undressed by Schurrle on one occasion, but otherwise was solid, and did well to head clear one dangerous cross at full stretch. Caused problems going forward as well.
M Javier Mascherano, 5.5 -- Seemed a bit off his game in the first half, and had one dreadful giveaway. Another poor touch in the second half resulted in a yellow card. His game seemed to pick up in the latter stages, though he was lucky to avoid a second yellow in extra time.
M Lucas Biglia, 6 -- Picked up the slack for Mascherano, as he plugged gaps in midfield, and gradually contributed more to the attack, including a gorgeous through-ball to Messi in the 47th minute.
M Enzo Perez, 5 -- Made his usual defensive contribution, but while he linked up with his teammates well, he offered little in attack.
M Ezequiel Lavezzi, 7 -- Caused all kinds of problems when he dribbled at the German defense, and his half-time substitution came as a complete shock.
F Lionel Messi, 4 -- If this was his big moment, he didn't take it. Was largely quiet in the first half, but did have two dangerous runs that nearly resulted in goals. Should have done better with a chance early in the second half. His night was topped off by a woeful free kick that sailed high over the bar.
F Gonzalo Higuain, 3.5 -- One of those nights in which nothing went right for him. Was given a gift of a chance in the first half thanks to Kroos' poor header, but missed badly. He simply has to get that on target. Couldn't stay onside when played in by Lavezzi.
Subs:
F Sergio Aguero, 4 -- Was completely shackled by Boateng and Hummels.
F Rodrigo Palacio, 4 -- Provided only a marginal improvement over Higuain, the man he replaced, and squandered a glorious chance in extra time, lofting his effort wide.
M Fernando Gago, 5 -- Linked up reasonably well, but for a tactical substitution, he provided little attacking spark.
Jeff Carlisle covers MLS and the U.S. national team for ESPN FC. Follow him on Twitter @JeffreyCarlisle.