Three Points: Netherlands compound Brazil misery
Three points on the third-place playoff that saw Netherlands beat host nation Brazil 3-0 with ease.
1. Brazil's misery compounded
The punishment did not end with Germany. Luiz Felipe Scolari, powerless, had his head in his hands as time ebbed away on a campaign that will be recalled as a tear-soaked misadventure.
Brazil could not raise themselves in the capital. In a game that they supposedly did not care about, the Dutch were the more motivated. It goes without saying they were by far the better organised; Brazil only raised their game when it was too late. Their chase was frantic but without craft. On the sidelines, Neymar sat, a symbol of that happy time when the nation believed. It has been a truly traumatic week for the host country. All those hopes and fears that Brazil could be all right on the night have been brutally dashed.
The pain began early. Thiago Silva showed that he might not have made much difference in Belo Horizonte after all. Having been blindsided by Arjen Robben, he was reduced to pulling back the Flying Dutchman. It was outside the area, but summary justice was issued by Robin van Persie converting a penalty; Silva should have been dismissed but instead was lucky to just get a yellow card. The defender looked a victim of the contagion that swept through his colleagues on Tuesday. Perhaps he was trying to stop them feeling so bad, but the previously rock-solid skipper was as panicky as the rest.
David Luiz has definitely still got the virus. It is anyone's guess why he chose to head a crossed ball back to Daley Blind, given plenty of time to slot in a second goal. Two goals down in the opening minutes: This was familiar and changed the atmosphere from one of supporting fallen heroes to castigating crashing failures. PSG's hierarchy must have watched through their fingers: Silva and Luiz are their first-choice centre-back pairing next season, and they cost more than 100 million euros.
Another humiliation -- this time just 3-0 -- was confirmed in time added on. Georginio Wijnaldum slotted in with not a Brazilian soul in his postcode, to a chorus of angry barracking from the home fans.
A solid defence and Neymar were supposed to be the platforms from which World Cup success would be delivered. Once one was gone, the other revealed itself to have the durability of a sodden paper bag. Scolari raged on the sidelines, but his approach has been proven to be wholly outdated in 2014. Luiz, meanwhile, blew Brazil's best chance when failing to get a toe to an Oscar free-kick, performing an accurate facsimile of the hapless exploits of Fred and Jo. Scolari might as well have bitten the bullet and played the 50 million pound man up front. Brazil could hardly be any worse at either end of the field.
2. No Neymar, no hope
Neymar took his place in the dugout and even joined in the warm-up. He fulfilled the role of expensive cheerleader that David Beckham performed for England in 2010, an avatar of what might have been, though he could have done little to prevent the defensive cataclysm that occurred in Belo Horizonte. When, ahead of kick-off and clad in black bib, he re-entered the Estadio Nacional field to the musical accompaniment of AC/DC's "Thunderstruck," he was received like the type of popstar that the Brasilia authorities hope can help sustain the 900 million dollar stadium now that their World Cup carnival is done.
Brazil is still getting used to the idea that it cannot win this World Cup. The country's passion has been dimmed, as the soul-searching begins; how can the home of football no longer produce a team good enough to win on its own soil? There were plenty of dewy eyes around, and an Argentina victory in the Maracana on Sunday has the capability of turning sorrow into insurrectional rage.
This was not a game that suggested they were ready to let go; the Dutch were booed whenever they were in possession before the home fans turned on their own team. Neymar, as his teammates again let down the nation, was to be found issuing terse instructions to Thiago Silva, with the captain's deferential response suggesting where the pecking order lies. When Oscar might have had a second-half penalty for a clash with Daley Blind and was booked for simulation, it was Neymar leading the protestations. Scolari's bewildered expression suggested he had given up the ghost.
To rely so completely on one man suggests why the great mission was always likely to fail.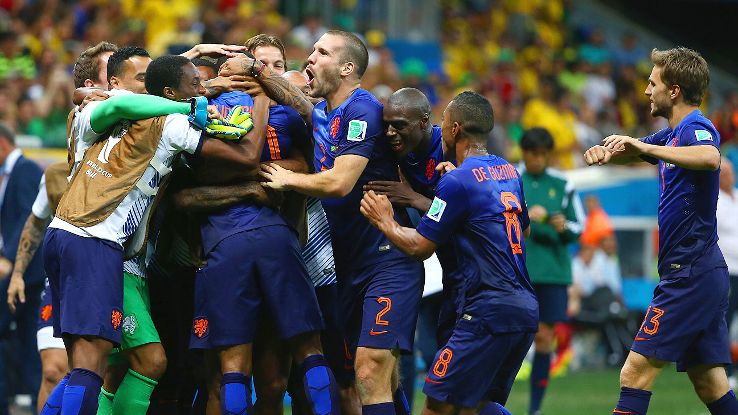 3. Dutch crown it off
Louis van Gaal's suggestion in Sao Paulo that this game was pointless was not borne out by neither team selection nor his team's performance. All of the big names were selected, though Wesley Sneijder's hamstring problem ensured he sat out, perhaps gladly.
The Dutch challenge faltered because of a lack of goals in the 240 minutes played against Costa Rica and Argentina. With no Lionel Messi to shackle, a razor-sharp start suggested that the early tournament attacking play could resume. When Robben powered past Silva inside the first few minutes to claim a penalty, the die was cast. For a game supposedly worth little, van Persie looked rather nervous when taking his spot-kick, but he converted easily enough. Blind, who has excelled in whichever of the various positions Van Gaal has asked him to play during this tournament, scored his goal with similar calm, though he later left the field in what looked like considerable pain after jarring his knee in the Oscar penalty incident. Taking off the shackles suited the Dutch: They enjoyed themselves, while Van Persie looked far more full of running than he had in the semifinal.
Third place is a worthy achievement for Van Gaal and his squad. They began the tournament with many suggesting they would not progress from Group B. Instead, they leave having produced what, until Tuesday, seemed the most devastating performance of the tournament in destroying Spain, and have not lost a game in normal play. Incoming Guus Hiddink, who took them to fourth in 1998, has a tough act to follow.
John Brewin is a staff writer for ESPN FC. Follow him on Twitter @JohnBrewinESPN.