Wilmots vindicated with anxious win
SALVADOR, Brazil -- What else did you expect from the man they called the "Battle Pig?"
That, having earned redemption, he wouldn't be tempted to rub the critics' faces in it just a little teeny tiny bit?
"We had 27 shots on goal -- 27!" Marc Wilmots said after his Belgium team defeated the United States 2-1 to advance to the quarterfinals of the World Cup. "We created 27 chances. We deserved this game. Everybody said we had no football. We couldn't play football. Well, I think we showed a lot of football tonight. A lot."
This was a man who had not just been knocked down more than any manager after a 3-for-3 group stage, but also metaphorically kicked in the head by the Belgian media. Now, he wasn't just going to get up and dust himself off, he was going to beat his chest and go all alpha male.
"I said we'd create a team that would play football and we've done it," he said, staring down the room. His critics wouldn't disagree that, on the night, Belgium had indeed done it. But that doesn't necessarily invalidate the earlier criticism.
His side won all three group games and have now defeated the United States, but at every turn, they've had to huff and puff. A comeback win against Algeria. Late, late goals against Russia and Korea. And now this.
And too often it felt like the results were coming in spite of his game plan and tactics, not because of them. Belgium are simply exponentially more talented than each of the opponents they've faced in this tournament thus far. But they've also been shown to be less of a team, more of something a kid might put together in a video game. Hence the reliance on substitutes to turn things around. Hence the victories through individual moments of magic and -- occasionally -- happenstance rather than any coherent team effort.
To be fair, Wilmots deserved his chance to gloat on Tuesday. When you show the courage to drop Romelu Lukaku for Divock Origi it's a huge call, no matter how poorly the Chelsea (for how much longer?) center-forward had performed. Origi isn't just raw when it comes to experience -- he has started just 12 league games in his entire career -- he's also an entire different sort of player. He's not a natural center-forward; he's a link player who, in Wilmots' words, is "always moving, always creating space, always unselfish, but not a striker."
That choice was vindicated by events, particularly after the break when Belgium dominated and forced save after save from Tim Howard, who turned in the kind of performance that boyhood dreams and bad sports flicks are made of.
Earlier, Origi had arguably showed too much respect to the opposition, neglecting to press high against an American defense which clearly struggled to get the ball out of the back and distribute it in the final third. With Clint Dempsey an isolated, advanced outpost starved of supplies, it looked as if Belgium were being a little too safety-oriented.
With a higher press in the second half, the chances came almost immediately. Howard saved shots from Eden Hazard and Jan Vertonghen, Origi hit the woodwork and Dries Mertens' back-heel flick at the near post went just wide. Things went from good to even better after the entrance of Kevin Mirallas. More of the spectacular Howard Show: one-on-one with Mirallas, off another Hazard blast and off Vincent Kompany after his long gallop up the pitch.
More than most, Wilmots seems to be a believer in fate. And, after the furious -- but fruitless -- onslaught of the second half, you wonder if he began to think it just wasn't his day.
"Usually when you miss chances like the ones we missed, you get eliminated," Wilmots said. "Especially when you are playing against a goalkeeper [Howard] who is having the best game of his life. It doesn't matter how well you play -- and we played very well -- you are eliminated. This is football."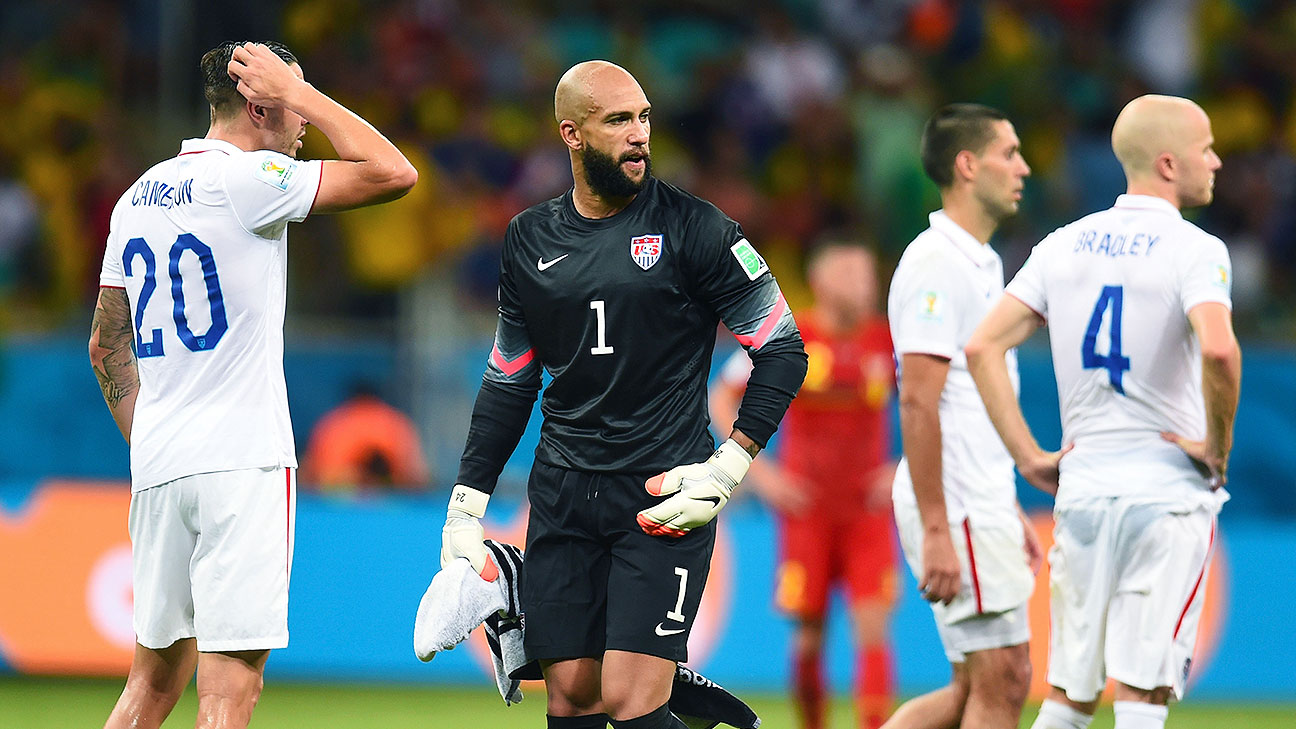 But then, at the start of extra time came the decision to bring back Lukaku, which necessarily meant sacrificing Origi.
"That was a difficult choice, because [Origi] was playing well, he was doing everything right," he said. "Everything, that is, but scoring. A striker needs to score. So I made the change."
And he was quickly vindicated. First, Lukaku pancaked Matt Besler before thundering down the right flank and setting up Kevin de Bruyne's icebreaker. Then it was de Bruyne who set up Lukaku to put Belgium up two-nil.
Home free? Not on your life.
It's up to you whether you choose to chalk it up to the USA's never-say-die Rocky moment, elect to blame Wilmots (rest assured, some will) or simply accept that after nearly two hours of football in muggy Bahia, Belgian players had wobbly knees, cramped muscles and blurry vision (or worse: Vertonghen vomited on the pitch).
Julian Green pulled one back almost immediately, a nice volley. Then Thibaut Courtois -- an innocent bystander for most of the night -- snuffed out Dempsey's danger after a clever set move on a free kick. And finally Chris Wondolowski failed to connect cleanly with DeAndre Yedlin's driven cross.
Those near-misses were every bit as decisive as each of Howard's miracles at the other end. Wilmots knows this. He also knows that while Belgium improved markedly compared to the group stage, there are more levels to go to if they are going to trouble Messi and friends in the quarterfinal.
In the meantime, though, he was cherishing the moment. After those knockdowns, it was his time to stand tall.
"I told the players we had booked two flights, one leaving for home, one leaving for Brasilia [site of the quarterfinal with Argentina]," he said. "They chose Brasilia. And I am glad. The truth is that this generation is writing its own page in the book of Belgian football."
Gabriele Marcotti is a senior writer for ESPN FC. Follow him on Twitter @Marcotti.