Three Points: U.S. can hold heads high
SALVADOR, Brazil -- Three quick thoughts after the U.S. and Belgium played 90 scoreless minutes before the Americans gave up two goals in extra time and eventually lost 2-1 at Arena Fonte Nova -- ending what will go down as a thrilling, memorable, and yet still ultimately disappointing World Cup for Jurgen Klinsmann's American squad.
1. The U.S. goes home with heads held high
It doesn't make it hurt any less -- in fact, the narrow final score line probably makes it hurt all the more -- but the Americans can and should be proud of what they accomplished in Brazil. Nobody gave them much of a chance to emerge from the deepest group in the tournament, but they did. And even though they were dominated by the Belgians for long stretches on Tuesday, they won the respect of the soccer world and casual fans back home with their trademark never-say-die attitude.
Belgium

United States
Game Details
They also created plenty of memorable moments along the way, captivating hearts and minds back stateside as never before, and they were also in this game until the very end.
Teenage attacker Julian Green, a controversial inclusion on Klinsmann's final roster, came off the bench and pulled a crucial goal back for the Yanks after they'd run themselves into the ground for well over 90 minutes. That gave the U.S. some life, and before the final whistle sounded, it was Belgium hanging on for dear life as the Americans desperately tried to find an equalizer that would never come.
2. Klinsmann wasn't bluffing
When Klinsmann was hired as U.S. coach three summers ago, he promised his version of the national team would attempt to play a proactive, high-risk, high-reward attacking style no matter the opposition. Many questioned if the U.S. had the available personnel for the new boss to enact such change immediately, especially against the sport's truly elite teams.
But Klinsmann stayed true to his word here in Brazil. When the Americans advanced to the second round, Klinsmann insisted that his team would come out and attack against a Belgian squad considered among the most talented and dangerous in Europe. Still, what the coach says and what he does don't always align, and there was plenty of skepticism an hour before today's game when a U.S. Soccer spokesman told reporters here that the Americans would line up in an aggressive 4-3-3 formation. Most assumed that, in practice, it would look like a more conservative 4-5-1.
Then the game started, and sure enough, wingers Graham Zusi and Alejandro Bedoya were pushed forward, with wing back DaMarcus Beasley also playing preposterously high. That made for an entertaining contest, even if the U.S. struggled to create quality chances.
Belgium dominated the second half as goalkeeper Tim Howard kept the U.S. in the game as the Americans reverted to their default setting of defending for their lives. Still, the U.S. didn't hesitate to go forward with abandon when the ball turned over, and that's how the fatal goals happened, as Clint Dempsey got caught in possession on Belgium's first before Romelu Lukaku added a second 12 minutes later.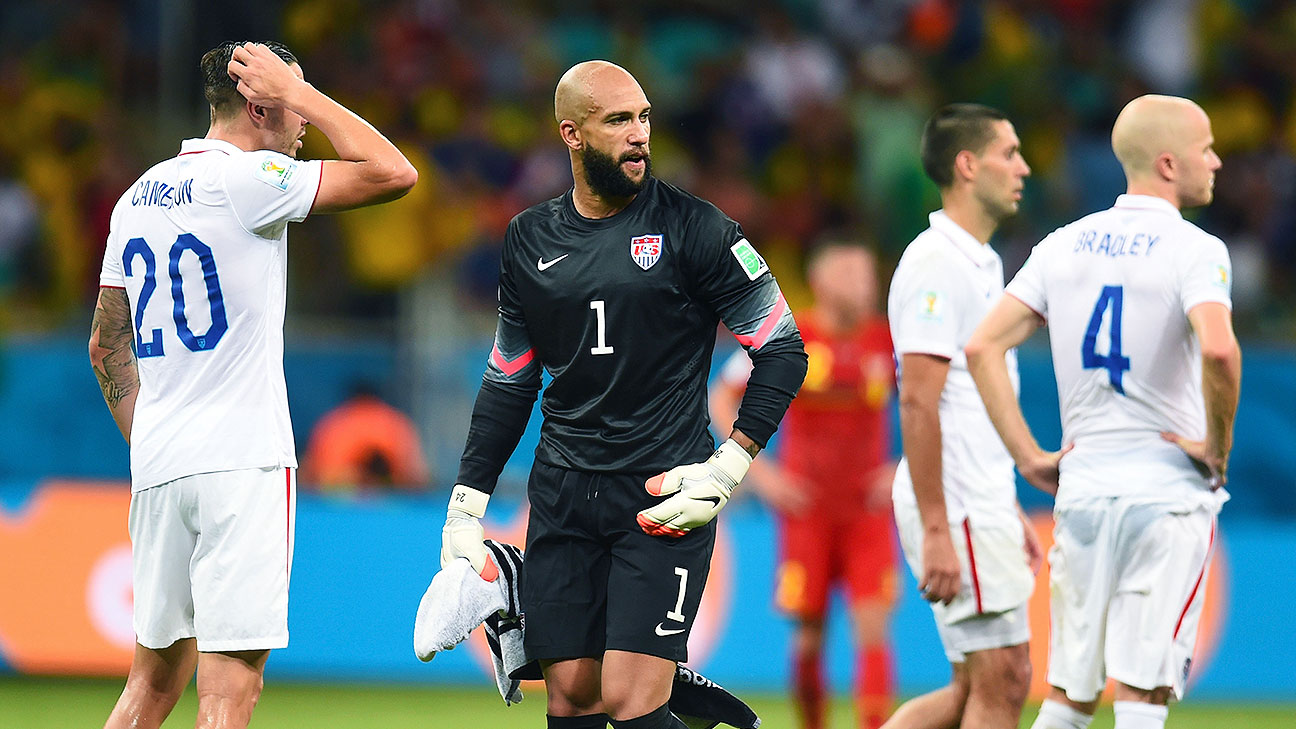 Still, Klinsmann's side had some magic fairy dust left, as Green, just 19, pulled one back with a spectacular finish in the second extra session, guaranteeing that the Americans stayed in full attack mode to the final, bitter end.
3. Tim Howard was inspirational
With all due respect to Brad Friedel's fine work in South Korea in 2002, Tim Howard's otherworldly performance over the past few weeks -- and against Belgium in particular -- has been the best by any U.S. keeper at a World Cup. It's not even close. While Friedel's claim to fame was stopping two penalty kicks in the first round 12 years ago, the first keeper to accomplish the feat, Howard saved the Yanks too many times to count in this tournament.
His 12 saves in regulation time on Tuesday were the most of any keeper in Brazil so far, and second most at any World Cup in the past 50 years. More than any other player on the field, Howard didn't deserve to lose today. But if that was the 12-year veteran's final game for his country, he went out in fitting fashion: even though his team lost, Howard was named man of the match.