Suarez incident caps off surreal day
NATAL, Brazil -- Surreal doesn't begin to describe the Group D finale between Uruguay and Italy, as well as its aftermath.
Uruguay prevailed 1-0 to advance to the knockout stages thanks to Diego Godin's 81st-minute header, as well as the 59th-minute red card to Italy midfielder Claudio Marchisio. The result knocked out the Azzurri, as well as manager Cesare Prandelli, who announced his resignation immediately afterward.

Italy
Uruguay
Game Details
Yet none of those items proved to be the main talking point. That honor fell to another biting incident involving Luis Suarez.
The Uruguayan striker tangled with Italian defender Giorgio Chiellini shortly before Godin's scored the game-winner, and appeared to bite Chiellini. In images that quickly spread around the world via social media, Chiellini showed the apparent bite marks to referee Marco Rodriguez, who decided against sanctioning Suarez.
But the court of public opinion is ready to convict the Liverpool forward. After all, Suarez's biting rap sheet is practically vampire-like. Back in 2010, when Suarez was playing for Ajax, he was given a seven-match ban for biting PSV Eindhoven's Otman Bakkal. Three years later he was given a 10-match ban for biting Chelsea defender Branislav Ivanovic. Now, in the wake of Tuesday's incident, Suarez is facing a possible ban by FIFA, just as the knockout stages are about to begin.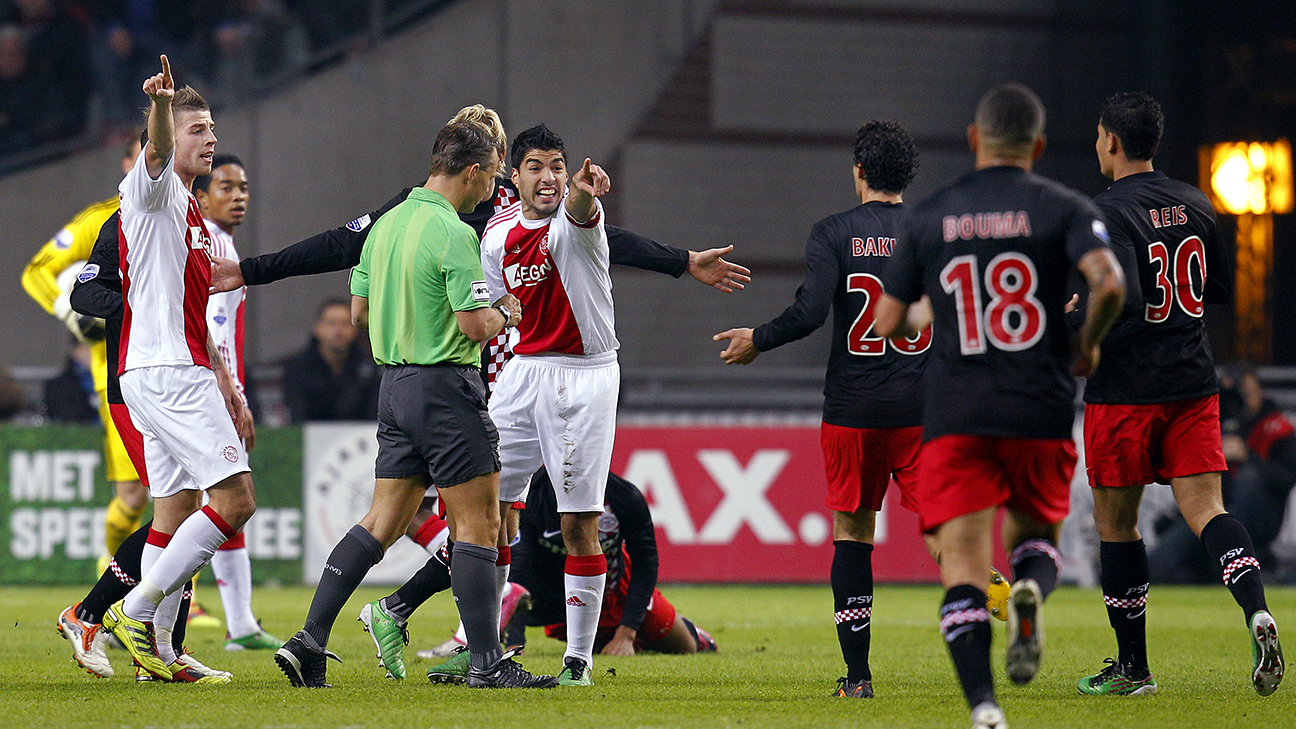 It all served to overshadow what was a memorable victory for Uruguay, even if it did hinge on Marchisio's second-half dismissal. Up to that point, Uruguay had been largely kept at bay by Italy's defense, as well as some impressive goalkeeping from Gianluigi Buffon. But the introduction of Cristian Stuani, and in particular Gaston Ramirez, helped push La Celeste over the group stage finish line, as Uruguay began launching a barrage of crosses into the Italy penalty area. Ultimately, it was Ramirez's corner kick that was nodded home by Godin.
"It was not easy," Uruguay manager Oscar Tabarez said, via an interpreter, about his side's victory. "It wasn't even something we had dreamt of before we started this match. That is why we're very pleased."
But afterward, Suarez remained the focus, with his teammates insisting they hadn't seen him bite anyone.
"It was all so fast," Uruguay midfielder Gaston Ramirez said with the aid of a translator. "I noticed something was going on, but I wasn't sure what was happening. It was in the [run of] play, so I was concentrating on what I was doing."
It was left to Tabarez and captain Diego Lugano to provide spirited defenses of their star. Like Ramirez, Tabarez insisted during his postmatch news conference that he had missed the incident entirely, and that "the referee probably didn't see it."
But with the stream of Suarez-related questions showing no signs of abating, Tabarez's level of exasperation rose, and he quickly adopted a siege mentality. He said that there is "animosity toward this football player" and that Suarez is "the preferred target of certain media, certain press that give him much more coverage to an alleged error he might have made, and not to the things he really is in football."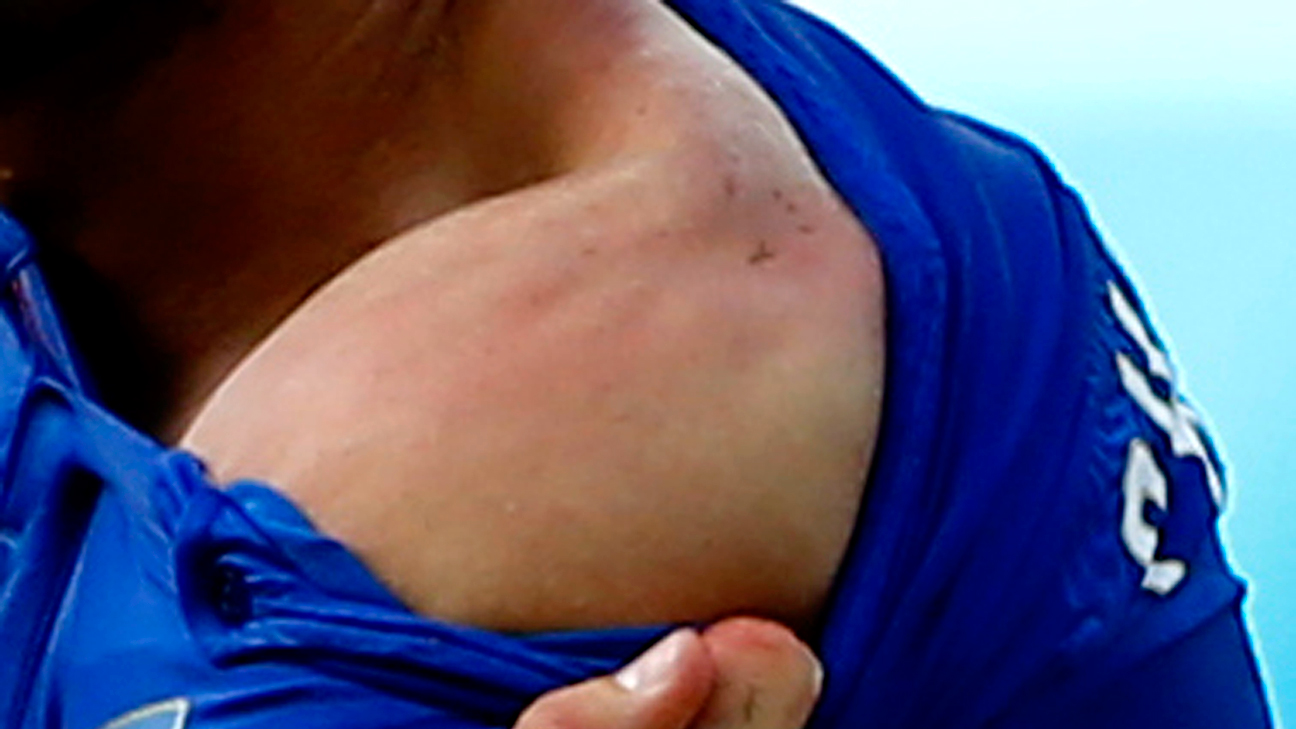 Lugano was even more strident in his remarks, insisting Italy's players had been provoking their Uruguayan counterparts all day, and that this was simply a dirty trick perpetrated by Chiellini in a bid to get Suarez suspended.
"You'd have to be stupid to think that the mark on Chiellini's shoulder is from today," he said with the help of a translator. "Chiellini is a bad loser. I had Chiellini as [someone I admire], but I think Chiellini doesn't know how to lose. To leave the field crying and complaining about the referee is a bad thing to do."
Lugano later added, "People are judging Suarez just because of the past."
Chiellini is certainly no angel, and his penchant for engaging in the dark arts of defending makes him one of the more reviled figures in Serie A. But the photographic and video evidence seems incontrovertible, and now FIFA is under pressure to suspend Suarez.
- ESPN FC TV: What punishment does Suarez deserve?
- Marcotti: Now what for repeat-offender Suarez?
- Smith: Suarez actions won't overshadow World Cup
If FIFA takes that route, it would be a huge loss for La Celeste. Tabarez noted that Uruguay played some matches during qualifying without Suarez.
"We won some, we lost some," he said.
But one only had to see Uruguay's match against Costa Rica to see how big a blow Suarez's absence would be to La Celeste. Suarez missed the match due to fitness issues related to knee surgery he underwent back in May, and his energy and ability to combine with his teammates was sorely missed. Uruguay's attack looked lethargic, and the Ticos mounted a spirited second-half comeback to prevail 3-1.
Since Suarez's return, Uruguay has looked much sharper, defeating England 2-1 and then prevailing over Italy. Given his value to the team, it wasn't a surprise to hear Tabarez declare that his defense of Suarez would continue.
He said, "I can already say that if he is being [attacked], as you've already started to do during this press conference, we will see how to defend him, because this is a football World Cup, [it's] not about morality, cheap morality."
As for justice, that is now in the hands of FIFA.
Jeff Carlisle covers MLS and the U.S. national team for ESPN FC. Follow him on Twitter @JeffreyCarlisle.