Champions League draw intrigues; Real Madrid, Man Utd woes; Juve surge
If you like the big boys being kept apart until later -- and some do -- then you didn't enjoy Monday's Champions League draw. Chelsea vs. Paris Saint-Germain (the English club's horrendous league form notwithstanding), Arsenal vs. Barcelona and Juventus vs. Bayern mean that at least three potential winners (and, yeah, I know, I'm using the term loosely) will make an early exit.
And the reverse, of course, is also true. Benfica vs. Zenit St. Petersburg and Gent vs. Wolfsburg mean two sides will make the quarterfinal who few expect to see in Milan next May. That's why some folks -- especially, no surprise, among the leading clubs -- would love to see the entire knockout phase seeded.
I'm not sure that's necessary. I rather like having some box-office clashes straightaway. Ultimately, if teams are going to be worthy winners, then it's not such a big ask to expect them to get past a juggernaut in the Round of 16.
Of course, the flip side is when folks freak out and read far too much into early knockout exits. If Manchester City beat Dynamo Kiev and then the winner of the Gent vs. Wolfsburg clash to get to the semifinals, it won't mean they're necessarily a better team (or that Manuel Pellegrini is a better manager) than they were last season, when they ran into future Treble-winners Barcelona.
We've said it before, but it bears repeating: Results are only part of assessing a team and its manager's progress.
More problems for Real Madrid
Rafa Benitez needed this like he needed a hole in the head. Real Madrid traveled to take on Villarreal on the back of the 8-0 squashing of Malmo and, perhaps buoyed by that stat-padding, garbage-time performance, their manager lined up a side constructed to treat the yellow submarine like a pinata.
Toni Kroos was on the bench, Casemiro protected the back four and, from right to left, Gareth Bale, James Rodriguez, Luka Modric and Cristiano Ronaldo queued up to exact damage behind Karim Benzema.
And why not? Villarreal had won two of eight Liga games since September. What better way to exploit the momentum of the "Malmo Crazyeights" performance than by going for the jugular from the first minute?
If Benitez is superstitious, he probably realized early on that it wasn't going to be his day. After eight minutes, Roberto Soldado, who hadn't scored in La Liga since August, notched his 10th league goal since June 2013. Thereafter, the first half wasn't just uphill; it was up the face of Ayers Rock. Other than James Rodriguez, Madrid's front five ranged from the ethereal to the ineffective.
The second half wasn't much better as the visitors gave up playing and moved to a shoot-on-sight policy, perhaps forgetting that the point of passing is to get better shot locations. The final count, by the way, had Real Madrid outshooting Villarreal 20-7, but managing just a single strike on target.
The result leaves them five points behind the joint leaders Atletico Madrid and Barcelona. It also leaves them with the worst point total after 15 games of any Madrid side since 2008-09, when Bernd Schuster was replaced by Juande Ramos.
The blame will be dumped on Benitez, no doubt, though Marcelo and Pepe both said the players need to look at themselves first and foremost.
You wonder how many people will look beyond coach and squad to the folks responsible -- for the second year running -- of putting together an ill-assorted team where the pieces don't fit.
Giroud and Ramsey step up
Some expected Arsenal to melt away following injuries to Santi Cazorla, Francis Coquelin and Alexis Sanchez, which added to an already copious list of unavailable players, which includes Jack Wilshere and Danny Welbeck.
Instead, others have stepped up, such as the returning Aaron Ramsey and Olivier Giroud. It's a bit curious given that Giroud, in some quarters, had been identified as the main culprit for Arsenal's inability to turn their huge amount of final third possession into goals.
Meanwhile, Ramsey was supposedly stuck in that dangerous neither-fish-nor-fowl situation: less effective out wide than in the middle, but less effective than Cazorla in terms of distributing from a central role.
Giroud has seen 1264 minutes of Premier League and Champions' League action this season and has scored 13 goals, all but two of which have come from open play. That's an average of nearly a goal every 90 minutes and, when you throw in the fact that he's an effective passer, a penalty box presence and a tireless worker, it's a pretty good overall package.
Ramsey was impressive in Arsenal's 2-0 win at Aston Villa (OK, so it's only Villa, but still). He was asked to play the Cazorla position and he played it differently. To use a basketball analogy, he's not a point guard; he's a slasher with the ability to make well-timed runs into shooting positions. But that's fine. The fact that he can function there effectively means Arsenal are more multi-faceted than some gave them credit for.
Man United's bad week and Van Gaal's choices
Manchester United's defeat at Bournemouth makes it five games on the spin in all competitions without a victory. (And, if you're keeping score, the last game they did win -- away to Watford -- came courtesy of a dramatic own goal in injury time.) United haven't gone this many games without a win since the last millennium.
Truth be told, despite the many absentees, United were no worse against Bournemouth than in previous outings and probably should have come away with at least a point. David De Gea made an uncharacteristic blunder and conceded goal direct from a corner, United's forwards missed some clear-cut chances, the back four were awful and that was that.
But there are two factors that, perhaps, are worth picking out. One is United's "institutional" reaction. After last week's elimination from the Champions League, they held one of their background briefings, telling The Times that they were working to put together deals to sign one of Gareth Bale, Cristiano Ronaldo or Neymar.
Now, they've been linked to all three before, so that wasn't perhaps earth-shattering news but what struck you though was the timing, which is straight out of a PR consultant's handbook. We'll give you this huge exclusive so that you all talk a little more about who we might sign and a little less about the fact that we came up short in the Champions League. That's the modus operandi coming out of Old Trafford these days.
Of course, they also tempered everything by pointing out just how tough it would be to sign any of those three, which was in keeping with the familiar narrative of how the Premier League is just so competitive and physical because little teams don't "lie down" for the big boys.
A direct quote from a "senior United source" said: "They know that if they play in La Liga they can score 40 or more goals, but in the Premier League you're probably looking at 20 to 25."
It's hard to know where to begin with the inanity of that statement. Maybe the fact that two of those three guys have never even come close to scoring 40 goals in La Liga: Bale's best is 15 and Neymar's is 22.
The broader point, though, is that you're basically saying one reason that it's tough to sign those players is because their personal stats would be less gaudy in England. The obvious riposte to that is asking -- assuming all of this is true, which it probably isn't -- why you'd want guys who'd rather pad their stats than be part of a successful sporting project.
The other curious takeaway from United's weekend was the way Louis Van Gaal dealt with United's injury crisis (plus Bastian Schweinsteiger's suspension).
He made a conscious decision to throw in the kids: Cameron Borthwick-Jackson and Guillermo Varela from the start, Andreas Pereira and Nick Powell off the bench. Those four, between them, had played 135 minutes of top-flight league football in their entire careers. (People have lumped Paddy McNair in as well, but while he's still just 20, he at least played a significant amount last year)
Make no mistake about it, this was a choice. Because while it's true that United were missing Matteo Darmian, Luke Shaw, Marcos Rojo and Chris Smalling at the back, it's equally true that Van Gaal could have turned to his bunch and played a back four of Phil Jones, Daley Blind, McNair and Ashley Young. Indeed, Morgan Schneiderlin could have played at right-back, a role he's filled before.
It's a legitimate choice and surely Van Gaal has his reasons. But it's also a hugely counterintuitive decision to take, especially at this time, and it's one that could backfire. If you're Young or Jones or Schneiderlin and you can't even get on the pitch when 11 guys are unavailable, what does it say about the manager's faith in your abilities?
Chicharito keeps on scoring
Just to rub it in further, the "Chicharito show" continues at Bayer Leverkusen. On Saturday, Javier Hernandez hit a hat trick in a 5-0 win over Borussia Monchengladbach (which also put an end to Andre Schubert's 10-game unbeaten run and, perhaps, the debate over whether the coach really has mystical powers.)
Some -- including yours truly and I have no problem admitting I was wrong -- were skeptical about whether Hernandez was a good fit for Roger Schmidt's system but 17 goals in 20 games tell their own story.
And, yes, for those keeping score at home, that's one less than Memphis Depay, Anthony Martial and Wayne Rooney have notched -- combined -- for Manchester United in all competitions.
Barcelona's progress is checked
We sort of took it for granted following Barcelona's 4-0 thrashing of Real Madrid in el Clasico and the subsequent 6-1 win against Roma but now, all of a sudden following the 2-2 draw against Deportivo La Coruna, it's three games without a win. And that's something which is unprecedented in the Luis Enrique era.
Take it with a grain of salt. Against Valencia, the first of the draws, Barcelona dominated against an injury-riddled side, only for Paco Alcacer and Santi Mina to magic up a late equalizer.
Four days later, the side that drew at the BayArena against Leverkusen was basically a B-team -- no disrespect to Sergi Samper and Wilfrid Kaptoum -- with an extra Lionel Messi, Jordi Alba and Ivan Rakitic spliced on top.
But Saturday's result does have some relevance. Other than the absent Neymar, this was basically the first XI and the game was at the Camp Nou. Depor are no pushover but, for most of the game it was business as usual, Barca went 2-0 up and should have extended their lead but for a blown offside call on a disallowed Luis Suarez goal.
The worry came at the end when Gerard Pique and Javier Mascherano went flaccid in defence and Depor scored twice in the last 20 minutes.
What you don't want if you're Luis Enrique is for Barca to fall into the kind self-indulgence where they start to believe their own hype and pay a price. Odds are, this will be a mini wake-up call and it won't happen.
Juventus have a familiar look
The current Juventus team are increasingly reminiscent of Antonio Conte's first bianconeri side.
Sure, there are obvious differences, starting with the quality of the forwards (no disrespect to Alessandro Matri, Mirko Vucinic and Fabio Quagliarella but Alvaro Morata, Paulo Dybala and Mario Mandzukic are on another level). And, of course, Paul Pogba plays the game differently than Andrea Pirlo, while Sami Khedira won't be mistaken for Arturo Vidal anytime soon.
But there is a resilience and an intensity to this team that's reminiscent of Conte's blue-collar masterpiece. Against Fiorentina -- a trap game -- Juve went a goal down early, equalized straight away and then proceeded to chip away at La Viola, with a sort of relentless patience.
The goals that won the game came late, thanks to Mandzukic (if Conte had been a striker, that's who he would have been) and the magnificent Dybala. But there was an air of controlled intensity throughout, a sense that sooner or later they were going to break through.
That makes it six wins in a row in Serie A for the side now managed by Max Allegri and the gap with the pace-setters has been nearly halved, from 11 points to six. There are three sides ahead of Juventus and Napoli and Inter especially also appear to have another gear.
But this Juve team are coming on strong and, as the warning goes: "Objects in mirror are closer than they appear."
Klopp's post-game actions cause debate
Not everyone is happy with Jurgen Klopp right now. Taking his players to salute the Liverpoool fans after a 2-2 home draw against West Bromwich Albion seemed somewhat corny. It may be commonplace in Germany and elsewhere, but you do it after an impressive display (which this wasn't) or, at least, after winning (they didn't).
Having listened to Klopp's explanation-- he wanted to thank the supporters, particularly after criticizing some for leaving early in previous games -- you can see where he's come from. He's trying to galvanize Anfield and, to be fair, while the atmosphere there is often more raucous than elsewhere in England, at most Premier League grounds it's rather tame and corporate.
This is part of Klopp's schtick and part of what made him such a success in Dortmund -- that ability to connect with fans and truly get them to be active participants in a game. If he thinks it will help, let him do it. If anything, there's often not enough public acknowledgement from players for the people who actually pay their wages.
Somewhat less endearing was his snub of Tony Pulis' handshake at full-time. To his credit, Klopp didn't shy away from the issue: "We had some words in the game and sometimes it takes more than a few seconds to cool down. Usually I shake hands. It was not a friendly game."
The handshake between managers has become something between traditional and ritual and some would say that, if it isn't heartfelt, why go through with it and engage in an empty gesture?
Well, it's not empty; it's part of the custom. And, in fact, we've seen so many perfunctory and half-hearted handshakes over the years that only a fool would think that the two men always respect each other simply because they shake.
But the meaning goes beyond that. It's a sign of respect not so much for the other manager as a person, but for the role he represents. Dare I say it, snubbing Pulis was not very Klopp-like.
PSG must guard against complacency
Going into the season, there were very few games in Paris Saint-Germain's Ligue 1 schedule where you could imagine them possibly dropping points.
Lyon at home was one but, instead, we got a one-sided display that underscored just why PSG have nearly twice as many points in the table as their opponents. Lyon lost 5-1 and the one was courtesy of Kevin Trapp who, though he remains first-choice PSG goalkeeper ahead of Salvatore Sirigu, hasn't exactly been an upgrade this season.
Having won 15 of their 18 games so far, Laurent Blanc's side are on pace to break the 100-point barrier. They are 17 points clear of the two teams in second, surprise package Angers and Monaco, and have scored more -- 45-42 -- than the two of them combined.
At this rate, PSG could almost have the title wrapped up by February, just in time to take on Chelsea in the Champions' League.
At some point, the challenge for Blanc will be keeping everybody on their toes.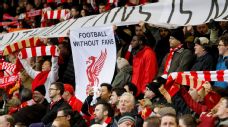 Roma's Garcia makes his point
To every action, there's a reaction, right?
When you don't win in more than a month and generally play poorly, a manager's first instinct is to hunker down and close up shop at the back. That's what Roma's Rudi Garcia did in Naples and the result was a 0-0 draw which, in terms of points, hurts Napoli more than it helps Roma (in the sense that it won't exactly get the Ultras off their back).
Roma contrived to not get a single shot on target, something which had not happened in seven seasons. Napoli huffed and puffed, but against a side that raises the barricades with a whole assembly line full of parked buses, there's only so much you can do.
Napoli can't let the result get to them. They're still second and, in this topsy-turvy Serie A season there will be plenty more opportunities.
As for Roma, maybe Garcia will be proved right; it was all about steadying the ship. That's fine against Napoli away, but come next Sunday and the visit of Genoa, the giallorossi will have to turn in an entirely different performance. Otherwise, they'll be back to square one.
Gabriele Marcotti is a senior writer for ESPN FC. Follow him on Twitter @Marcotti.