Man City still searching for balance, Bayern's defeat doesn't mean much
If three of the so-called Top Six (as defined by wage bill, not league position) had not lost this past weekend while another two were held to draws, we'd probably be focusing a little more closely on Manchester City and their defeat at Stoke.
Across all competitions, they've taken seven of a possible 18 points. And those came thanks to a draw against bottom-of-the-table Aston Villa, a home win over Southampton and another home win in the League Cup against Hull City a club who -- justifiably -- are far more preoccupied with their promotion push. Man City haven't always played badly, though they were poor against Stoke in Saturday's 2-0 defeat and downright awful in the 4-1 hammering at the hands of Liverpool.
Many have them as title favorites on the basis that this is supposedly the best squad in the Premier League -- it probably is -- and those believers chalk the poor results up to the fact that David Silva, Vincent Kompany, Sergio Aguero and Yaya Toure, arguably City's four most important players, have played just 747 of a possible 2160 minutes during that stretch.
It's a fair way of reading it. Any team without their best players won't be as good, and the injuries also mean that those who are fit have to play more games and get more fatigued, which Manuel Pellegrini noted after the Stoke defeat.
What's remarkable, though, is that all four of those guys were early purchases when Sheikh Mansour bought the club (and whipped out the checkbook) in 2008: Kompany came in 2008, Silva and Yaya Toure in 2010, and Aguero in 2011. Since then, despite some pretty hefty spending, the team hasn't added anyone who comes close to those four in charisma and influence. (Raheem Sterling, Kevin De Bruyne and Nicolas Otamendi, who were all signed this summer, may get there one day, but they're not there yet.)
As with most things, there's a trade-off. You sign a quartet of great players, they do well, they grow together (along with others like Joe Hart, Pablo Zabaleta and Aleksandar Kolarov, who've also been around a while) and the team gets built around them. But it does mean you haven't added new pieces to your puzzle.
For that reason, City are as dependent on those four guys as they were four years ago. The trio of big summer signings were brought in to address that, just as others (Alvaro Negredo, Wilfried Bony, Stevan Jovetic, Javi Garcia, Fernandinho, Eliaquim Mangala, Jesus Navas) were acquired before them. For as long as the big stars remain sidelined, Pellegrini's challenge will be getting the newcomers to step up and make City their own, just as Silva, Yaya, Aguero and, especially, Kompany did when they arrived.
Bayern's loss doesn't mean that much
Could it be? Could we actually have a title race on our hands in the Bundesliga?
Easy there. Bayern did fall to whatever voodoo Andre Schubert has been chucking around since taking over from Lucien Favre back in September. (Borussia Monchengladbach have won eight and drawn two, shooting up the table from dead last to third since Schubert's arrival on the bench.)
The 3-1 scoreline looks gaudy, but there are plenty of mitigating factors. Even a team as rich and powerful as Bayern will struggle if they're spotting their opponents Mario Goetze, Thiago Alcantara, Juan Bernat, Arjen Robben, David Alaba and Douglas Costa. (They were so undermanned that Pep Guardiola actually named six substitutes instead of seven.)
And even with that, they created plenty of chances in the first half and really should have put the game away. Gladbach's goals were the result of defensive errors and pacy counterattacking rather than any kind of territorial supremacy.
Still, any Bayern loss is jarring, and what you realize is that the second half was especially poor. This team really isn't used to playing from behind, for obvious reasons. Indeed, they've only fallen behind in five of 23 games this season in all competitions. One was Saturday, and another was against Arsenal at the Emirates, when they were beaten two-nil, their only other loss of the season.
The other three? One was Wolfsburg at home, that crazy game where Robert Lewandowski came on at half-time and scored five in nine minutes. The others were against Augsburg and Hoffenheim, and in both cases, it took an injury-time winner for Bayern to get the three points.
We've probably taken Bayern's dominance somewhat for granted. Guardiola's endless experiments have helped keep opposing teams from figuring Bayern out so far, but when you don't bury the chances you create and you play a team that's on fire and are without a number of key players, well, you risk being upended. Which is what happened on Saturday. At the very least, it's what they call a teachable moment.
Mourinho's job is less secure at Chelsea
The ultimatum brigade are at it again. Against Bournemouth, Chelsea recorded their eighth defeat of the season and their 10th in all competitions, or even their 11th if you count the League Cup exit on penalties against Stoke. And now it's all about Jose Mourinho and how many games he has to "save his job."
We've been here before, and those deadlines came and went with no changes. This time, though, it does feel a bit different. A home defeat to Porto in the Champions League would send Mourinho's crew into the Europa League and probably cost him his job.
The barren spell has gone on for so long that it doesn't even feel like news. What's curious is that Chelsea have played marginally better of late, yet without the confidence and poise that's usually a hallmark of Mourinho sides.
That's what's most striking right now. Mourinho is deviating from his script, trying different solutions without success. (Eden Hazard -- yet to score this season -- at center-forward is an one such experiment that we don't need to see again.) He seems as flummoxed as anyone.
Bournemouth sensed that confusion on Saturday and rather than settling for a point, a good result for a side in a relegation scrap, they pushed on for the equalizer and were duly rewarded. Glenn Murray may have been offside, but those aren't the breaks you get when you're struggling. Even if the flag had gone up, the result would have been a scoreless draw at home with Bournemouth, a side who were playing Millwall and Huddersfield last season.
Chelsea's message to Mourinho seems to be "you got us into this, you get us out of this." That's why my understanding is they don't want to sack him. But nor do they want to write off the season, and that's what will happen if they lose to Porto.
Should Barca fans worry about Suarez?
Barcelona also dropped points at the weekend, held 1-1 by a severely under-strength Valencia (as many as 10 guys were unable to play) to end a run of seven straight wins. Regular readers will know that I'm much more concerned with performance than with results because the former is a much better indicator of what's to come than the latter. And from that perspective, Luis Enrique has little to worry about. Barcelona played very well and probably should have converted more of the chances it created.
If you are going to nitpick, two incidents come to mind. Javier Mascherano and Gerard Pique could have done better on Valencia's equalizer, but then again, you don't expect a striker to control the ball quite as delightfully as Paco Alcacer did in the dying minutes before setting up Santi Mina.
The other issue might just be Luis Suarez. Not in terms of performance -- he has scored in nine consecutive games and his goal Saturday brings his seasonal total to 19 -- but rather in terms of judgment. That stamp on Aymen Abdennour could have cost him a red card. What Luis Enrique doesn't need is for the old Suarez to resurface: the one who's so wound up and competitive that he makes stupid, self-destructive decisions. Barca fans will be hoping that was just a blip.
Gary Neville makes a bold decision to coach Valencia
Gary Neville was up in the stands at the Mestalla, and you can see why. He's already coaching in a foreign country, so only a glutton for punishment add to that burden by making their managerial debut against Barcelona. Frankly, I was shocked when Neville said, "If I'd turned this opportunity down, I'd have said goodbye to my credibility in football."
He meant that after several seasons of talking the talk -- and establishing himself as one of the best TV analysts out there -- it was time to walk the walk and test himself as a manager.
Two points to make here. First, Neville's credibility comes from his intelligence, his long career at the highest level, his understanding of the game, his tireless work ethic (yep, he does extensive research, unlike some of the talking heads you see on the box) and the ability to explain things in a way that's clear, concise and accessible. It doesn't come from management.
Second, you wonder if Valencia is the right place for him. It's great that he wants to experience a new culture, but he's taking over at a place where the fan base is arguably the most demanding in Spain -- sometimes unreasonably so. They finished fourth last season, they're eighth right now -- rightly or wrongly, anything other than a top four finish (or something very close to it, coupled with a Cup run) will mean his regime will be seen as a flop.
Other than his time as Roy Hodgson's assistant with England, he's never coached. In fact, he's never been involved with a team other than Manchester United or England. He doesn't speak Spanish, and while I'm sure he'll pick it up quickly, it's one more hurdle, particularly for a guy who has a lot to say.
And then there's his relationship with Peter Lim. He's not just Valencia's owner and therefore Neville's employer -- he's also Neville's business partner in Salford City and some other real estate ventures. Lim drew plenty of heat for effectively making another one of his previous business partners, "super agent" Jorge Mendes, the team's de facto director of football (which is how Valencia ended up with no fewer than 10 Mendes clients in the squad plus an eleventh, Neville's predecessor Nuno Espirito Santo, on the bench). The fear is that in the Mestalla pressure cooker, Neville might draw the same ire.
He doesn't need to put himself through all that. He could have waited around for a more suitable stepping stone job at a well-run Premier League club -- say, a Swansea or a Southampton. He chose this. And the fact that he did suggests that whatever else you may think of him, he has plenty of courage in putting his reputation on the line.
Napoli defeat just a blip?
It was probably inevitable that Napoli would suffer some kind of emotional letdown after last Monday's 2-1 win against Inter, but few would have expected such a limp performance as the one seen against Bologna.
Sure, Mattia Destro may have been marginally offside for the opening goal in the 3-2 defeat. But you expect Napoli -- at least the version that Maurizio Sarri has been sending out this season -- to be stronger than a dubious offside call. Instead, particularly on the second and third goals, we saw the loopy defending that marred the end of the Rafa Benitez era. At the other end, it took way too long for Gonzalo Higuain & Co. to wake up and make up the difference.
So was it just a blip? Given how unpredictable and tight Serie A is proving to be this season, it's tough to tell. But the fact remains that they've lost just twice in all competitions. And you want to believe that the Napoli seen in Bologna isn't the real Napoli.
Real Madrid win, but off-field issues remain
Karim Benzema's first start since the ill-fated Clasico saw the old-school version of the BBC reassembled -- the 4-3-3 with Cristiano Ronaldo wide left and Gareth Bale back on the right. It was shades of a year ago, with Benzema bagging two goals and Ronaldo and Bale one each as Madrid raced to a 4-0 half-time lead against Getafe.
That's the good news. Benitez played it safe with the tried-and-tested -- no more of these "Bale in the hole" shenanigans -- and, for 45 minutes, the team turned back the clock. The second half was a different story (Getafe showed some pride and pulled one back) but what mattered here was steadying the nerves.
Real Madrid did just that on the pitch. Off it, the story was somewhat different. The boos and calls for Florentino Perez's resignation were clearly audible, and after the Copa del Rey debacle, that was to be expected. Those cries won't be going away for some time.
Man United draw 0-0 again, prompting obvious questions
The boos rang out again at Old Trafford following Manchester United's 0-0 home draw with West Ham. For those keeping score at home, it's their fourth 0-0 in their past six home games in all competitions. (One English newspaper ran a graphic showing how Louis van Gaal has the second-highest percentage of 0-0 draws of any United manager ever, behind only somebody named Lal Hilditch, a player-manager in the 1920s.)
But not all scoreless draws are created equal. United did show more initiative and did create more chances, though they also conceded more: Mauro Zarate had a shocking miss after springing the offside trap, and Winston Reid hit the post.
Van Gaal had a curious way of illustrating the fact that United did not take their chances. "The question is, would Luis Suarez or Sergio Aguero score if they were here?" he told BBC Radio Manchester. "That is a question mark. You never know. I think they would, though. We've created enough chances to score, so that was not the problem."
You can sort of see what he meant, but you might also legitimately wonder about his bull-in-a-china-shop way of expressing it. Yes, United failed to capitalize on their chances. But what is he implying: That the chances weren't that good, because only a Suarez or an Aguero could have converted them? That his core of strikers aren't that good?
If it's the latter, then he might want to have a chat with United chief executive Ed Woodward, given that the pair of them had a huge transfer budget in each of the past two summers. And it was their decision to go into the campaign with Wayne Rooney and Antony Martial (one of whom earns more than Suarez and Aguero, the other cost more), just as it was their call to let Javier "Chicharito" Hernandez and James Wilson go.
Speaking of Chicharito, since moving to the Bundesliga, he has scored 13 goals in all competitions, which is more than Rooney (four since Deadline Day), Memphis Depay (three) and Martial (five) put together.
Inter's latest 1-0 shows something different
Inter are back in first place, and yes, it was another 1-0 win, their eighth of the season. But this was different. Against a Genoa side that parked a whole fleet of tour buses, the Nerazzurri played most of the game in the opposing half. And they did it with the spirit and intensity they showed at the end of the Napoli game last Monday.
Roberto Mancini himself showed again the level of daring and personality to which we've become accustomed. Not many managers would bench Mauro Icardi, the league's top goalscorer last year (and Inter's top scorer this year), in favor of the 33-year-old Rodrigo Palacio.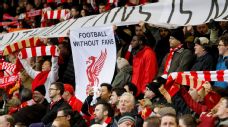 On the day, though, it made sense. As did Mancini's belief in Adem Ljajic, who may be inconsistent but is blessed with quality and creativity. With Jeison Murillo and Joao Miranda shutting the door at the back, it was only a matter of time before Inter broke through the Genoa ranks.
You could say Inter are still a work in progress, and undoubtedly they are. But maybe this is what Mancini is building towards: a shape-shifting team with very few guaranteed starters and an approach tailored to the opposition.
Dortmund win but expose some flaws
Borussia Dortmund's dramatic late, late, late win at Wolfsburg (their first home defeat in the Bundesliga since March 2014) closed the gap with Bayern to five points. With the head-to-head clash at the Westfalensation in May, it's not unthinkable that Thomas Tuchel's crew could push Bayern all the way this season.
That said, the Wolfsburg game rewarded Dortmund's tremendous resilience but also displayed the types of cracks we've come to associate with Tuchel-led sides. They blew away Wolfsburg in the first half but failed to add to Marco Reus' goal. In the second half, there was a considerable physical dip a drop in the quality of play.
Understandable, perhaps, but no less frustrating. With the likes of Sokratis Papastathopoulos, Mats Hummels and Julian Weigl sidelined and Gonzalo Castro and Pierre-Emerick Aubameyang off-form, it simply felt like a different side in the second half. Shinji Kagawa's winner -- after a controversial penalty levelled the score -- is a testament to the two things this side aren't lacking: belief and stick-to-it-iveness.
You wonder, though, if the style of play isn't beginning to take a physical toll. The winter break can't come soon enough.
Gabriele Marcotti is a senior writer for ESPN FC. Follow him on Twitter @Marcotti.