Teamwork pays off for Germany
RIO DE JANEIRO -- Mario Gotze is not a professional actor, which might explain why his range of expressions is somewhat limited. There's a grin, a broad smile, pain and, presumably, anger too. And then there's the blank, trance-like mask he showed after scoring the goal that made him and 22 other Germans world champions.
His gaze remained fixed as he was enveloped in his teammates' embrace. We don't know what he was thinking. And neither does he.
"In situations like that, you don't really understand what has just happened," he said afterward.
The mask only melted into a smile when Jerome Boateng chest-bumped him and then pushed his ample forehead down into Gotze's, like some kind of instant Vulcan mind-meld.
Maybe that's when he realized what he had done.
It lasted an instant or two, and then the game-face returned. This match had to be closed out. And it was. Germany won their first major trophy in 18 years and became champions of the world for the fourth time, a total that matches Italy and is second only to Brazil, who have five World Cups.
Germany
Argentina
Game Details
Think back to the stuff you heard when you played sports as a kid. Think back to the guy with the whistle and clipboard telling you how the last benchwarmer is as important as the star player. How a team is only as strong as its weakest link.
Platitudes to make the less athletic kids feel better? Sugar cubes to lessen the stigma and mask the fact that -- simply put -- some can and some cannot, no matter how hard they try?
Maybe. But the 2014 World Cup was won by a team and coach that embraced this ethos, not just through words but through actions as well. In the final, they beat a side that seemingly lived by the opposite mantra: that superstars win you games.
There probably is no "correct" way of dealing with it. We'll never know what Joachim Low would have done if Lionel Messi had been born in Rostock rather than Rosario. What we do know is that on Sunday, Germany became world champion, thanks in large part to three players.
One, Gotze, had started just two games in this World Cup and played just eight minutes in the quarterfinal and semifinal. He, of course, scored the winner at the Maracana.
Another, Boateng, shuttled from right-back to centre-half in the tournament, as a role player compared to defensive superstars such as Mats Hummels and the skipper, Phillip Lahm. Boateng was superb on Sunday, as he conjured up goal-line clearances and snuffed out danger.
The third, Bastian Schweinsteiger, entered the tournament no longer the automatic choice he'd been in the past, got in the team as the humble holding midfielder and left the marauding to others. He took a deep cut just below the eye for his troubles but proved to be the steady head the German midfield needed in a rocky first hour.
That's the thing with a team. Everyone is important; nobody is expendable. When Sami Khedira, a gangly-limbed, one-man wrecking crew against Brazil in the cosmic 7-1 semifinal win, went down with a muscle injury during the warmup, Low stuck a different cog in his machine: Christoph Kramer, who made only his second start for Germany and his first in a competitive match.
Meanwhile, Argentina manager Alejandro Sabella persevered with the XI that had outlasted the Dutch in Sao Paulo. Possibly, he knew that while the personnel was unchanged, the game would be different simply because the opponent was different. While Louis van Gaal had erected a large, orange tarp in front of Jasper Cillessen's goal, Germany's pressing and high line meant there was space for the likes of Ezequiel Lavezzi and Gonzalo Higuain to run into.
In the ninth minute, Messi gave a statement of intent. He found himself, with the ball at his feet, isolated against Mats Hummels on the right flank. He did what he does better than anyone: a shimmy and a burst of speed, then another and another. The first two times Hummels managed to stay with him, but on the third Messi was off, though his cross was cleared. It was a moment that suggested the little man had come to play but also one that made it clear Hummels would not be intimidated.
With 20 minutes gone, Toni Kroos' errant header fell to Higuain, who was returning from an offside position. The Napoli striker had all the time in the world to set himself before he uncoiled a shot that sputtered wide to Manuel Neuer's right.
Kroos looked rattled in the first half, in part because Argentina's midfield harried him mercilessly and in part because the game turned physical without getting nasty. Ezequiel Garay's body-check on Kramer flatted the young midfielder and forced him off the pitch some 10 minutes later. There were clanking knees, banging heads and pointy elbows, but almost always things stayed on the right side of sportsmanship.
Germany had possession, but it was arid. Sabella would say later: "They had a little more of the ball, but we had the clearer chances."
Garay then found Messi, who used his low center of gravity to fend off Hummels before putting in a tricky cross that Boateng cleared. It was symptomatic, though, that both Hummels and Neuer got a touch before Boateng's boot away. Teamwork: Every little nick and touch to keep the opponent out.
The Germans also had their opportunities, but Kroos' shot was telegraphed, and Benedikt Howedes' header, right at half time, found the post.
"I saw we were getting tired, so at half time I decided to make a change to help us win the game in the 90 minutes without going to extra time," Sabella said when asked about a seminal substitution: Sergio Aguero for the excellent Lavezzi.
It likely came back to haunt him. It left Argentina with an isolated front three and a midfield forced to work overtime without Lavezzi's tracking back. Still, two minutes into the second period, Lucas Biglia found Messi, who fired wide the kind of chance he usually buries. Shortly thereafter, Neuer launched himself into the air and punched the ball clear of Higuain, pancaking the Napoli striker in the process. No foul was called, but a lot of birds chirped around Higuain's head.
Argentina, though, began to flag. Messi -- a notch above his previous performances, perhaps, but with less than his usual supply of magic to dispense -- became the sole Argentine threat as the Germans advanced, going close through Kroos and Andre Schurrle. Two minutes from full time, the Maracana stood as one as Gotze came on for Miroslav Klose. Partisanship is great, but when the all-time leading goalscorer in the history of the World Cup exits the pitch for the final time, you stand up and applaud.
The pace slowed in extra time. Argentina lost their legs and Germany, perhaps, some of their self-assuredness. For all the machine parallels writers (including yours truly) throw out, these are still young men playing the game of their lives. And they make mistakes. After a slip released Aguero, Boateng came out of nowhere with a picture-perfect tackle.
Shortly thereafter, Marcos Rojo's cross found Rodrigo Palacio -- who had earlier replaced Higuain -- one-on-one with Neuer. All it needed was either a first-time finish or controlling the ball and then beating the keeper. Instead, he took the road less traveled and attempted an improbable chip that ballooned over Neuer's head and went just wide of the post. It was a miss as bad as his one against the Dutch.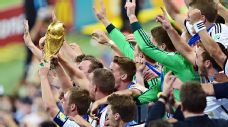 A frantic Low stormed on to the pitch between the two extra-time periods. He dispensed quick-fire instructions to his men before targeting Gotze.
"I told him to go and show the world that he is better than Messi and that he can decide who wins this World Cup," Low explained afterward. "We have good players. [Thomas Muller] and [Schurrle] work hard and can attack the space behind. But Gotze, well, he's our wunderkind. He has incredible technical ability. He can decide matches."
Prescient words.
Shortly after the re-start, Aguero's elbow caught Schweinsteiger just below the eye, and his cheekbone exploded into a bloody mess. As he lay on the pitch, tented by Germany's medical team, his leg twitched. You wondered if his World Cup was over. But, no, minutes later he was back out there. Germany needed its warrior and, at 29, he knew he might never play in a World Cup final ever again.
And then came the moment that brought it home. Schurrle maneuvered around Mascherano to drive in a cross that found the unmarked Gotze, who found just enough stardust to ghost away from Martin DeMichelis. In one, fluid motion: chest, turn and shot. Sergio Romero had no chance.
The game ended with one last chance for Messi to sharpen up his GOAT credentials for those stubborn enough to believe you can only be the Greatest Of All Time if you've won a World Cup. He didn't take it; his free-kick sailed harmlessly over Neuer's crossbar.
FIFA's Technical Study Group still awarded him the Golden Ball as Player of the Tournament, a decision that will rankle and, frankly, smacked of the kind of charity a player of Messi's magnitude really doesn't need.
Argentina took pride in their performance in the final, and rightly so. They had the chance to put the game away but failed to do so. That's football.
"It was the best game we played in the tournament," Sabella said. "But we gave our all. I'm not going to say that giving your all is the most important thing, but it is important. My players were warriors out there. And now it's time for the warriors to rest."
Germany leave as fully deserving world champions. The fact that things were far from easy for them in a number of games -- the 2-2 draw with Ghana, the extra-time victory over Algeria and, of course, the final at the Maracana -- only adds luster to their achievement. They were tried, and they were tested, and they came through. Different men contributed in different situations. The stardust belonged to Gotze on Sunday; in other games, it was Khedira's or Neuer's or Hummels' or Klose's or Muller's.
"I'd say we turned in the best performance of any team over seven games, and that's why we deserved to win the World Cup," Low said in his matter-of-fact way.
You can't argue. This was what you call a "clean finish."
Gabriele Marcotti is a senior writer for ESPN FC. Follow him on Twitter @Marcotti.