Six burning Premier League questions ahead of the 2015-16 season
How long has it been? Ten weeks? Ten years? How long since a ball has been kicked that actually meant something? Don't get me wrong. I enjoyed the Women's World Cup, the Champions League final, the FA Cup final (especially the FA Cup final!), the Gold Cup, the Emirates Cup, all those fiercely competitive preseason friendlies and, of course, the hilarious sight of 14 FIFA executives being frogmarched out of that luxury Swiss hotel at dawn. But, man, am I happy to have the world's most exciting, richest and overhyped league back this weekend, even if Chelsea wraps it up by Christmas.
But maybe, just maybe, the Blues won't win the trophy for a second season in a row. How much fun would that be? Until then, all we can do is muster our courage -- liquid and otherwise -- and ask ourselves these questions:
Has Mourinho's arrogance caught up to him?
Jose Mourinho spent the offseason in a unique state: tranquility. While all around him his rivals were frantically flexing their financial muscles trying to "buy the league" and, in Rafael Benitez's case, eating too much of his wife's cooking, the Special One stood in repose, serenely gazing upon his reflection in the mirror and being pleased by what he saw. Perhaps the chin stubble was a tad grey, but otherwise no complaints. And he felt basically the same way about his team.
It is a testament to his tactical acumen, his staggering hubris or, quite likely, a combination of both, that Mou feels all Chelsea needed to remain dominant in the league were simply a couple of gentle tweaks to his existing squad and a new shirt sponsor. The more-ghost-than-specter of Radamel Falcao, fresh off last season's whopping four-goal haul at Manchester United, replaces Didier Drogba, as the Hail Mary option should anything happen to Diego "Hamstring" Costa, or his deputy, Loic "Offside" Remy. And because every title contender has to have at least two reliable goalkeepers in case of emergency, Asmir Begovic will do his best impression of Petr Cech as the new backup to Thibaut Courtois.
There's no doubt that Chelsea have the best starting XI in the Premier League, but they're not at the same lofty heights as the Bayerns, Barcas and Reals of the world. As last season's Champions League showed, even a 10-man French club with David Luiz at the heart of its defense could knock them out. So why is England's greatest managerial poker player standing pat?
Will Everton's excellent young center-back, John Stones, ever arrive to cover for John Terry when he sprains a ligament picking his old age pensioner's card up off the floor? What would happen if, God forbid, Eden Hazard were to pick up an injury? Oscar? Only an Arsenal fan thinks that's a decent replacement. The electrifying Belgian was the most fouled player in the league last season, and I sincerely doubt that the referees will yield to Mourinho's whinging to give his star more protection. What happens when, once again, Cesc Fabregas and Nemanja Matic are utterly spent by March? Last time I checked, Michael Ballack was retired.
Given Chelsea's current Taylor Swift-thin depth, the Blues will need to be as blessedly free of injury to key players as they were last time around, when only Costa was out for a significant amount of time. To repeat as champions, they are going to need something that I would never, ever, ever wish for a Mourinho-coached team: luck.
Is it time to fear the other Manchester again?
It may have taken mankind nine years to reach Pluto, but Louis van Gaal is determined to transform Planet United in just two. The Dutchman, who returned United to relevance last season by guiding them into fourth place and a Champions League berth, is looking to take them even higher in the Premier League firmament. How else to explain why United has seemingly been linked to 572 new players during the summer?
It is safe to say that Van Gaal holds the majority of players he inherited from the David Moyes slag heap to be expendable, as he so ruthlessly showed by waving a dry-eyed farewell to compatriot Robin van Persie, who seemed to think his spectacular flying header for Van Gaal's Dutch World Cup team would be enough to offset an injury-blighted and anemic goal-scoring Premier League season. Poor RVP. I wonder if the little boy inside of him was ever screaming to play for Fenerbahce.
To implement his master plan, Van Gaal has spent close to $350 million on 11 shiny new toys during his reign of transfer terror. This season's haul -- Memphis Depay, Morgan Schneiderlin, Matteo Darmian, Sergio Romero and Bastian Schweinsteiger -- are all top-tier players with Schweini clearly the uber-dog. The iconic former captain of Bayern Munich and one of the leaders of the World Cup-winning German national team could have punched his ticket to almost any A-list club in Europe. That he chose to pitch up in Manchester is due as much to the bromance he enjoyed with Van Gaal during their time together at Bayern as to Pep Guardiola's belief that the 31-year-old's legs are shot.
Even with a creaky odometer from a 13-year professional career, the German could give United a desperately needed physical presence in the middle of the park thanks to his unique combination of soccer DNA. Take a large dose of Roy Keane's steeliness (sans the leg-breaking antics), add a touch of Paul Scholes' vision (without his tackling "artistry") and sprinkle in Michael Carrick's ability to spray counter-attacking passes from deep (but much more quickly) and you can understand why Van Gaal produced a rare smile when Schweinsteiger agreed to be his midfield linchpin. Schweini will have no shortage of willing targets operating on far more sprightly chassis, including a refreshed Wayne Rooney, along with the exciting 21-year-old debutant Depay, the criminally underrated Juan Mata, the new Ashley Young, the bags of potential that is Adnan Januzaj and a prodigally returning son in Javier Hernandez.
Yet with all these attacking riches, Lord Louis is still not satisfied. He has made it clear that he feels his team lacks a creative game-changer, someone who can make or score a spectacular goal out of nothing. Someone, say, like the Angel Di Maria who lit up the Champions League for Real Madrid and the World Cup for Argentina, but not, it turns out the Angel Di Maria who struggled to adapt his game to the physical hurly burly of the Premier League as well as to the manager's structured system. Though Di Maria's swerving, eye of the needle crosses and incisive passing accounted for a respectable 10 assists, he scored only one goal in his last 28 matches. So when PSG came calling, Van Gaal was happy to give his record signing a Beckham-esque shove out the revolving Old Trafford door with one hand while plotting to find another world-beater with the other.
Hola Pedro, como estas?
Will Raheem be Sterling or middling?
When Manuel Pellegrini finally prevailed after a tedious two-month game of brinkmanship with Liverpool by forking out a paltry $75 million for Sterling, my initial reaction was that the Chilean may have been hitting his new winger's balloon of laughing gas a bit too hard. For all his Theo Walcott-ian level of promise, the precocious English international only found the back of the net 23 times in 129 appearances for the Reds, which means City paid roughly $3.25m for each Sterling goal. Somewhere Andriy Shevchenko is nodding his head admiringly.
But really, what does Pellegrini have to lose other than his job, which many believe has already been promised next season to a certain Spanish manager currently at Bayern Munich anyway?
If nothing else, Sterling will ease the exhausting burden on both Sergio Aguero who served as last year's lone thoroughbred up front and David Silva who was forced to heroically compensate for Yaya Toure's loss of spark in midfield.
With his relentless corkscrewing runs into the box, the 20-year-old, who Brendan Rodgers once somewhat hyperbolically anointed "the best young player in Europe", causing more potential hip replacements among Premier League defenders than anyone this side of Eden Hazard and Alexis Sanchez. At least that was the case when he remained upright. How many times last season did we see Sterling fall over from minimal contact and then sit on the ground wailing like a baby until the referee either called a foul or gave him back his blankie?
Still, even if he were to go full "Gazza" against Germany at the 1990 World Cup, Sterling is a considerable upgrade over the likes of Edin Dzeko, Stevan Jovetic and Jesus Navas, to name just three of City's latest expensive attacking failures. With his pace, skill and verve, he will further invigorate the City engine that last season lacked its usual dynamism despite scoring 10 more goals than any other team. Similarly, being surrounded by better players should be a boon to Sterling's game. Who would you rather link up with? Silva and Sergio Aguero or Mario Balotelli and Joe Allen?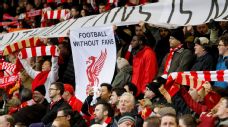 Can anyone crash the top four in this lifetime?
There's the Top Top Four with the Top Top Players and the Top Top Budgets plus Liverpool, Spurs and 14 predestined also-rans. Go ahead and name a team among the others that has a chance to break into this exclusive cabal of Chelsea, Arsenal, Man City and Manchester United. Liverpool? Having ultimately asphyxiated at the rarefied heights two years ago when their thrilling title challenge just slipped away from Stevie G, the Reds regressed to the mean last season and figure to further exasperate their fans this time around.
Spurs? Please. Tottenham gave up chasing the top four dream when they allowed Carrick, Luka Modric and Gareth Bale to escape White Hart Lane in exchange for financial stability and Mauricio Pochettino doesn't sound too confident about the season ahead. Granted, they've finished in the top six for the past six seasons, but they're never going to poke their head through the heavily fortified glass ceiling with the likes of Erik "a rabona is worth a dozen goals" Lamela and Roberto "it's hard to explain why I don't play" Soldado in their squad, no matter how many goals the sainted Harry Kane plunders.
Southampton? The Saints have replaced Spurs as the league's premier feeder club. Last year they sold off five starters, this season three more. It's only a matter of time until Matt Le Tissier will be forced to lace them up. Still, under the shrewd management of Ronald Koeman, Southampton hung with the top four for the first third of last season before finishing seventh. It's doubtful they can maintain that level, let alone improve on it but they will still be fun to watch.
Everton? Only two years ago, everyone's favorite plucky little club came agonizingly close to Prem nirvana before settling for fifth. They looked set to challenge the hegemony of the top four last season when the wheels came off the Roberto Martinez express. The perennial overachievers wobbled under the weight of expectations and the fact that they needed the help of Aaron Lennon just to finish 11th hardly augurs for a stress-free campaign.
The whole thing is a shame really. Imagine how much richer our lives would be if for once we could watch Hugo Lloris picking the ball out of a Champions League net rather than Eden Hazard depositing it there.
Is this Brendan Rodgers last season of 'being Liverpool'?
Liverpool losing their star player after a tediously protracted saga and receiving a ridiculous amount of money in return? Check. The Reds showing all the financial acumen of a Greek economist by spending the bulk of their windfall on the first big galoot they can grab off the transfer window shelf? Hell, yes. Brendan Rodgers declaring himself pleased with his transfer business and predicting that Liverpool will challenge for a Champions League berth? Correct-o-mundo!
Oh Brendan, have you learned nothing these past three years? Owner John W. Henry was hoping that your Einsteinian philosophy extended beyond doing something over and over and expecting a different result. Not that it's Rodgers's fault his best players seem to fly the Anfield coop every season but perhaps the Liverpool manager could take a deep breath before turning Liverpool into the Spurs of the North?
For those of you new to The Fenway Sporting Group Gospel, let's review how well that strategy worked out when Andy Carroll was swept in on a wave of Fernando Torres' transfer cash and managed a soul-sucking six goals only to be followed by Rodgers' rabble -- Balotelli, Rickie Lambert and Lazar Markovic -- brought in last season to fill in the Luis Suarez-shaped toothmarks in the lineup. Suffice it to say that Rodgers calling the acquisition of Balotelli a "calculated risk" was almost as funny as describing Dejan Lovren as "a powerful and commanding presence in defense." This year's economic equation of Roberto Firmino + Chrsitian Benteke + Danny Ings = Sterling has all the painful attributes of an International Monetary Fund loan.
Brendan's quantity-over-quality acquisition plan came together nicely in what shall evermore be known as "The Battering At The Britannia", the 6-1 mauling by Stoke in last season's finale that marked the sad end of Steven Gerrard's storied 17-year run at his boyhood club and should have ended the Rodgers error at Anfield.
To say the Northern Irishman is on the hot seat in 2015 A.G. (After Gerrard) is as much as understatement as saying Benteke is overvalued. The $50 million Liverpool paid for the former Aston Villa battering ram in the wake of Sterling's tortured departure from the club may well prove to be Rodgers' last "calculated risk" at Anfield. After all, how many managers are allowed to plow through a $175 million war chest, drop from second to sixth in the league, and then be allowed to repeat the experiment, albeit with a measly $125 million dollars? Perhaps, it's the Fenway Sports Group that is off its communal rocker.
Will this be Arsenal's year?
I remember the last time the feeling swept over me. It was on the eve of the 2004-05 season and Les Invincibles were entering it unbeaten in 38 games. Suddenly, I felt this strange sensation -- some call it optimism -- coursing through me, so I fearlessly pulled up my Thierry Henry socks over my knees and shouted to the world, "Arsenal will win the league!"
I blamed myself for most of the next 10 years.
The Gunners finished second that post-Invincibles season behind a Chelsea team featuring Didier Drogba, Claude Makelele, Arjen Robben, John Terry, Frank Lampard and Petr Cech. You'll never guess who their manager was.
Cut to minutes before the kickoff of this season's curtain-raiser, the Community Shield between Chelsea and Arsenal. I was swamped by the moment and before I could recalibrate to my natural cautiously pessimistic state, texting madness ensued: "Get ready to lift the trophy in May and I don't mean the FA Cup. Arsenal will win the league."
The majority of the respondents suggested I lie down until the feeling passed, but about 30 minutes later Alex-Oxlade Chamberlain sent a screamer into the top corner and I promised the divine that if I was right this time, I'd give up imported beer.
Here's why I'm so uncharacteristically sanguine. First, I believe even the inevitable Arsenal injury crisis can be weathered now that Arsene has followed Noah's advice and loaded two of almost everything onto the Emirates ark. Second, Petr Cech. (Thank you, Roman Abramovich. Consider us even for allowing Cesc Fabregas to wear blue).
In my fevered brain, having the big Czech between the posts is worth a dozen points (not to mention pints). How happy will I be not to have to bury my face in my hands every time an opponent launches a high ball into the box, not to mention no longer having to type Wojciech Szczesny unless the Gunners face Roma in the Champions League.
Oddly my derangement did not deepen simply because of Arsenal's 1-0 hex-breaking victory over Mourinho in the Community Shield, but because of the way Arsenal finished last season. One year removed from the last-gasp aneurysm-inducing comeback over Hull, the effortless dismantling of Aston Villa in last season's FA Cup served notice that Superman's cape is red again,
God knows, Arsene Wenger has taken his sweet time to turn the Gunners into a team that is both easy on the eye and tactically sound. In prolonging the wait for salvation, he has taxed the fans' patience to the breaking point (who can forget the shameful scene at the Stoke train station last season when Arsenal supporters vented their collective frustration at the 66-year-old Frenchman?). But it turns out that he had a plan after all, and once he overcame his phobia about spending more than 47 cents, he rolled out wheelbarrows of cash in the direction of world-class players like Mesut Ozil and Alexis Sanchez.
The fact that the Portuguese Lex Luther had the ironic temerity to accuse Wenger of overspending after he blew through a tidy billion dollars winning titles at Chelsea, Inter and Real Madrid is a sure sign that he's more than a little anxious about Arsenal's ability to make a serious challenge to his throne. Let's hope it turns out better than the one 11 years ago.
David Hirshey is an ESPN FC columnist. He has been covering soccer for more than 30 years and written about it for The New York Times and Deadspin.