Chicharito Hernandez heads into another crucial year
For Javier "Chicharito" Hernandez, 2015 may have been the most critical year of his career as he finally found his optimal goalscoring form with Bayer Leverkusen. As the Bundesliga resumes from its winter break this week, we look at how Chicharito's numbers changed throughout the course of 2015.
His first half of 2015 found him with limited playing time in a Real Madrid squad that was contending all three major competitions. His first club goal of the calendar year was on Apr. 11 against Eibar in what was his second start of 2015. Prior to that, he had scored a goal but it was with the Mexican national team in late March. That goal against Ecuador in a friendly tied him for second-most on the Mexican national team (39 goals).
His most memorable goal with Real Madrid came on Apr. 22 when he scored the game-winning goal against Atletico Madrid in the second leg of the UEFA Champions League quarterfinals. The following week he started against Celta de Vigo in La Liga play and kept his momentum going with two goals in a 4-2 victory. Despite these goals, Chicharito was unable to convince Real Madrid to keep him for another season.
Injury prevented Chicharito from participating in Mexico's Gold Cup-winning campaign, however he returned to fitness in late summer to join back up with Louis van Gaal's Manchester United. He only played three games and missed a penalty in his final game with the club in a 4-0 win against Brugge in the return leg of the Champions League playoff qualifiers.
Prior to the close of the summer transfer window, Bayer Leverkusen acquired him from Manchester United and he scored two goals in his first eight appearances. Since then he has scored 17 goals in his last 14 appearances in all competitions. This includes a hat-trick on Dec. 12 against Borussia Monchengladbach and a six-game consecutive scoring streak between Oct. 20 and Nov. 7. His current streak with Bayer Leverkusen consists of seven goals in his last five games, with goals in all five of those matches dating back to Bayer Leverkusen's 2-1 defeat to Hertha Berlin on Dec. 5.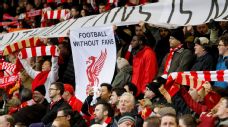 In the Bundesliga, he currently ranks fourth with 11 goals behind Pierre-Emerick Aubameyang (18), Robert Lewandowski (16), and Thomas Muller (14). However, out of those three players ahead of him, Chicharito has taken the fewest shots (38, Muller is the closest to him with 53).
Few expected this turnaround for Chicharito in 2015. After an inconsistent spell at Real Madrid with limited playing time it looked like he was going to follow a similar path at Manchester United. Now established at Bayer Leverkusen and finally a consistent starter, the Mexican forward will seek to prove himself as a world-class goalscorer in 2016.